What's better than a crisp morning, an exhilarating trek, the sight of the majestic blue water, and fishing? Growing up, heading out onto the lake with Grandpa is undoubtedly a favorite memory that we all share. The taste of the grilled fresh catch still lingers in my mouth. The bliss of these sweet fishing memories compelled me to write an on-point review about my favorite Pflueger President Spinning Reel. 10 years in angling, and this iconic fishing reel is my all-time favorite. Want to learn more about this reel? Let's begin!
Pflueger President Spinning Reel- The Ultimate Guide
Chasing down the fishing gear (especially if you are a first-time angler) can be confusing. Luckily, some brands take pride in the quality, commitment to the latest technology, and superiority of their fishing products. Pflueger is one of the leading brands providing world-class reels and rods specially designed for hardcore anglers. Having 100+ years of excellence and a legendary line of fishing products, Pflueger has been ruling the industry for decades.
Today is all about Pflueger President Spinning Reel's benefits, features, and awesomeness. So, without further ado, let's start. 
How is Pflueger fishing reel better than other competing brands?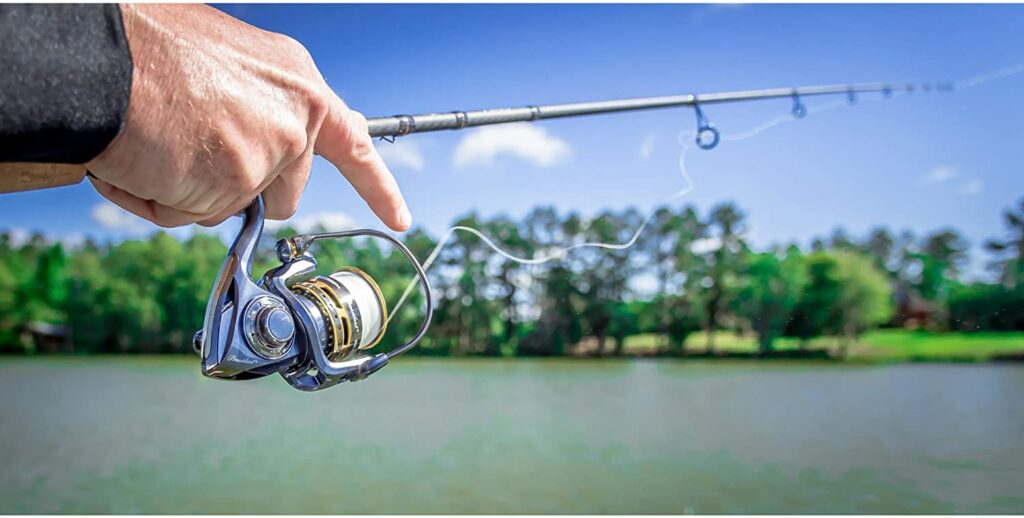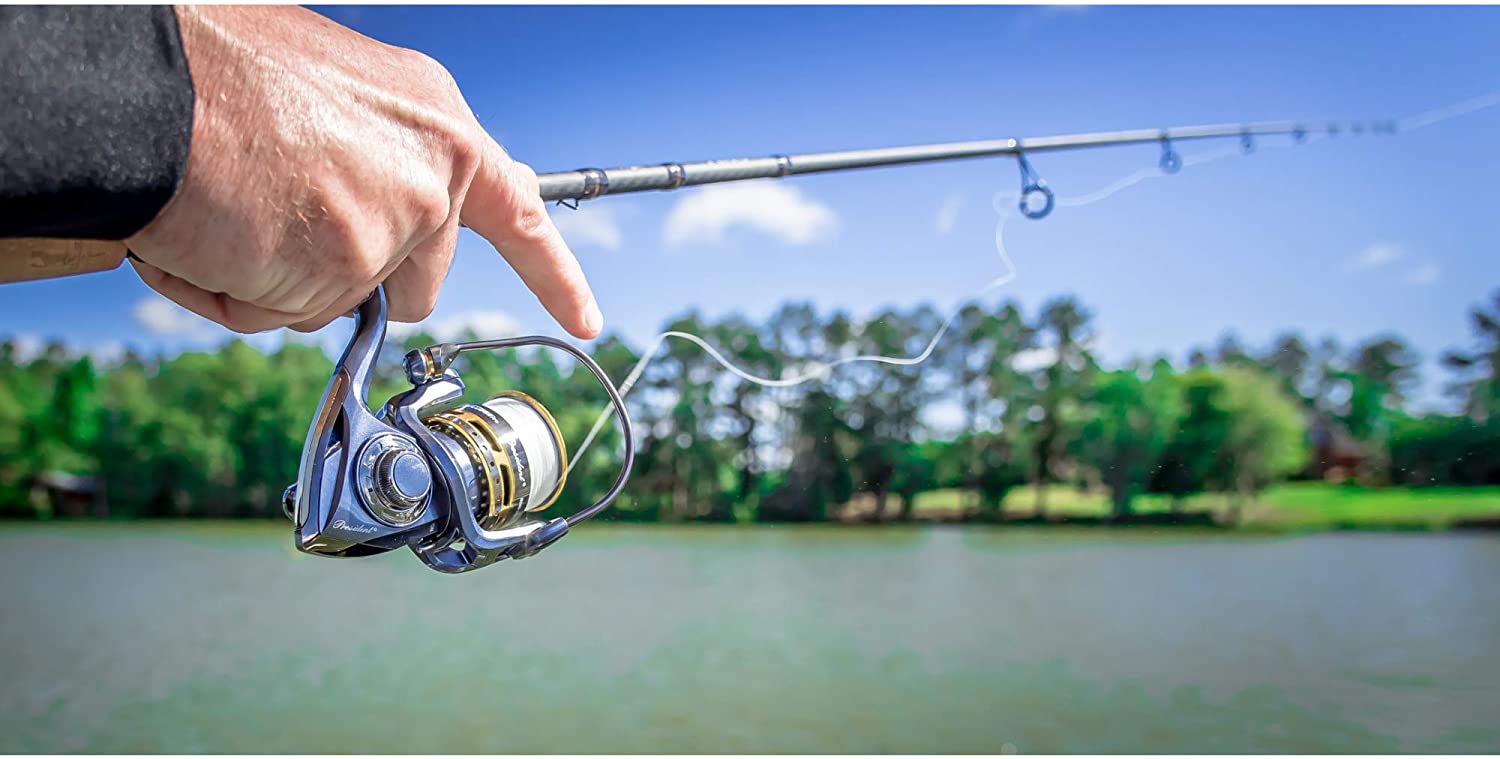 With more than 83% splendid 5 Star reviews, Pflueger is one of the proud best sellers in the fishing reels category on Amazon. Flaunting a state-of-the-art design and unmatched class, the product is highly durable and budget-friendly. The gold-gilded plates beautifully complement the pebble gray color, making it stand out from all the other products. The best part – the reel works super smooth, making your angling experience enjoyable. So, if you are just starting in the hobby, you can never go wrong with this spinning fishing reel.
Top Reasons to Buy Pflueger President Spinning Reel
Here are some technical specifications that will make you want this product even more. So, let's dive in.
#1 Unique model for unique fishing needs (Versatility)
The Pflueger reel comes in 5 different sizes, i.e., sizes 20, 25, 30, 35, and 40. Each model is specifically designed to catch different fish species. If you are just getting into fishing, Model 20 is the perfect size for fish like crappie, bluegill, sunfish, brook trout, etc. In contrast, if you are a hardcore angler and aim to catch salmon, red drums, trout, largemouth bass, carp, etc., you may want to go with bigger options.
#2 Seamless Casting and Retrieval
Pflueger reel comes with 7-10 stainless steel ball bearings (depending on the size). These are corrosion-resistant, reduce friction, and increase the reel speed incredibly. Ultimately, the reel provides a super smooth cast and retrieval and a fantastic drag system.
#3 Quality conscious brand
Serving the fishing sector for more than 100 years now, the brand is highly quality conscious. The reel body is made up of graphite, so it's pretty light and corrosion-free. Furthermore, the reel's frames are made up of aluminum to provide that extra strength and durability. Additionally, the frame layers are gilded, making it aesthetically pleasing and adding a premium feel. Moreover, the handle is made up of high-end stainless steel and is super smooth and comfortable to hold.
#4 Phenomenal Drag System
The best thing about this Pflueger reel is that you get a highly performance-centric, powerful drag system without spending a fortune. All the sizes have front drag. Thanks to this feature, professionals swear by this reel to catch bigger fish like carp, bass, etc.
#5 Decent Line Capacity
Another awe-inspiring feature of the Pflueger President spinning reel is the decent fishing line capacity at a pocket-friendly budget. The fish lining capacity from the smallest model is 4/100 lb. /yd, which extends up to 10/230 lb./yd for the largest one. With the 40-Model, you can easily catch a fish around 230 lb. or larger.
#6 Braid Ready Spool
The fishing reel comes with a highly functional braid-ready spool. It means you can swiftly switch to braided lines if you feel the need.
#7 Ambidextrous Design
My years of experience in the hobby allow me to say that if a brand focuses on hand orientation, it deserves all your attention. The Pflueger reel has an ambidextrous hand orientation which is remarkable. Whether you are a right or a left-handed person, you can easily grip and do your work.
#8 Manufacturer's Warranty
Honestly, I won't want to advocate a product if it doesn't provide a warranty. The good thing is that the reel comes with a worry-free warranty from the manufacturer's side. Now, you can buy this incredible spinning reel with peace of mind.
Bottomline
And that's all. Whether you are just getting in the game or already an avid angler, Pflueger President Spinning Reel has everything you need to enjoy angling fully. Reliability, efficiency, and a decent price range make me and other fellow enthusiasts truly love and recommend this product. I really hope that you'll find this guide super helpful.
Don't forget to read our best-related blogs:
Bubba Blade Electric Fillet Knife- The Iconic Set for Hardcore Anglers!
Best Fishing Shoulder Bag to Buy In 2022
Top Budget-Friendly Fish Lip Grippers
What Is a Collapsible Fishing Rod – A Complete Buyer's Guide [2022]
Share the Love
If you found this post useful, please let others know about it by sharing it.