As an angler, you know how frustrating it can be to have your line tangled or twisted while fishing. The good news is that a fishing swivel might be an easy solution to this problem.
A fishing swivel is a small metal device that is used to connect the fishing line to other tackle components. They come in different shapes, designs, and sizes, and each one has its unique purpose.
There are different types of fishing swivels, but the most common are barrel swivels, ball-bearing swivels, snap swivels, three-way swivels, and finesse swivels.
What Are The Main Types Of Fishing Swivels?
Barrel Swivel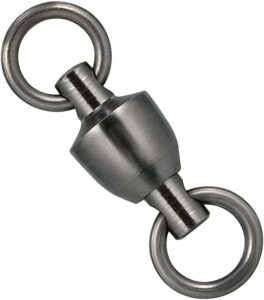 The barrel swivel is the most common type of fishing swivel used by anglers and comes in different sizes and strengths. It features a barrel design, which allows the two ends to rotate freely without twisting the fishing line.
Barrel swivels are perfect for bottom fishing as they prevent line twists by keeping the bait or lure stationary and the line straight. This swivel type is ideal for catching different fish species and works well in fresh and saltwater.
Ball-Bearing Swivel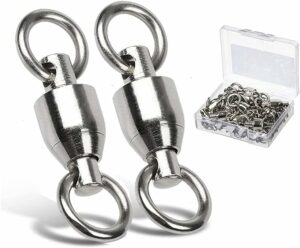 The ball-bearing swivel is a more advanced type of fishing swivel that features tight tolerances and high-quality materials. It is designed with two rings held together by tiny steel balls that allow the fishing line to rotate freely, preventing line twists.
Ball-bearing swivels are highly effective in catching big fish species and are commonly used in deep-sea fishing. They offer better performance and durability than barrel swivels but are a bit pricier.
Snap Swivel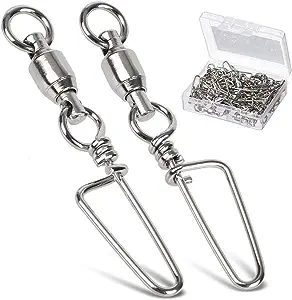 Snap swivels are designed to make hook and lure changes quick and easy. They feature a snap looped around a swivel, allowing anglers to quickly change bait or lures without needing knots.
Snap swivels are perfect for anglers who use different lures or bait but want to keep their fishing line straight. Some anglers don't like them because they add extra weight to the line, making it harder to cast.
Three-Way Swivel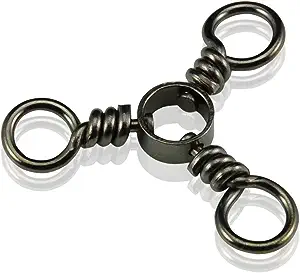 Three-way swivels are versatile tackle pieces commonly used for tying rigs for freshwater and saltwater fishing. They feature three connection rings, and one of the rings is designed to hold the main line while the other two are designed to hold dropper lines.
Three-way swivels are perfect for bottom fishing, trolling, and drifting, and they prevent line twists when fishing with multiple hooks.
Finesse Swivel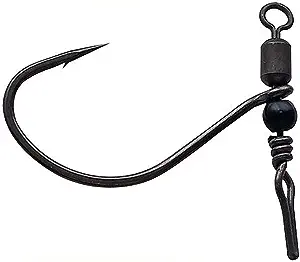 Finesse swivels are a minor type of swivels and are popular among anglers who use light lines and lures. They're designed to prevent line twists without affecting the buoyancy of light lures.
Finesse swivels are perfect for catching small fish species and are popular among freshwater anglers. They're also great for drop-shotting and other finesse techniques.
Conclusion:
Fishing swivels are essential components of every fishing tackle box, and using the right swivel can make a significant difference in your fishing experience. There are different types of fishing swivels to choose from, and anglers should select the style that best suits their fishing technique.
Barrel swivels are perfect for bottom fishing, while ball-bearing swivels are ideal for deep-sea fishing. Snap swivels are suitable for anglers who frequently change bait or lures, while three-way swivels are versatile and suitable for different fishing situations.
Finesse swivels are perfect for light tackle and for catching small fish species. With the right fishing swivel, anglers can improve their chances of catching more fish while minimizing the chance of line twists.
Share the Love
If you found this post useful, please let others know about it by sharing it.