Are you ready to take your angling game to another level? Would you love to add spice to your fishing experience with unique, self-made bugs? If yes, you need a fly tying kit!
However, just any kit won't suffice. To get results (more fish), choose only from the best fly tying kits. If you don't know where to start, this article contains recommendations. Here is a quick overview:
Colorado Anglers Z797 Standard Tool Kit

Wetfly Deluxe Fly Tying Kit With Book And DVD

Dr Slick Fly Tying Tools Gift Set With Fly Box Combo

Orvis Fly-tying Kit

Scientific Anglers Deluxe Fly Tying Kit
The Top 5 Flying Tying Kits Reviewed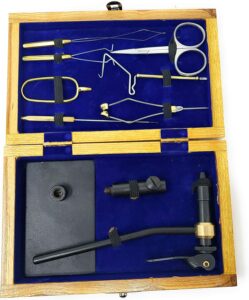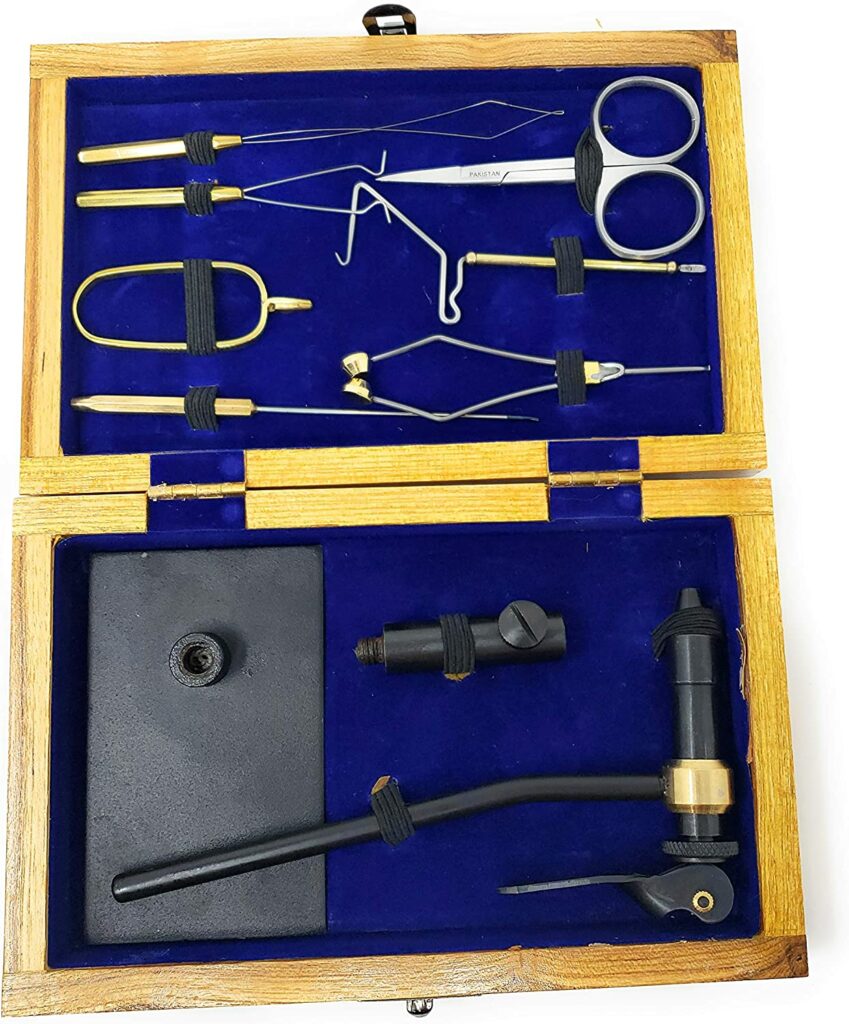 If you're new to fly tying, you need a starter kit that is affordable – and can handle rugged conditions. Fortunately, the Colorado tool kit meets all those requirements.
This tying kit isn't only beginner-friendly but a mainstay for even pro anglers. It comes with all the standard tools you might need for tying a fly. For specifics, you'll find about 8 of such tools.
Beyond the tools, we love the aesthetics of the packaging. The Colorado kit comes in a compact, wooden case. In other words, it can also pass as the perfect flying kit for the angler who is always on the move.
Pros
The perfect starter kit

– this kit is a ready-made package to help anyone start fly tying. It contains the basics (bobbin, bodkin, twister, and pliers) arranged neatly for easy retrieval.

Trusted brand

– this kit is one of the products of the famed

"

Colorado Anglers Supply." They have been in the fly tying manufacturing and distribution since 1993. So, you can rest assured of quality.
Cons
While the Colorado kit is easy to use, it doesn't have an instruction guide like most tying kits. Nevertheless, you can always ask a pro angler to guide you.
Suggested reading: Tuna Fishing Line Setup
Wetfly kit is one of the most popular fly tying kits (if not the number 1). Like the Colorado kit, it is a must-have for beginners and pros.
But unlike Colorado kit, Wetfly is more robust and comes with more tools – at least 20. Beyond the numbers, we love that there are varieties within the set to suit any game you're hunting. For example, you'll find different hook sizes as well as ready-to-fit, man-made baits.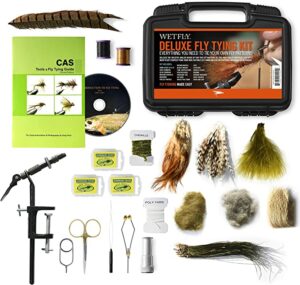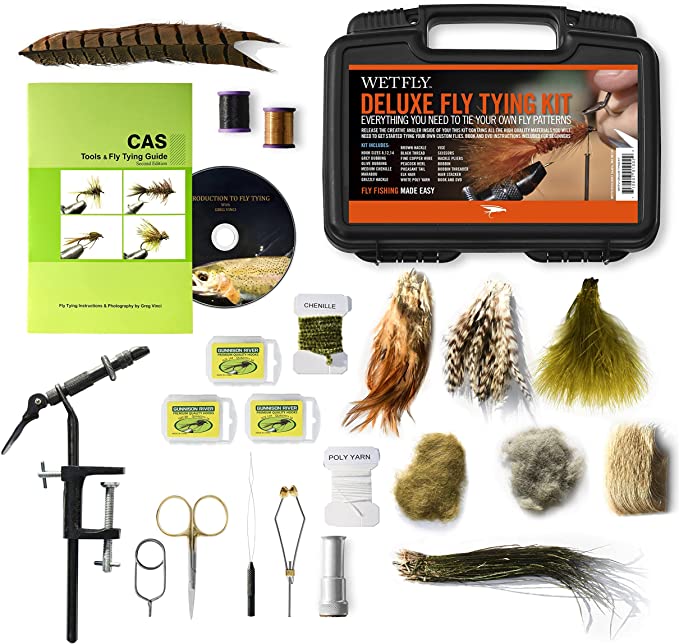 Another standout quality of the Wetfly kit is the quality of its tools. Everything, from scissors down to bodkin, is top-grade materials. So, you can rest assured that you're getting value worth your money.
Pros
Easy to use

– Wetfly kit comes with a detailed manual to guide anyone on how to get started with fly tying. And say you don't like reading, there's a DVD. Either way, you'll learn the ropes and master the processes in no time.

Affordable

– though not the most affordable flying kit, Wetfly is much more than a bargain for its price. It costs around $60 even though the quality of the included tools is worth at least thrice much.
Cons
There's no whip finisher within the set.

Despite the tools included in this kit, you might not fancy it if you're a seasoned angler – it might not just be enough to cover your games.
Dr Slick Fly Tying Tools Gift Set With Fly Box Combo
The chances are that you don't really care about the beginner-friendliness of a fly tying kit. Maybe you just want a set that can withstand rugged conditions because of where you hunt your games. Well, you're in luck: Dr Slick set is what you need!
And yes, the tools in this kit are sleek, and more importantly, they are outstandingly durable. Durability aside, they are almost built to perfection. For example, the scissors in the set have a somewhat quality befitting of a surgical tool; it can snip materials with precise accuracy in a matter of minutes.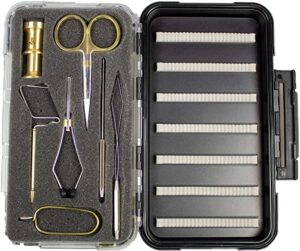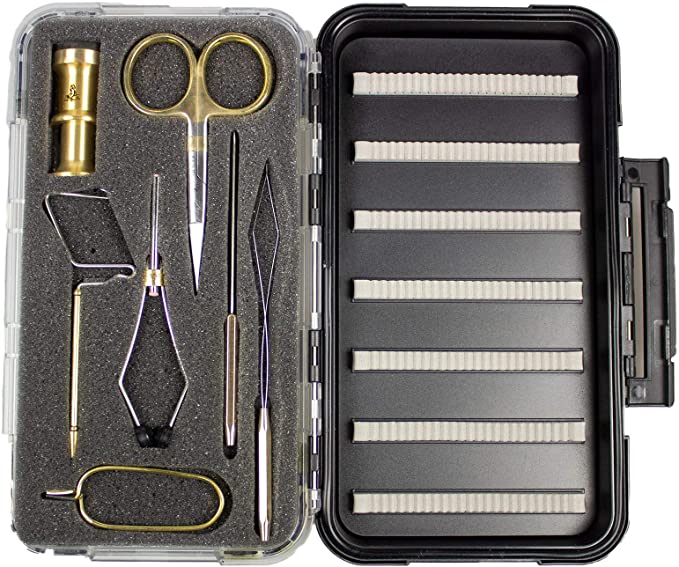 Beyond the sharpness and durability of the tools inside Dr Slick set, the whole kit is beautiful. The set has a transparent cover, almost similar to "mathematical sets." And at a glance, you can see your bobbers and the rest of the gang.
Pros
Rugged casing

– despite the aesthetic feel, the tools within the set are well protected. In other words, you shouldn't worry about losing your bobber or scissors to an accidental fall. Besides the casing, even the tools are top-grade.

Durable

– everything within and outside Dr Slick set is rugged and built to perfection. And it is so because, before packaging, the content of the kit must pass through a 6-stage inspection for quality testing.
Cons
When you consider only a few tools are within the set, the Dr Slick kit is expensive at $59.
Also read: Top Plastic Lures To Catch Walleyes
Orvis Fly-tying Kit
Like Colorado and Wetfly kits, the Orvis kit is perfect for a beginner angler. Plus, it is remarkably affordable. In fact, this kit is the cheapest we have seen and used.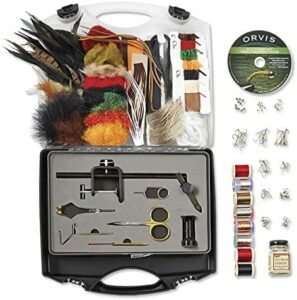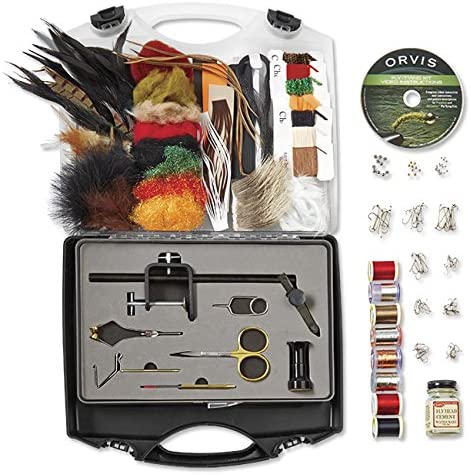 But despite the affordability of the Orvis kit, it contains quality tools for tying flies. Plus, you'll enjoy some of its varied content. In there, you'll find fur ants, emergency nymphs, and hollow eggs. Regardless of your preference, you can create at least 24 designs. Your creativity is your limit!
Outside the varied materials, the Orvis kit is beautiful. We think it's more attractive than Dr Slick.
Pros
Flexibility

– we have to give Orvis kit thumbs up for enabling anglers to create varied flies. Depending on your creativity and experience, you can remodel over 150 flies after your favorite bugs.

Easy to use

– the Orvis kit comes with a DVD manual to help rookies learn fly tying. The best flies: the video contains guides for creating 16 flies.
Cons
The sample sizing on the instructional video doesn't match what's in the kit. But that's no big deal; you can always replace them at a tackle store.
Suggested reading: Best Fishing Tackle Box
This product is similar to Dr Slick kit in so many ways. First, they are both built for perfection and sturdiness. Also, the two fly fishing kits are similarly priced. So, what then is the difference? Why include Scientific deluxe in this list?
Unlike other kits on our list, Scientific deluxe comes with a travel case. In other words, it is a better fit than the Colorado kit for an angler who is always on the move.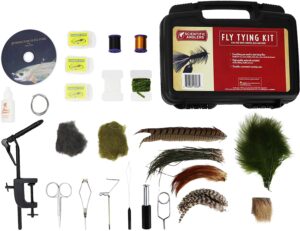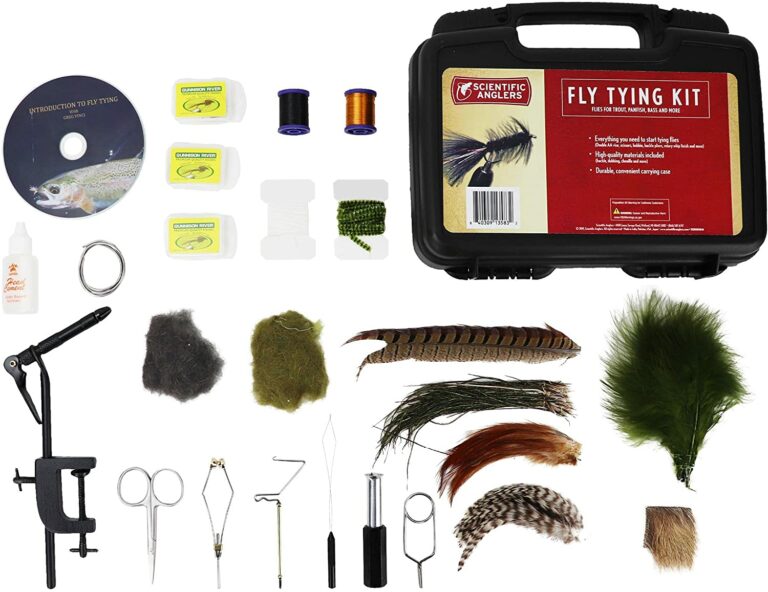 The travel case aside, Scientific deluxe has some unique materials too. And they will all be instruments to improve your game. But say you don't know how to find your way around, this kit comes with an instructional DVD.
Pros
Easy to use

– like all beginner-friendly fly tying kits, this product has an instruction manual. But here, the video instructor is one of the household names in the fishing industry: Greg Vinci.

Perfect for travel

– Scientific deluxe travel bags are not only well-built but aesthetically pleasing. It can even serve as a backup for your tackle box.
Cons
There is no whip finisher within the set.
And that's it: we've come to the end of our recommendations. We hope you find this piece helpful. Check our blog for other informational articles.
Share the Love
If you found this post useful, please let others know about it by sharing it.