For anyone looking to get the best performance out of their trolling motor, choosing the right battery is crucial. Trolling motor batteries come in different types, sizes, and specifications, and selecting the perfect one isn't always easy.
Anglers and boaters rely heavily on trolling motor batteries to power their boats. These energy-efficient batteries have become a crucial part of the fishing and boating experience. However, with the myriad of options available in the market, choosing the right one can be a daunting task, especially when you're not quite sure what to look for.
In this comprehensive guide, we will be discussing the top trolling motor batteries of 2023 and what makes them stand out from the competition.
Optima Batteries 8016-103 D34M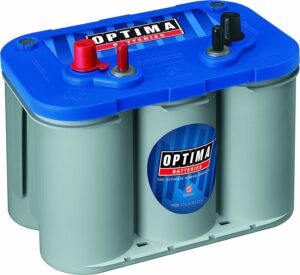 This battery is a versatile, dual-purpose battery that can function as both a starting and deep-cycle battery. It is designed with SpiralCell technology, which offers a stable and clean power source for your boat.
The battery's robust construction is resistant to vibrations, making it an excellent choice for the rough marine environment. Optima D34M is also spill-proof and maintenance-free, eliminating the need to add water to maintain the battery.
Is OPTIMA battery a good battery?
Absolutely yes! This battery is designed to last and withstand the rigors of trolling. The OPTIMA battery is an AGM lead-acid battery for Absorbed Glass Mat.
This type of battery is extremely durable and can handle the vibrations that come with trolling. They also don't spill or leak like other battery types, making them a safer choice for your boat.
Do OPTIMA batteries last longer than regular batteries?
OPTIMA batteries last three times longer than the traditional flooded battery, and are specifically designed to handle harsh conditions like extreme heat and cold. Not only will you save money in the long run by not having to replace your battery as frequently, but you'll have peace of mind knowing that your battery can handle anything you throw at it.
VMAX MR127-100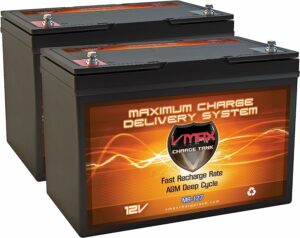 VMAX MR127-100 is among the best trolling motor batteries in the market. It is designed with top-notch AGM technology that eliminates the need for maintenance or adding water.
Additionally, the battery's sturdy construction makes it resistant to shocks and vibrations, thus prolonging its lifespan even in rough marine environments. It also offers an impressive reserve capacity and amp-hour rating, making it an excellent choice for anglers who spend long hours on the water.
For anglers on the go, a reliable source of power is crucial. That's why the VMAX MR127-100 battery is a game-changer. With its ability to be charged via solar and wind energy, anglers can rest easy knowing they'll have power when they need it the most.
Whether on the boat all day or camping near a fishing spot, the VMAX MR127-100 has your power needs covered. Plus, its durable construction ensures it can withstand a fishing enthusiast's rough and tumble lifestyle.
Odyssey 31M-PC2150ST-M
One of the top trolling motor batteries of 2023 is none other than Odyssey 31M-PC2150ST-M trolling motor battery. It is known for its rugged construction, which makes it an excellent choice for off-road adventures.
This ultra-high-performance battery delivers up to 205 minutes of reserve capacity, meaning you can stay on the water for an extended period.
How long do Odyssey batteries last?
As any avid fisherman knows, a trolling motor is a vital equipment when out on the water. And what can ruin a good day of fishing faster than a dying battery? That's where ODYSSEY battery comes in.
With the ability to last up to ten years, this battery is truly a game changer for any fishing enthusiast. No more worrying about battery life or constantly replacing batteries. Not only is this battery long-lasting, but it's also one of the top trolling motor batteries for 2023.
Renogy Deep Cycle AGM Battery 12V 100Ah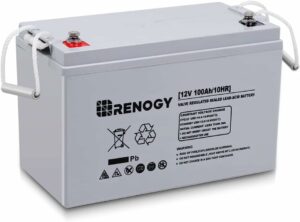 When it comes to powering your appliances while out and about, you need a reliable energy source that can handle high discharge currents. Look no further than the Renogy Deep Cycle AGM Battery 12V 100Ah.
This powerful battery features outstanding discharge performance, allowing it to handle currents of up to 10 times its rated capacity. This means that you can power even the most demanding home appliances, all with the convenience of a portable battery.
Whether you're out on a fishing trip or need some extra juice during a power outage, the Renogy AGM battery is the perfect choice for reliable, high-performance energy storage.
If you're tired of constantly recharging batteries that sit unused for extended periods of time, then you need the Renogy Deep Cycle AGM Battery. Made with high-purity materials, this battery boasts a low monthly self-discharge rate of less than 3% at 77℉ (25℃).
In fact, it's estimated that this rate is five times lower compared to its flooded counterparts. With this efficiency level, you can rest easy knowing that your battery will stay charged and ready for use whenever you need it.
Final Thought
All of the aforementioned trolling motor batteries have qualities that make them some of the best options on the market. Whether you opt for the high-powered deep cycle Renogy battery, or the long lasting Optima battery, you can be sure that your motor will have power and reliability no matter where your adventure takes you.
No matter which of these batteries is right for you and your boat, they all have unique advantages that provide outstanding performance. So take a moment to consider each option and decide which one best fits your fishing needs.
With these top trolling motor batteries of 2023, you'll never experience a lack of power out on the water again!
Share the Love
If you found this post useful, please let others know about it by sharing it.