There's nothing more fulfilling than spending quality time with your family and engaging in outdoor activities where everyone can have fun. Fishing is a perfect example of such an activity.
Getting your kids interested and excited about fishing could be a bit challenging for some parents. However, it'll be easy as pie with the right kid-friendly fishing gear. While you're at it, here's the list of top kid fishing gear that will make your fishing trip even more enjoyable!
The Lanboon Kids Fishing Net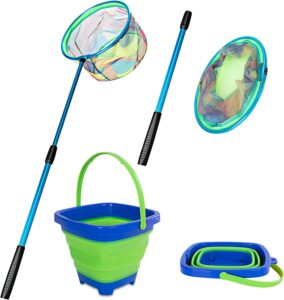 This kid's fishing net package is an excellent choice for children who love to catch fish, crabs, shrimp, and butterflies. It has a telescopic fishing net that can be extended from 26.8 inches to 37.4 inches, making it perfect for children of varying ages and heights.
The fishing net is made of durable material that will last long, making it an excellent investment for your child's outdoor activities. Additionally, the collapsible bucket that comes with it is 100% resistant to falling and durable, ensuring that it won't break easily.
Shakespeare Youth Fishing Rod and Spincast Reel Kits

If you're looking for fishing gear that is more appropriate for children between 4 and 10 years old, look no further than the Shakespeare Youth Fishing Rod and Spincast Reel Kits.
This kid fishing gear is built from fiberglass, which makes it lightweight, weighing only 1.6 ounces, and perfect for children to handle easily. The fishing line type is Monofilament, which is durable, can withstand strong catches, and is less likely to tangle.
WIDDEN's Kids Fishing Pole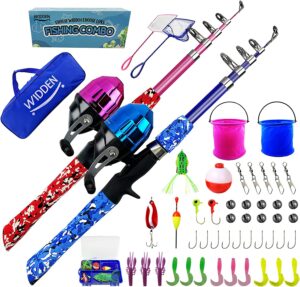 WIDDEN's Kids Fishing Pole Combo Kit is specially designed for children over five years old. It has everything your child needs to start fishing, including a fishing spin-cast reel, a telescopic fishing pole, and two foldable buckets. The spin-cast reel is electroplated to prevent any peculiar smell and is easy to use, making it perfect for beginners.
One of the best features of WIDDEN's Kids Fishing Pole Combo Kit is its durability. It is tough enough to catch fish up to 3 pounds. Unlike other fishing poles, this combo kit is more than just a toy. You can take your child fishing with this kit, and they will have a real fishing experience.
Oxyvan Chest Waders for Kids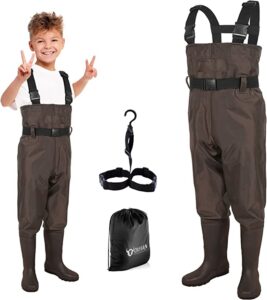 OXYVAN Chest Waders are made of high-quality waterproof materials that can withstand rugged outdoor conditions and protect your kids from water, mud, and other elements. They are lightweight and easy to wear, with adjustable belts that ensure a perfect fit and allow for easy movement.
These chest waders are versatile in use and can be used for a variety of outdoor activities. Whether your child is exploring streams, puddles or ponds, these waders are an ideal solution for keeping them dry and comfortable.
The chest waders come in two fun, bold, and kid-friendly colors, green and brown. Kids will love the color choice and the design that complements every outdoor activity. This color choice facilitates parents in spotting their kids in the middle of the water or the dense fields, keeping them safe and secure.
What size fishing pole is best for kids?
Many parents might wonder what size of fishing pole is best for their child. It would be best to buy kids aged 3 to 5 years old a 2 to 3-foot rod. This size is perfect for small fish that they can catch in shallow streams or ponds. For kids aged 6 to 9 years old, a 4 to 5-foot rod would be ideal. This size is suitable for catching bigger fish, and kids can use it in bigger bodies of water.
What is the best age to take kids fishing?
Taking kids fishing can be a great way to build a lifelong love of the outdoors and introduce them to the joys of time spent in nature. It can also be an incredibly rewarding experience for parents who get to watch their children learn and enjoy themselves while they explore this exciting pastime.
While you may feel tempted to wait until your child is older before taking them fishing, there's really no need – you can start as soon as you want! The earlier you get your children involved in outdoor activities like fishing, the better.
Being outside promotes cognitive development by helping young minds create connections between their senses and circumstances in real-life situations. It also encourages independence through problem solving tasks such as baiting hooks or setting up tackle boxes.
Regarding age range, experts usually suggest that kids should begin fishing between ages two and four. Around this age, they'll have strong enough motor skills to handle a rod (with some help if needed) plus be curious enough about learning but not easily bored yet with any extra instruction required by doing things like threading bait on a hook or tangle lines up coming undone every few minutes!
Remember – safety is important when introducing children to outdoor activities, so always supervise closely when younger than eight or nine.
Share the Love
If you found this post useful, please let others know about it by sharing it.