If you're looking for a great place to cast a line in Colorado, you're in for a treat. The state is known for its natural beauty and pristine waters, making it one of the country's best fishing destinations.
Whether you're an expert fly fisherman or an amateur taking up the sport for the first time, Colorado has something for everyone. We're excited to share some of the best fishing spots you can visit in Colorado right now.
Gunnison County
Gunnison County is a fishing paradise with its stunning lakes and rivers that offer some of the best fishing spots in Colorado. Anglers can catch largemouth and smallmouth bass, kokanee salmon, rainbow, and brown trout, among other species.
The county is known for having the largest brown trout in the state. Blue Mesa Lake, Taylor Reservoir, and the Gunnison, East, and Taylor Rivers are prime fishing locations in the area. Accessibility is also convenient, thanks to the paved roads and trails leading to these spots.
Does Gunnison River have salmon?
Yes, the Gunnison River does have salmon! The species of salmon that can be found in this area are Coho and Chinook salmon.
Glenwood Springs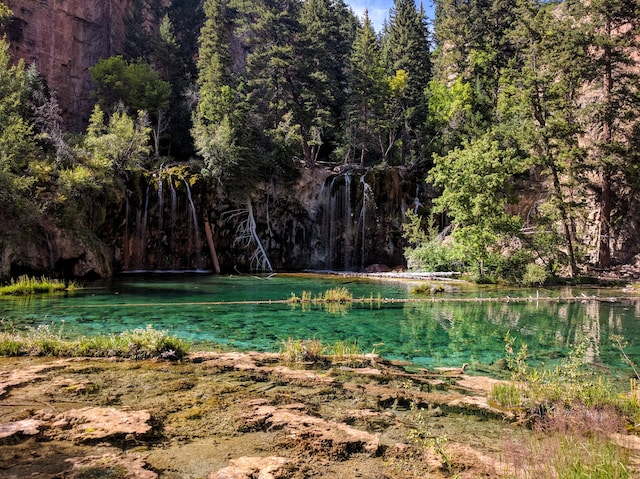 Glenwood Springs is the perfect destination if you want to fish all year round. The Roaring Fork River and the Colorado River are two of the fishing highlights in this area. You can enjoy excellent trout fishing in the Roaring Fork River, especially during the summer months.
The Colorado River is home to various fish species, including brown trout, rainbow trout, and cutthroat trout. The river is known for its clear and cold water, providing an ideal fish environment.
Pro Tips:
Glenwood Springs is not just your average tourist destination; it's a place where visitors can engage in a plethora of outdoor activities and visit extraordinary attractions. The stunning landscapes and local culture of Glenwood Springs make it an ideal destination for adventure seekers.
One of the most popular attractions that shouldn't be missed is the Glenwood Caverns Adventure Park, where you can explore magnificent caves while enjoying thrilling rides. Another must-visit spot is the Iron Mountain Hot Springs, where visitors can relax in natural hot springs and take in the breathtaking views of the surrounding mountains.
Additionally, if you're looking for a more adrenaline-pumping experience, you can go rafting in the Colorado River or zip-lining across tree tops. Glenwood Springs truly has something for every adventurer, making it the perfect place to spend your next vacation.
Carbondale
Carbondale is a small town in Roaring Fork Valley that boasts three access bridges to Roaring Fork River. The river's clear waters are perfect for trout fishing and wading, making it a favorite among anglers.
When fishing in Carbondale, the rainbow and brown trout are two of the most sought-after species. These trout can grow to an average size of 12 to 18 inches long, making them a great catch for any angler.
Whether you're an experienced fisherman or new to the sport, catching one of these beauties will surely provide a thrill. Not only are they a great catch, but the rainbow and brown trout are known for their flavor and are often cooked up for a delicious meal. So next time you're in Carbondale and looking for a fishing adventure, be sure to cast your line for these sought-after trout.
Here's a guide to three of the most popular places you can go fishing in Carbondale.
Lackawanna River
Varden Conservation Area
Prompton State Park
Aylesworth County Park
Pro Tip:
Watch out for hatches in the summer and fall, and bring a variety of dry flies to ensure success. Carbondale is also surrounded by stunning scenery, including Mount Sopris and the Rocky Mountains, making it an ideal getaway for nature lovers.
Suggested Reading: Exploring the Fishing Hotspots in Alaska
What are the best months to fish in Colorado?
The prime months for fly fishing in Colorado are March, April, and May. As winter fades and spring arrives, the temperatures start to warm, and the fish become more active. One of the main reasons spring is an excellent time for fly fishing is the mayfly larva's activity, a food source for the trout.
The spring BWO (blue-winged olive) hatch also starts, and these small mayflies are a favorite meal for hungry trout. You can find plenty of fish rising to the surface for these insects, making it a perfect time for dry fly fishing.
Furthermore, spring is the spawning season for several trout species in Colorado, including rainbow trout, cutthroat trout, and cut-bow trout. This means fish are more aggressive and territorial, increasing feeding activity. However, if you're fishing in a stream, it's essential to be mindful of the spawning fish and not disturb their nests.
Additionally, excellent spring fishing opportunities are available near Denver. The South Platte River is the most famous trout stream near Denver and offers many fishing options. Fly anglers can try their luck at Deckers, Cheesman Canyon, or the Dream Stream.
In spring, you can catch rainbow trout, brown trout, cutthroat trout, cut-bow trout, and even some wild brook trout. Another prime spot is the Arkansas River, one of the most productive trout streams in the state, which is only a two-hour drive from Denver.
What is the most popular fish in Colorado?
1.Trout – Rainbow, Brown, and Cutthroat Trout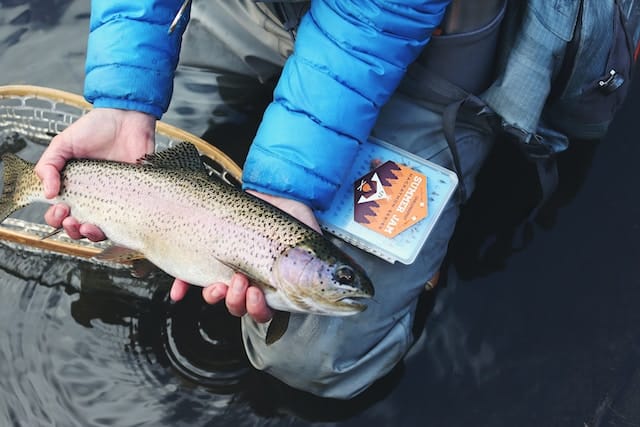 Rainbow, brown, and cutthroat trout are Colorado's most popular fish species. These trout species exist in various states, including rivers, lakes, and streams. Rainbow trout are the most abundant of the three species and are known for their intense fight, making them a popular target for fly fishers.
Brown trout, on the other hand, are known for their wily nature, which makes them a more challenging catch. And finally, greenback cutthroat trout are known for their beautiful colors and are popular among anglers who want to experience catching a rare species.
2. Pike
Northern Pike is another popular fish species found in Colorado. These predatory fish can grow quite large and create a ferocious fight when hooked. Pike can be found in many Colorado reservoirs and are especially popular at Spinney Mountain and Eleven Mile reservoirs. Anglers who are looking for some exciting topwater action often target pike with a variety of lures.
3. Bass – Largemouth and Smallmouth
Bass is another popular fish species in Colorado. While they often don't grow as large as other fish species, they're favored for their aggressive strikes and hard fight. Largemouth bass can be found in many Colorado reservoirs, while smallmouth bass is usually found in rivers and streams.
4. Walleye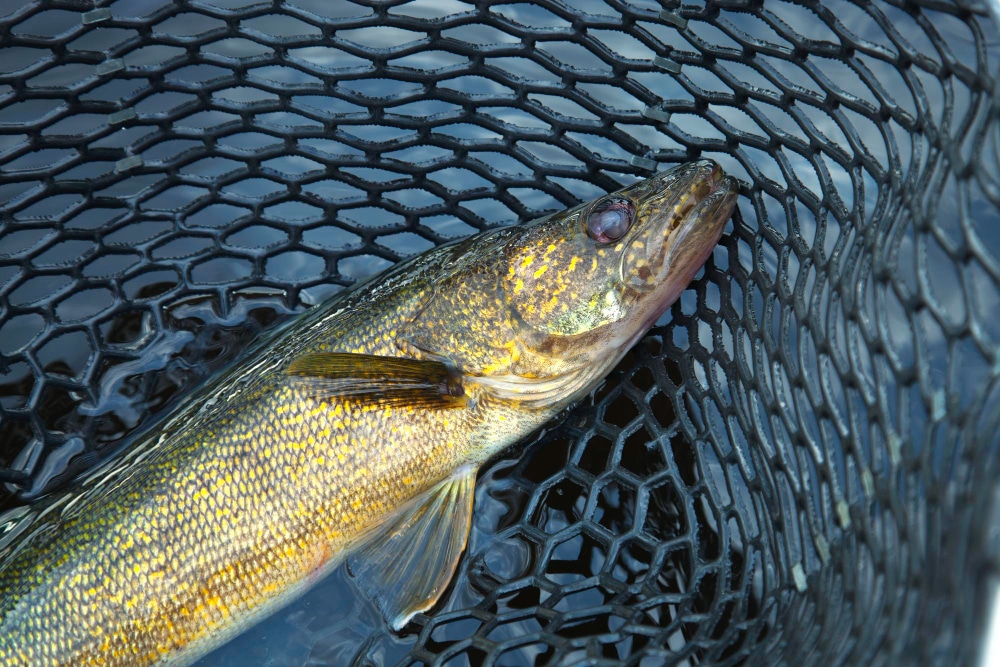 Walleye can be found in certain Colorado reservoirs, particularly in the eastern part of the state. They're popular among anglers for their delicious meat and range in size from small to large. Walleye can be caught on various lures, with jigs and live bait being the most effective.
5. Panfish – Bluegill, Crappie, and Perch
Panfish, including bluegill, crappie, and perch, can be found in many Colorado lakes and ponds. These smaller fish can be caught in large quantities, making them popular among anglers who want to put on a fish fry. Popular fishing spots for panfish include Prospect Ponds in Fort Collins and Clear Creek Reservoir in Chaffee County.
How many fish can you legally catch in Colorado?
Colorado has specific limits on how many fish you can keep per day depending on the species and location. You can catch up to five largemouth, smallmouth, and spotted bass, while smallmouth bass caught in waters west of the Continental Divide have no limit.
The daily limit for trout, char, grayling, and salmon is four fish, with a total possession limit of eight. It's essential to note that the limitations include all species of trout found in the state, so make sure you're familiar with the different types of trout before you hit the water. If you catch ten additional brook trout per day, you can keep them provided that they are less than 8 inches in length.
Anglers can only keep five walleye and/or sauger from most rivers and reservoirs. Some waters, however, permit as many as 10 per day, depending on locations. Again, check the regulations for the specific area you plan to fish in.
The limit for white, wiper, and striped bass is ten in most waters, but some locations allow you to keep twice this amount. It's essential to familiarize yourself with the different bass species, as the regulations vary.
For catfish, no matter the species, up to ten per day are allowed per angler. Most panfish, including crappie, bluegill, perch, and others, have a limit of 20. There is no daily limit for catching pike, whitefish or bullhead, making them a popular game fish in Colorado.
If you want to catch yellow perch, west of the Continental Divide, you can see and keep an unlimited number. However, always be mindful of ethical fishing practices, and only keep what you intend to consume or release the others back into the water.
Is Colorado a good fishing state?
Absolutely! Colorado is known to be a premier fishing destination for anglers of all levels. From the gorgeous mountain streams and rivers, to the stocked reservoirs, lakes, and even alpine ponds – the opportunities for fishing here in Colorado are outstanding.
The state offers year-round fishing options with over 7800 miles of streams, 2200 lakes, and 4000 miles of gold medal trout waters drawing millions of visitors each year to take advantage of this incredible resource.
Trout dominate most of these waters, with rainbow trout being among the most popular species sought after by fishermen throughout Colorado. But that's not all… there's also kokanee salmon, northern pike, perch, and bass scattered through the State, too, ultimately giving anglers more than forty different species to target here in Colorado, depending on their location within the state.
Fishing licenses are required when targeting particular species or in specific locations so make sure you're up-to-date on all regulations when heading out for a day on any body of water within Colorado's borders or call your local Fish & Wildlife office if you have specific questions about what needs to be done before you head out onto the water.
What are the requirements for purchasing a license in Colorado?
If you're interested in purchasing a fishing license in Colorado, there are a few things you need to know. First, you must provide your name, residency information, and personal details. Then, you'll need to choose which license type you want to purchase, whether that's a single-day license or a longer-term option.
You'll also need to decide how many rod stamps you want to include on your license. Finally, you must verify your purchase and select your delivery method. While the process may seem overwhelming initially, the state of Colorado has made it easy to obtain a fishing license to start enjoying its many beautiful lakes and streams.
Conclusion
Colorado is undoubtedly one of the best destinations for fishing in the country. The state has some fantastic spots to test your fishing skills, regardless of whether you're a beginner or an experienced angler.
So, pack up your gear, invite your friends or family, and head to one of the best fishing spots in Colorado right now. Don't forget to have fun and enjoy the beautiful scenery, too!
Share the Love
If you found this post useful, please let others know about it by sharing it.