Alaska is well-known for being an angler's paradise, and for a good reason. The state is home to some of the world's best trout fishing, salmon fishing, and remote fishing. Consider one of these four fishing hotspots in Alaska if you're looking for an unforgettable fishing trip.
Bristol Bay
Bristol Bay is widely considered one of the world's best places to fish for salmon. The area is home to all five species of Pacific salmon and several other types of fish. In addition to being a great place to fish, Bristol Bay is also known for its stunning scenery.
Kodiak Island Archipelago
The Kodiak Island Archipelago is made up of more than 3,500 islands, many of which are only accessible by float plane or charter boat. This makes for some genuinely remote fishing opportunities. The waters around the archipelago are teeming with salmon, halibut, rockfish, and more.The area is also known for its great hiking and scenic views.
Kvichak River
The Kvichak River is perfectly situated in between the Katmai National Park and Preserve and Togiak National Wildlife Refuge. This river is definitely stunning, and it's no wonder that trout love to congregate here. If you're looking for a truly unique fishing experience, this is the place for you.
Ketchikan Alaska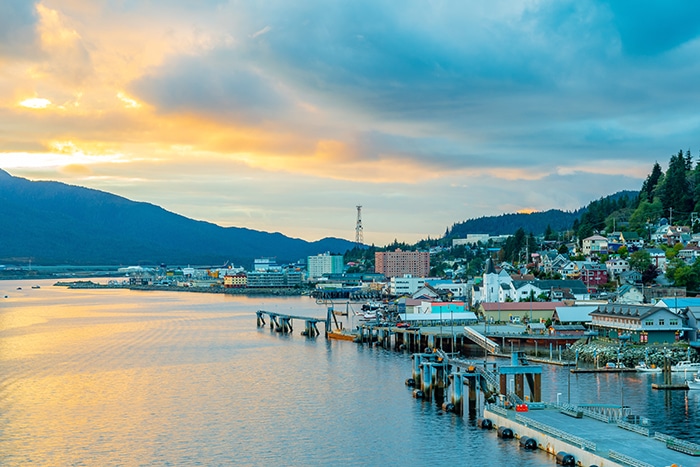 Also known as the "Salmon Capitol of the World," Ketchikan was once a major salmon canning center in the 1930s. Today, it's a popular destination for sport fishing, with many charter boats and guides available. The town is also worth exploring, with its quaint shops and historic buildings.
In addition to being a great place to fish, Ketchikan is also known for its beautiful totem poles and lush rainforest setting.
What month is best for fishing in Alaska?
The best months for fishing in Alaska are June, July, and August. During these summer months, the waters of Alaska's rivers and lakes teem with salmon, halibut, trout, char, and other varieties of fish — all waiting to be caught. The peak season for fishing in Alaska is usually from June through early September.
During this time period, you will find a lot of opportunities for major seasonal runs, such as silver salmon in July or red salmon beginning in mid-June. In addition to running fish, many species can be found year-round such as king salmon, silver, red, and chum salmon.
Alaska has an incredible variety of aquatic life, making it the ideal destination for any angler looking to land a trophy-size catch or just cast around on their favorite lake or stream. Whether you choose boat-fishing along coastal areas or wading into shallow streams – there's always something exciting waiting to be reeled in!
Fishing enthusiasts should also consider booking a guided trip since professional guides know the best spots to go where your chances of landing a big one increase dramatically. Professional guides often provide more than just direction; they offer tips on gear selection and preparation to make your outing even more enjoyable!
Suggested Reading: Best Fishing Spots in Colorado Right Now
How much does a fishing license cost in Alaska?
A fishing license in Alaska can cost anywhere from $15 to upwards of $145 depending on the type, length and purpose of the license. For non-resident anglers looking to buy a 1-day sport fishing license, it will cost you $15. If you're looking for something longer like an annual sport fishing license for yourself as a non-resident, then it will cost you $100.
Conclusion:
Alaska is a true angler's paradise, offering some of the world's best trout, salmon, and remote fishing. If you're planning a trip to Alaska to wet your line, be sure to add these four fishing hotspots to your list. From the biggest salmon in the world to the canning sensations of yesteryear, you're sure to find the perfect spot to land your next big catch.
Share the Love
If you found this post useful, please let others know about it by sharing it.