Are you looking to take your deep jigging and snapper fishing to the next level? Look no further than the Daiwa 19 Seaborg 500MJ electric reel. This compact and powerful electric reel is the perfect choice for anyone searching for a reliable, long-lasting solution. Let's explore why this reel is so popular among anglers!
Heat Resistance and Magsealed Ball Bearings
The Daiwa 19 Seaborg 500MJ is highly heat resistant, meaning you can keep your reel running in any environment without fear of overheating or other damage. Additionally, its mag-sealed ball bearings help to prevent water and dirt intrusion, ensuring that your reel remains functional for years to come.
One-Hand Control System with Fall Brake Dial
The JOG POWER LEVER is a one-hand control system that can be used to instantly wind up the lure without giving up control of the lure. The fall brake dial allows an instantaneous setting of the fall speed, which is excellent for catching the mid-level reactions of squid and bait during drop-off.
And speaking of power – this electric reel boasts an impressive max winding power of 10/13kg, as well as a momentary winding power of 45.4kg and a no-load winding speed of 210/140m/min!
What Makes It So Powerful?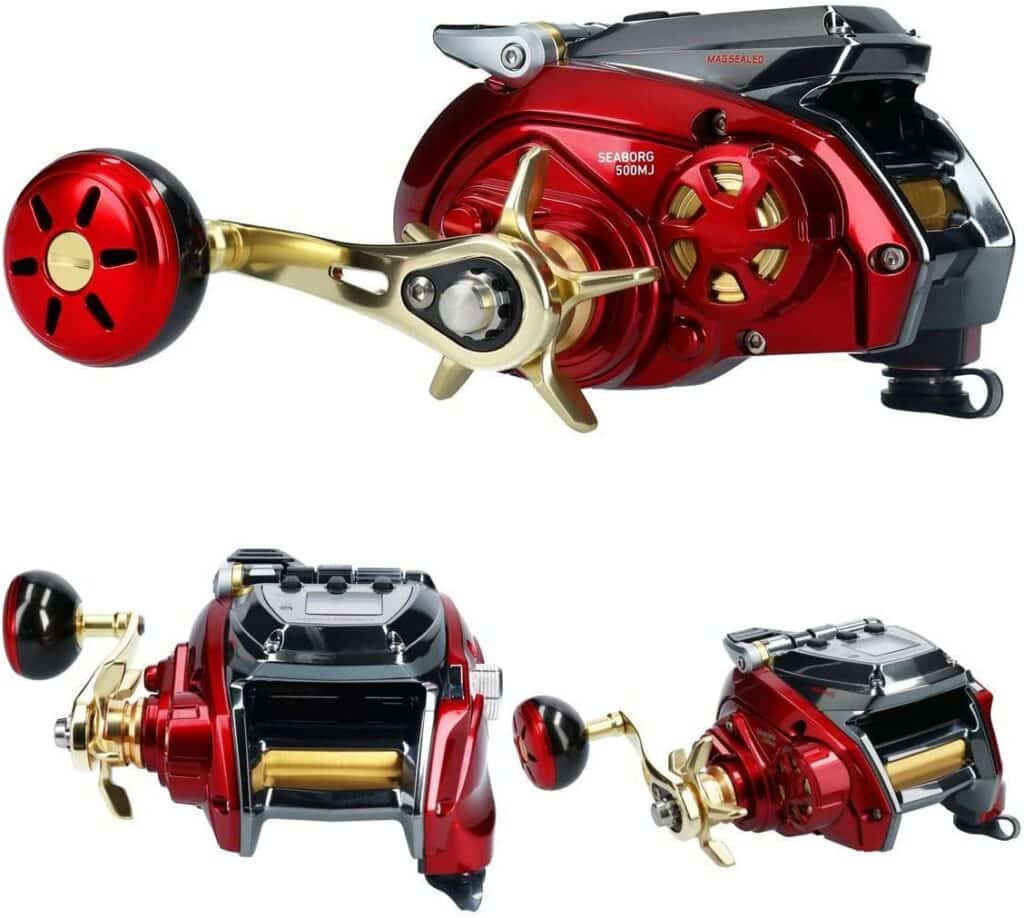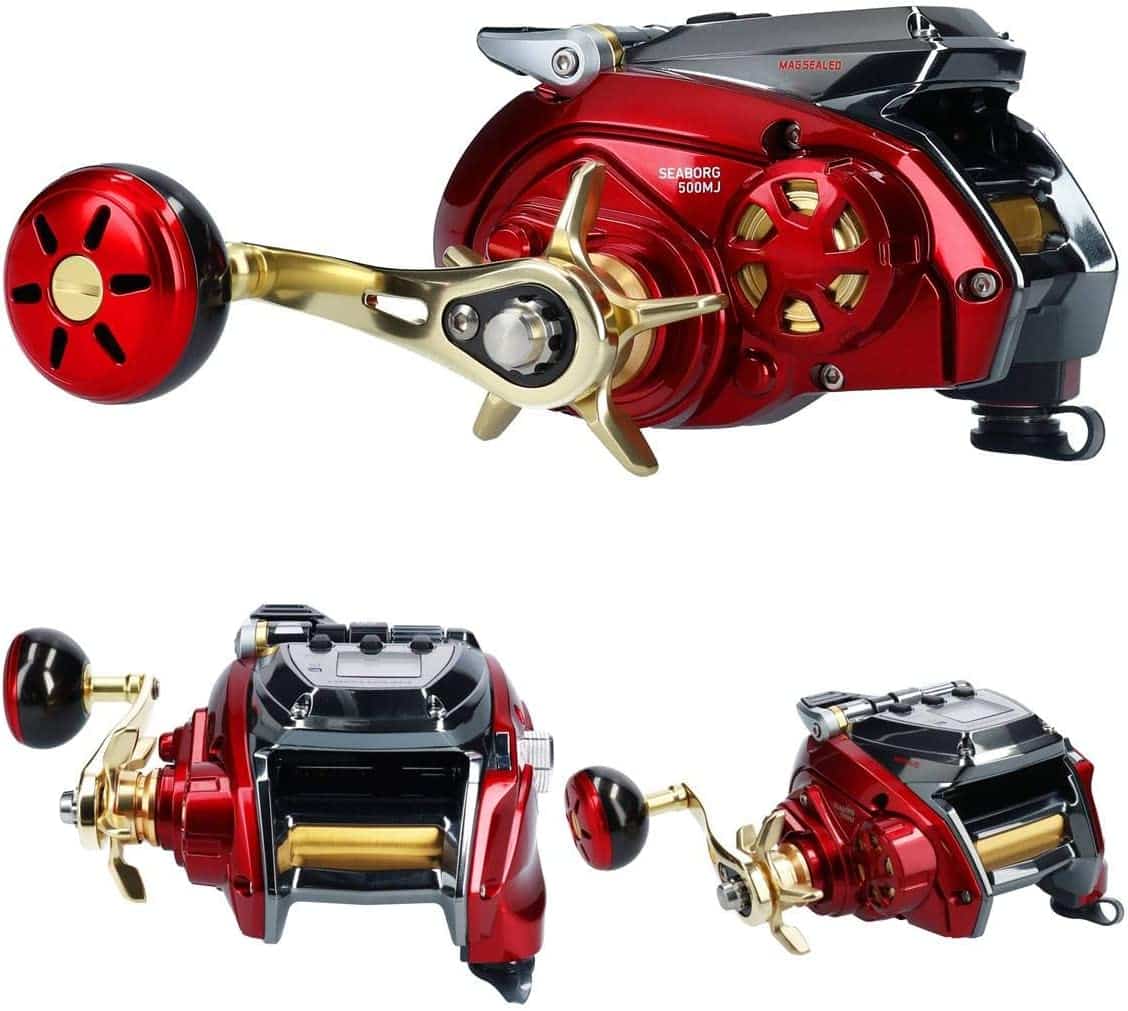 The Daiwa 19 Seaborg 500MJ Electric Reel has some impressive specs that make it a great choice for deep jigging and snapper fishing.
Its JOG POWER LEVER control system allows you to instantly wind up the lure with just one hand, while the fall brake dial lets you set the drop speed instantly for catching reactions from squid or bait mid-level. Plus, its no-load winding speed reaches 210/140m/min!
Here are some more of its features:
• Line per handle turn: 22.2 in.
• Weight: 34.6
• Drag Max: 51 pounds
• MAX Winding power = 10/13kg
• Momentary winding power = 45.4kg
• No-load winding speed = 210/140m/min
In addition to its impressive specs, the Daiwa 19 Seaborg 500MJ Electric Reel is designed with convenience in mind—from the compact design that makes it easy to transport and store to its mag-sealed ball bearings that ensure uninterrupted use even when exposed to water or dirt.
All these features combine to make it one of the most versatile electric reels on the market today.
Is Daiwa better than Shimano?
The answer to this question depends on your individual fishing needs and preferences. Both Daiwa and Shimano are well-known manufacturers of quality, high-performance fishing gear, so choosing between them can be a tough decision.
Daiwa is known for its lightweight rods which make it easier to cast with accuracy and precision in tight spaces. The company also produces some of the best value spinning reels on the market with features like Digital Control Technology (DCT) designed to minimize line breakage while boosting drag performance.
Additionally, Daiwa offers a range of baitcasting reels that use advanced technology, such as Magnetic Oil each Casting System (MOCS), Magforce-V brakes, and Hardbodyz reel body construction for increased durability.
Shimano also makes excellent products that have been proven time after time by anglers across the globe. Their iconic Stella series consists of spinning reels packed with cutting-edge technology, such as Propulsion line management systems which reduce friction while casting and retrieving lure more efficiently than ever before.
Ultimately it comes down to personal preference: whether you're looking for affordability or top-performance technology, both companies offer great options that will stand up to any rigors associated with freshwater or saltwater fishing applications – making either one an ideal choice depending on what type of angler you are!
Suggested Reading: New Selection of Saltwater Spinning Reels You Can't Resist
Conclusion:
If you're looking for an electric reel that packs a punch yet is still compact enough to take anywhere, then look no further than the Daiwa 19 Seaborg 500MJ (Electric Reel).
With its impressive specs such as line per handle turn, weight, drag max and more, plus convenient features such as magsealed ball bearings and JOG POWER LEVER control system, this powerful electric reel will make your next deep jigging or snapper fishing experience unforgettable! Get yours today!
Share the Love
If you found this post useful, please let others know about it by sharing it.