If you're looking for a durable, reliable spinning reel that won't quit on you, then the Quantum Cabo is for you. This series of spinning reels are designed with a unique set of features and specs that are built to last and provide anglers with an incredible fish-stopping experience. Let's take a closer look at what makes this reel so special.
Anti-Reverse Continuous and Changeable Retrieve
The Quantum Cabo spinning reels feature an anti-reverse continuous and changeable right/left-hand retrieve system.
This makes it easier and more comfortable to use, as you can simply switch your grip without having to adjust your settings. This helps keep your line from tangling and makes it easier to reel in large fish without having to manually disengage the drag.
Additionally, the gear ratio of 4.9:1 means that the reel can turn 37 inches per turn, making it one of the fastest on the market today.
Magnum CSC™ Drag System and SCR™ Aluminum Body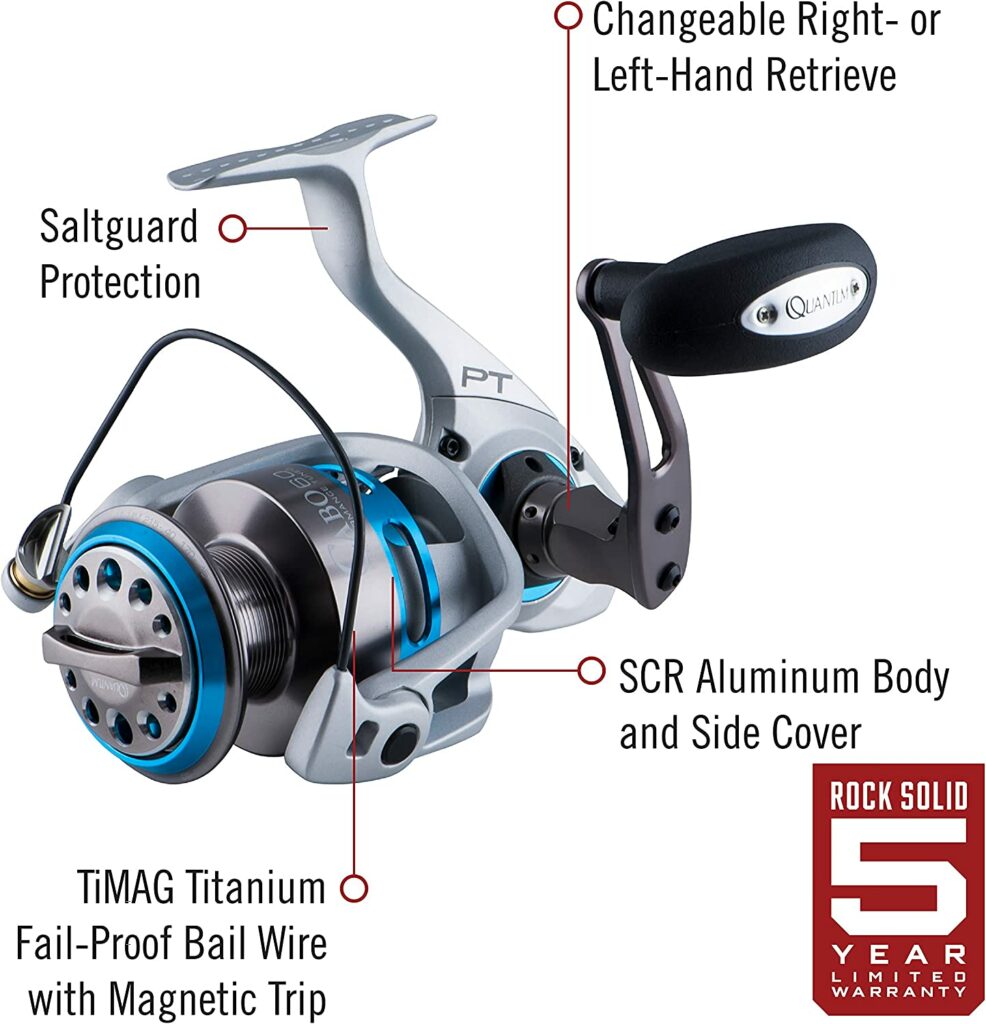 The Quantum Cabo also features a Magnum CSC™ drag system and SCR™ aluminum body and side cover, which helps reduce weight while increasing strength and durability. This ensures that each time you cast your line, it won't get snagged or break easily due to a lack of strength or durability.
8 Bearings (7 + Clutch)
The Quantum Cabo spinning reels come equipped with 8 bearings (7 + clutch) that help ensure smooth operation during use. This ensures that your line won't snag or get caught on anything as it moves through the reel, which can help reduce lost lures or other equipment due to snags or tangles. The bearings also help increase the overall lifetime of your reel by reducing wear and tear over time.
Braid Capacity and Max Drag
Finally, this reel comes with an impressive braid capacity of 320/50 and max drag of 45lbs., making it one of the strongest reels available today. This ensures that no matter what type of fish you're trying to catch, this reel can handle it with ease. Additionally, weighing just 24.2 ounces, this is one of the lightest reels available as well!
Conclusion:
The Quantum Cabo spinning reels offer anglers everything they need for an exceptional fishing experience—durability, power, precision, and lightness all in one convenient package.
Whether you're a beginner or a pro, the Quantum Cabo will provide you with years of reliable performance that won't let you down when it matters most! So if you're looking for a high-quality spinning reel that can handle whatever challenge comes your way, then consider investing in the Quantum Cabo today!
Suggested Reading:
How to Choose the Best Fishing Campsite
Best Cabins in Florida For Your Next Fishing Trip
Outdoor Gear Essentials for Your Next Adventure
Share the Love
If you found this post useful, please let others know about it by sharing it.