Best Cabins in Florida For Your Next Fishing Trip
When it comes to finding the best fishing spots in Florida, knowing where to stay is just as important as the location itself. That's why many anglers choose cabins for their accommodations, as it provides comfortable, home-like environments where you can truly relax during your vacation.
So whether you're looking for a secluded spot in the woods or a lakeside cabin with all the amenities, here are the best cabins in Florida for your next fishing trip.
Grape Hammock Fish Camp, Lake Wales
Are you looking for a unique and adventurous vacation experience? Look no further than Grape Hammock Fish Camp in Lake Wales, Florida. This family-owned fish camp offers both cabin accommodations and one-of-a-kind experiences, ranging from alligator tours to airboat rides.
The non-smoking Florida cabins are nestled beneath ancient Live Oak trees, providing the perfect base for your fishing or nature-watching excursions. And the cabin rental rates start at just $65 per night, it'犀利士
s an affordable option for those looking to escape to the great outdoors.
As the leading fish camp in the area, Grape Hammock offers everything you need for a memorable trip – including a boat ramp and bait shop on site.
Additional Information:
Please take note that the checkout time is 11:00 AM while the check-in time is 3:00 PM. Grape Hammock requires 50% deposit, a 2-night minimum stay for regular days, and 3 nights minimum for holidays.
Guests with leashed pets are welcome, but there is a one-time pet fee amounting to $10 and $20.
Vintage Florida Charm
With two queen bedrooms and a room with three bunk beds, this charming abode can comfortably accommodate up to six guests at a time. Fully equipped with all the amenities you could need, from gazeebo, kitchen appliances to linens and towels, this cabin provides the perfect atmosphere for relaxation and reconnection.
And don't just take our word for it – visitors have consistently raved about their enjoyable experiences at Vintage Florida Charm. So gather your whole family or friends and come unwind in this picturesque retreat. You won't regret it.
Red Bird Cabin
Nestled among large oak trees, this three-bedroom, two-bathroom cabin offers the perfect retreat for a group vacation. And its location in Mayo puts it in close proximity to a variety of local attractions, including the Suwannee River, Lafayette Blue Springs State Park, Wild Adventures Theme Park, and the Ichetucknee River.
Whether you're looking for outdoor adventures or simply want to relax in a scenic setting, RedBird Cabin has it all.
Additional Information:
No pets and no smoking
Minimum age required for guests is 21
Maximum of 6 guests
50% of the amount paid will be refunded, excluding the service fee if the cancellation is at least 14 days before check-in.
Parramore's Campground
If you're looking for cabins in Florida for your next camping or fishing trip, consider Parramore's Campground. The fully-equipped cabins are great for a couple's getaway or a family vacation, with rates ranging from $150 to $285 per night.
In addition to the cabins, the campground also offers canoeing, a day trip to Daytona Trip or Disney World, and Ocala National Forest. Whether you want to spend your days fishing or hiking, Parramore's Campground is the perfect destination.
And with all the amenities of the Florida cabins, you'll have everything you need for a comfortable and enjoyable stay. So pack your bags and head to Parramore's Campground for your next adventure.
Once you have decided where to stay from these cabins in Florida, it's about time to find fishing destination and enjoy! Here are some of the best places to fish in Florida.
Fishing is a great activity to do while on vacation, it's a perfect way to relax and unwind. So, grab your poles and tackle boxes and head on out to one of these great spots!
Lake Okeechobee
This lake is the largest freshwater lake in Florida and the seventh-largest freshwater lake in the United States. It is a popular destination for both recreational and professional fishermen. Some of the fish that can be found in Lake Okeechobee include largemouth bass, crappie, catfish, and panfish. Many fishing guides are also available to help you make the most of your time on the lake.
Everglades National Park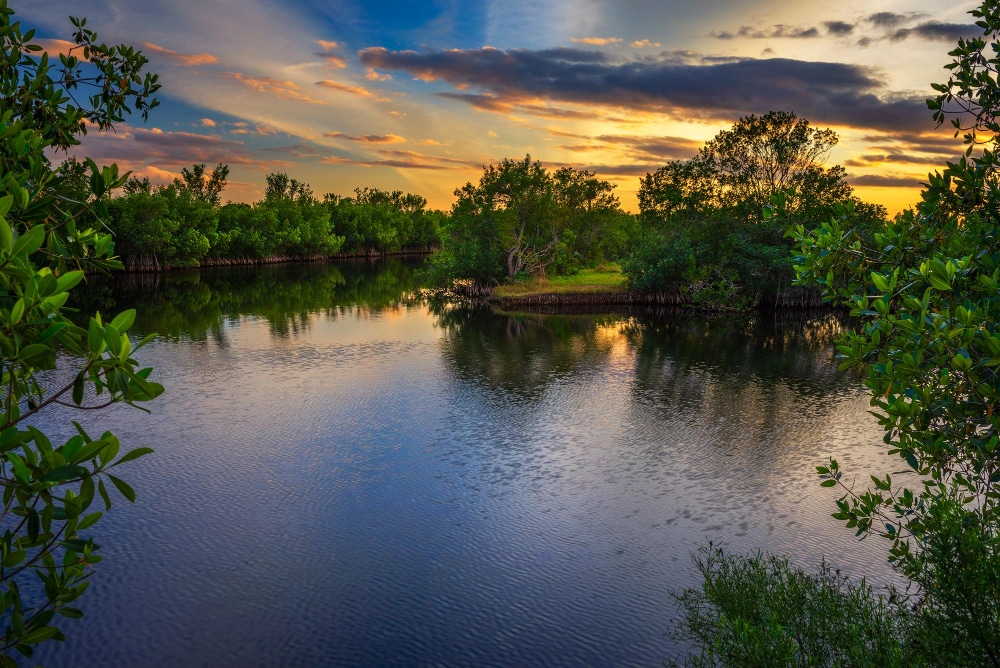 This national park is home to many different fish species, including largemouth bass, tarpon, snook, redfish, and permit. The Everglades also offer a unique fishing experience because of its diverse ecosystem. Everglades National Park is the best place to fish in Florida for you if you're looking for an adventure.
Florida Keys
The Florida Keys are world-renowned for their fishing. Some of the most popular fish species in the Keys include bonefish, tarpon, permit, yellowtail snapper, mutton snapper, and barracuda. There are also many charter boats available that can take you out into the open water to fish.
Boca Grande Pass
Boca Grande Pass is located on the southwest coast of Florida and is known for its giant tarpon. Tarpon can grow up to eight feet long and weigh over 280 pounds, so this is definitely the best place to fish especially for experienced anglers. If you're lucky enough to catch one of these beasts, be sure to have a camera on hand to document the moment!
Sebastian Inlet State Park
Located on Florida's east coast, Sebastian Inlet State Park is home to some of the best surf fishing in the state. The park features two miles of shoreline along the Atlantic Ocean as well as two bridges that are popular spots for fishing.
You can fish from the shore or from a boat, and there's even a bait shop on-site so you can stock up on supplies before heading out. Some of the most popular fish to catch here include snook, redfish, trout, and flounder.
We also discussed the other best places to fish in Florida and offshore kayak fishing in South Florida
Conclusion
Whether you're looking for stunning lakefront views or easy access to the best place to fish in Florida, one of these cabins in Florida is sure to be the perfect fit for your next vacation!
Share the Love
If you found this post useful, please let others know about it by sharing it.