Fishing in saltwater requires a different type of spinning reel than what you would use in fresh water. The weight of the fish and the corrosive nature of salt water means that your spinning reel has to be up to the task.
Let's face it, shopping for a new saltwater spinning reel can be tough. With so many options on the market, it's hard to know where to start. But don't worry, we're here to help. With the new year comes new arrival of saltwater spinning reels that will get your attention. These reels come from top-of-the-line brands and are packed with features that will help you haul in the big catches.
We've rounded up the best new saltwater spinning reels for 2020, so you can make an informed decision and get back to fishing.
PENN Slammer III Spinning Fishing Reel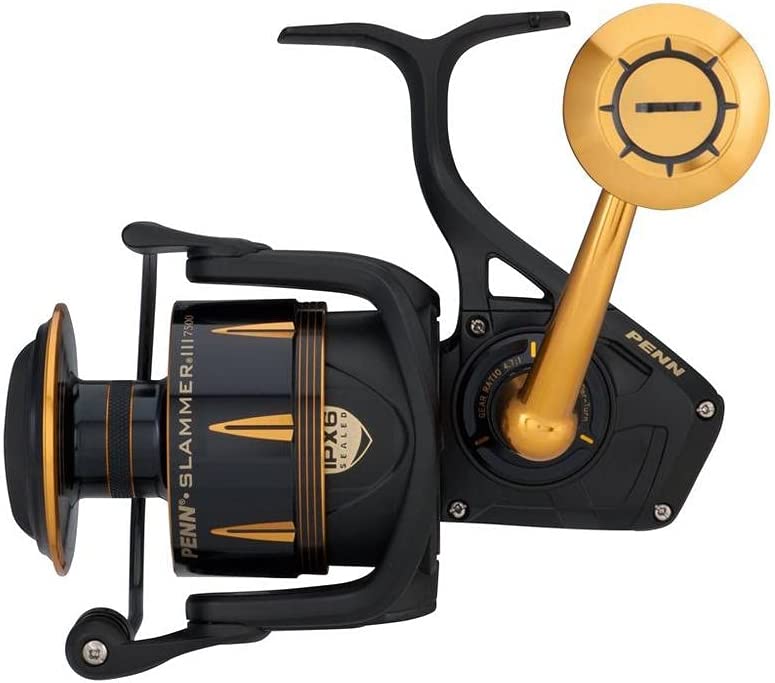 A saltwater spinning reel is one of the most popular types of the fishing reel on the market. They are well known for their durability and saltwater resistance. The PENN Slammer III Spinning
saltwater spinning reel is one of the best saltwater spinning reels on the market.
It is made entirely of metal, which assures that the reel stays together no matter how hard a fish tries to pull it apart. This reel also has a saltwater-resistant drag system, which makes it an ideal choice for saltwater fishing.
The PENN Slammer III Spinning Fishing Reel is a workhorse of a reel that's built to last. Its full metal body and side plate keep gears aligned under heavy loads, while its superline spool allows for a braided line without backing. This saltwater spinning reel has amazing sensitivity and smoothness with five shielded stainless steel ball bearings and instant anti-reverse bearing. What's not to love?
For saltwater fishing, you need a reel that can stand up to the elements and handle big fish. The PENN slammer III spinning fishing reel is built for both. It features Dura-Drag material for a smooth drag and 7+1 bearings for a smooth retrieve.
If you're fishing for big fish like bluefin or yellowfin tuna, the 10500 size is perfect. It has 60 lbs of drag and can hold 540 yards of 80 lb braided line. Whether you're a saltwater angler or just want a reel that can handle anything, the PENN Authority is a great choice.
Shimano Stella Spinning Reel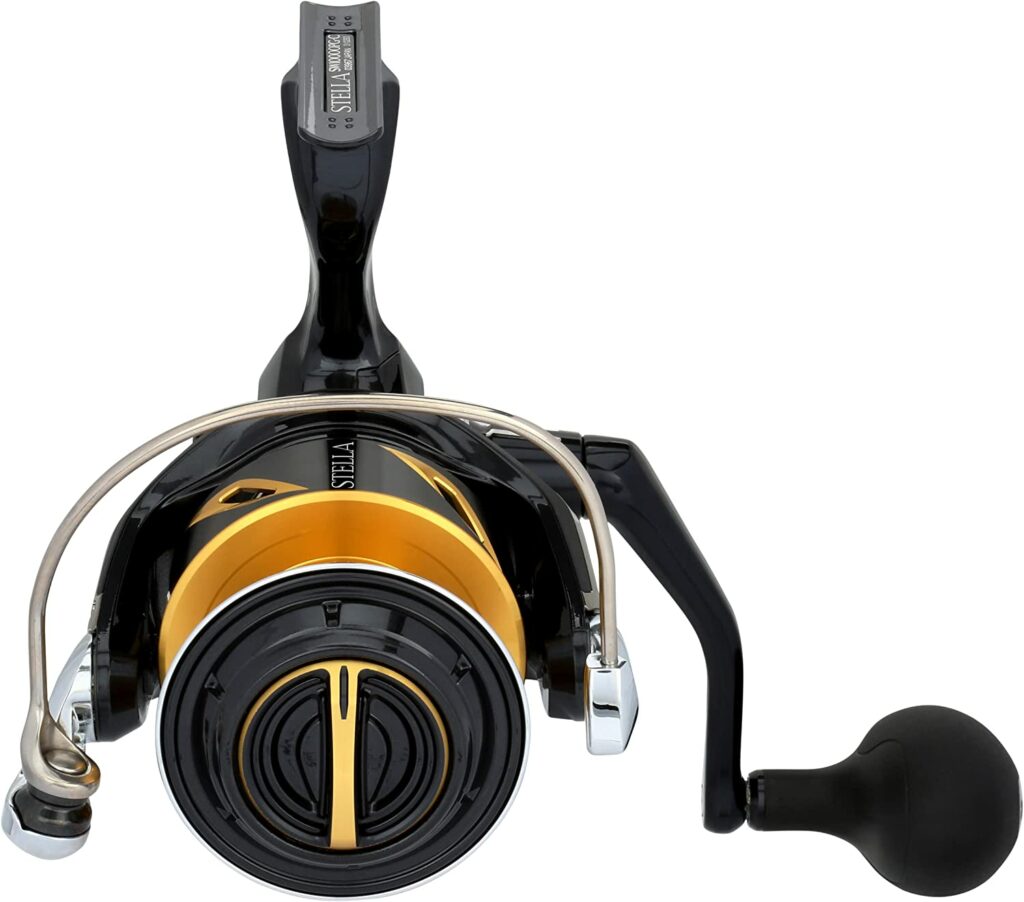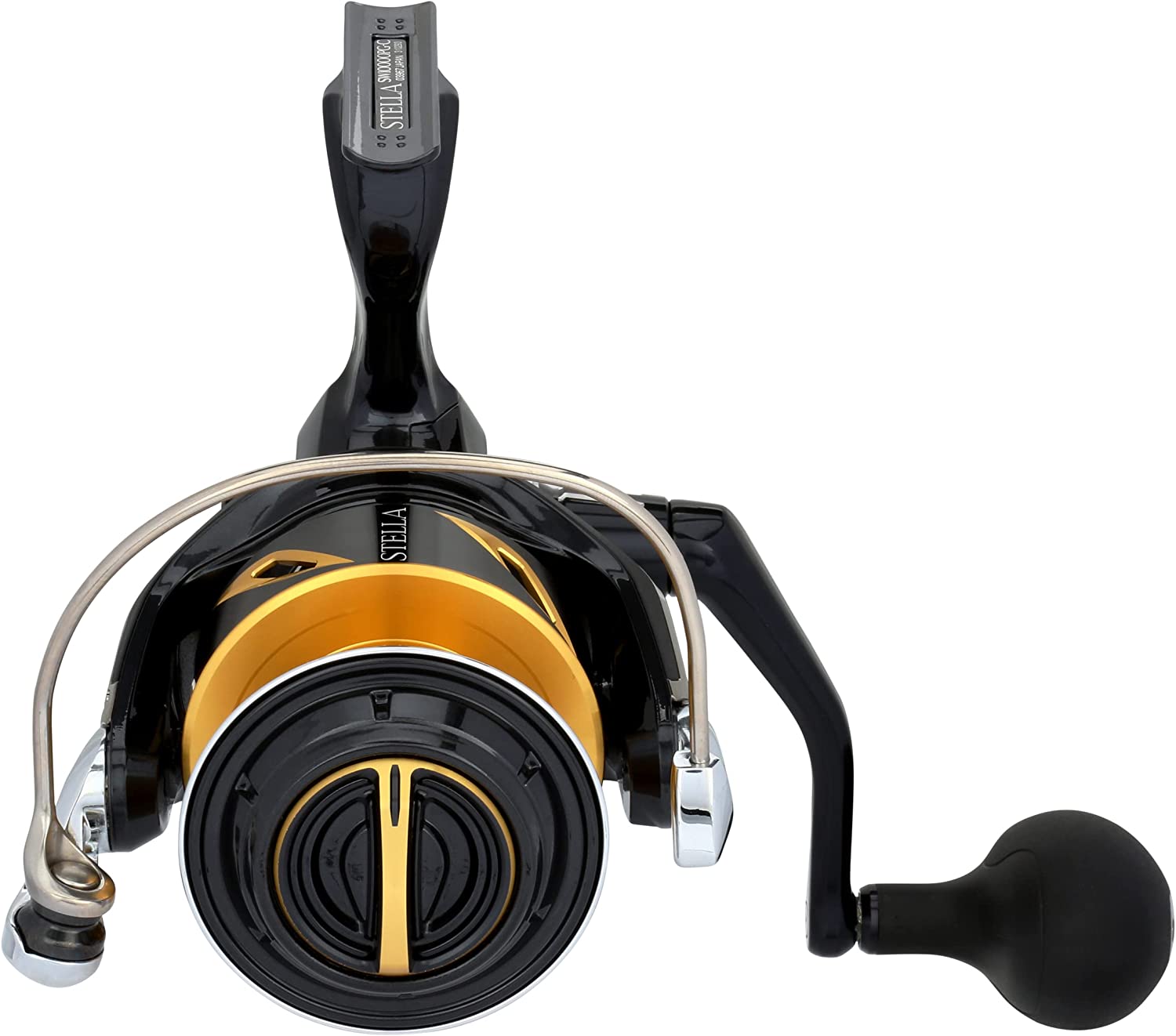 Shimano's Stella SW is the pro's choice for taming giants. Rigid gears and handle. When the best anglers in the world target big bluefin tuna, giant trevally, sailfish, and wahoo they use Shimano's Stella spinning reels.
That's because no other spinning reel has proved more reliable. The Stella incorporates Shimano's best technology to make the heavy-duty reel lightweight and powerful. To land an accurate cast in front of feeding fish, the bail uses a super slow oscillation that layers line perfectly on the spool without digging into it. This technique is used by professional anglers who fish around structures where a tight line is critical to success while still providing smoothness and power when fighting big fish.
The new Shimano Stella saltwater spinning reels are the result of countless hours of research and development. These reels incorporate all of the latest Shimano technology, including their exclusive Hagane metal Body and Rotor construction.
This results in a saltwater spinning reel that is much more durable and powerful than anything else on the market today. With a maximum drag of 29 lbs, these reels can easily handle even the largest saltwater fish. In addition, the 14+1 ball bearings ensure smooth operation and long-term reliability. Whether you're an experienced angler or just getting started, the Shimano Stella saltwater spinning reel is the perfect choice for your next saltwater fishing adventure.
Okuma ITX Lightweight Carbon Fiber 8BB High-Speed Spinning Reel
犀利士
Speed-Spinning-Reel-1024×799.jpg" alt="Okuma ITX Lightweight Carbon Fiber 8BB High-Speed Spinning Reel" width="1024″ height="799″ />
For those looking for a quality spinning reel that won't break the bank, the Okuma ITX Lightweight Carbon Fiber 8BB High-Speed Spinning Reel is a great option. This reel can be used for both saltwater and freshwater fishing and features many of the same features as more expensive models.
This saltwater spinning reel has a weight of 2500 at 8.3 ounces, a drag of 2500 at 18 pounds, and a line capacity of 2500 at 165 yards of 8-pound test. It also has a sturdy anti-reverse that helps to prevent line tangles.
Saltwater spinning reels are essential equipment for saltwater fishing, and the Okuma ITX Lightweight Carbon Fiber 8BB High-Speed Spinning Reel is a great choice for those looking for a high-quality reel without breaking the bank.
Choosing the right reel is an important part of angling, as it can affect both the quality of your line and the fish you are able to catch. When choosing a reel, it is important to consider what type of fish you will be targeting, as well as your own level of experience. With a little bit of research, you should be able to find the perfect reel for your needs. We've also discussed this topic on another article that we thought you ought to read: What Are The Different Types of Reels 
Final Thought
There are many great saltwater spinning reels on the market, but these three are sure to get your attention. The PENN Authority, Shimano Stella SW, and Okuma ITX all offer something unique that set them apart from the competition.
Whether you're looking for advanced technologies, durability, or affordability, these saltwater spinning reels have you covered. So what are you waiting for? Get out there and start reeling in some big catches!
Share the Love
If you found this post useful, please let others know about it by sharing it.