Angling has become a popular channel for everyday wellness. Nearly 55 million Americans fish every summer, and the trend is ever-increasing. But preparing for such an adventure requires certain essentials. In the mile-long list of fishing gears, Chest Waders are perhaps highly underrated but most important of all. Though you can fish in your regular shorts and T-shirt, maximizing time on water requires a special dress code.
Water conditions strikingly vary from area to area, season to season, and even differently affect different persons. But that doesn't mean you should be willing to sacrifice your comfort or risk your health. Investing in a well-fitted and decent set of chest waders is a great idea to make your fishing experience immeasurably more pleasant. So, if you are a hardcore angler and usually spend hours in the water, this article is for you. Today is all about the majestic TideWe Chest Waders. So, without further ado, let's start. 
What Are Chest Waders and Why Should You Consider Wearing One?
"Wading is where angling gets serious, and waders make it more fun and successful."
Chest Waders are waterproof overalls that extend from feet to chest. Think of them as dry suit variants that keep the angler dry while wading. Traditionally, they were made from rubber, but today they are available in more convenient neoprene, PVC, or Gore-Tex forms.
Now the question arises, "Who needs Waders?" Well, if you fish in cold and deep waters where water conditions are not ideal, you may need waders. Besides, wading is inevitable if you fish in rivers with bushy banks or shallow bottom lakes. Therefore, investing in a well-fitted, quality chest wader or full-body wader can save the day. 
What Are the Most Durable Breathable Waders?
Gone are the days when the anglers had to bear those old-fashioned rubber suits. Not only were they hefty, but also inconvenient. Wearing such suits was an arduous task. On top of that, the poor angler wearing those waders would emerge from the water being all sweaty, steamy, and dehydrated.
Thankfully, some reputable brands like TideWe stepped in to save the angler from this torture. Today the waders are much more breathable, lightweight, and convenient. Almost all reputable manufacturers use gore-tex, neoprene, dri-plus, or other synthetic materials to manufacture these modern waders. More importantly, slipping into these innovative waders is like slipping into your favorite pair of pants. 
How Do I Know What Size Chest Waders I Need?
Typically, you don't buy boots, pants, and a vest all at once. But when you are considering a chest wader, you are doing exactly the same. Finding the perfect fit may even be more difficult for anglers who are muscular or don't fit in the 'Average-build model.' Sometimes, the wader wraps your body perfectly but walking, sitting, or hustling with it becomes a nightmare. But don't worry, we won't let it happen to you.
Given are some important tips that you should always keep in mind while shopping for a chest wader.
First off, always start with the boot/ shoe size. A Chest wader is basically a boot that extends up the body. So, it's important to give due diligence to your shoe size. Remember, if the shoe is too tight or loose, it will be super inconvenient for multiple reasons. Additionally, the boot should not be overly bulky.

犀利士


Moving on up. The next most important thing to consider is the size of the upper size of the wader. Carefully consider your body structure and choose an inseam and outseam ratio accordingly. Inseam is the area from heel to crotch. Similarly, the outseam covers the area from the heel to the underarm. The inseam should always be longer as the boot is also attached to the pants. Also, carefully measure your chest and waist, and you are good to go.

Last and most important, always remember that you need a few inches inside of your wader for layering. Make sure the measurement allows room for two to three layers that you may want to put on in extra cold weather.
TideWe Chest Waders- The Top Performing Brand for HardCore Anglers
Okay, now you might have a better idea of where to start and how to find the best waders online. But wait! It's not that simple. Some dishonest players are trying to sell low-quality waders claiming to be the best in the industry. To avoid these bad boys, make sure you read tons of reviews before finally buying one.
To save your time, we have created a list of the 3 hot selling TideWe Chest Waders that you can buy without any second thought. The good thing is they are all below $70. Sounds interesting? Let's start!
Amazon Choice, Super Pocket Friendly, and #1 in Fishing Boots and Waders ranking on Amazon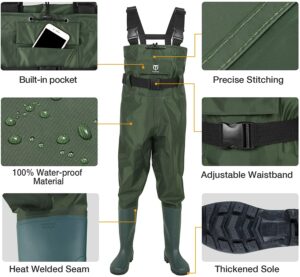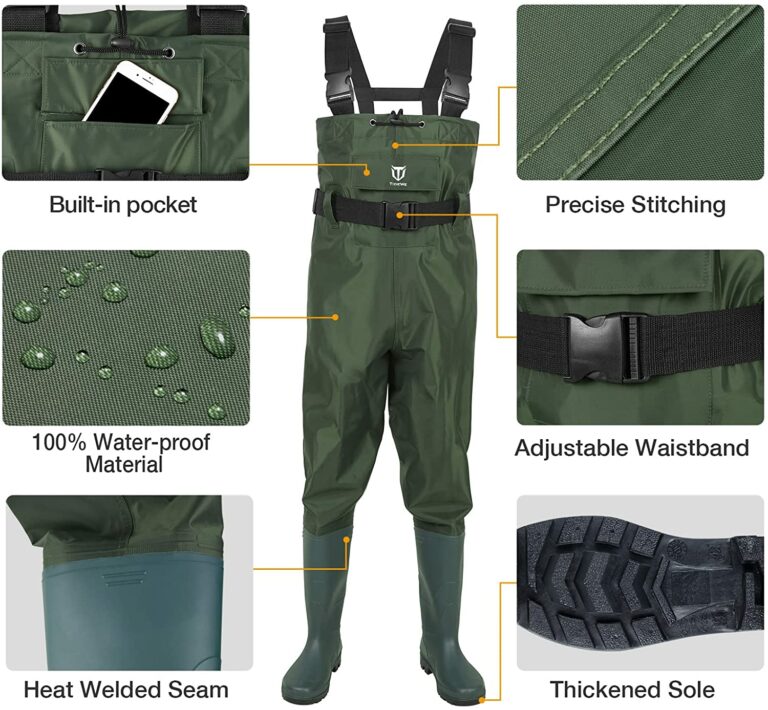 Technical Specifications
35% lighter, premium quality wader

Nylon reinforced PVC body with waterproof boots

Adjustable H-back web suspenders and decent waist belt.

Flip out chest pockets and quick-release buckles.

The manufacturer offers a waterproof phone case and a boot hanger (FREE)

Highly Versatile and below $30.
#2 TideWe Chest Waders- Realtree MAX5 Camo with 600G Insulation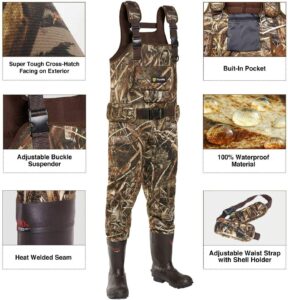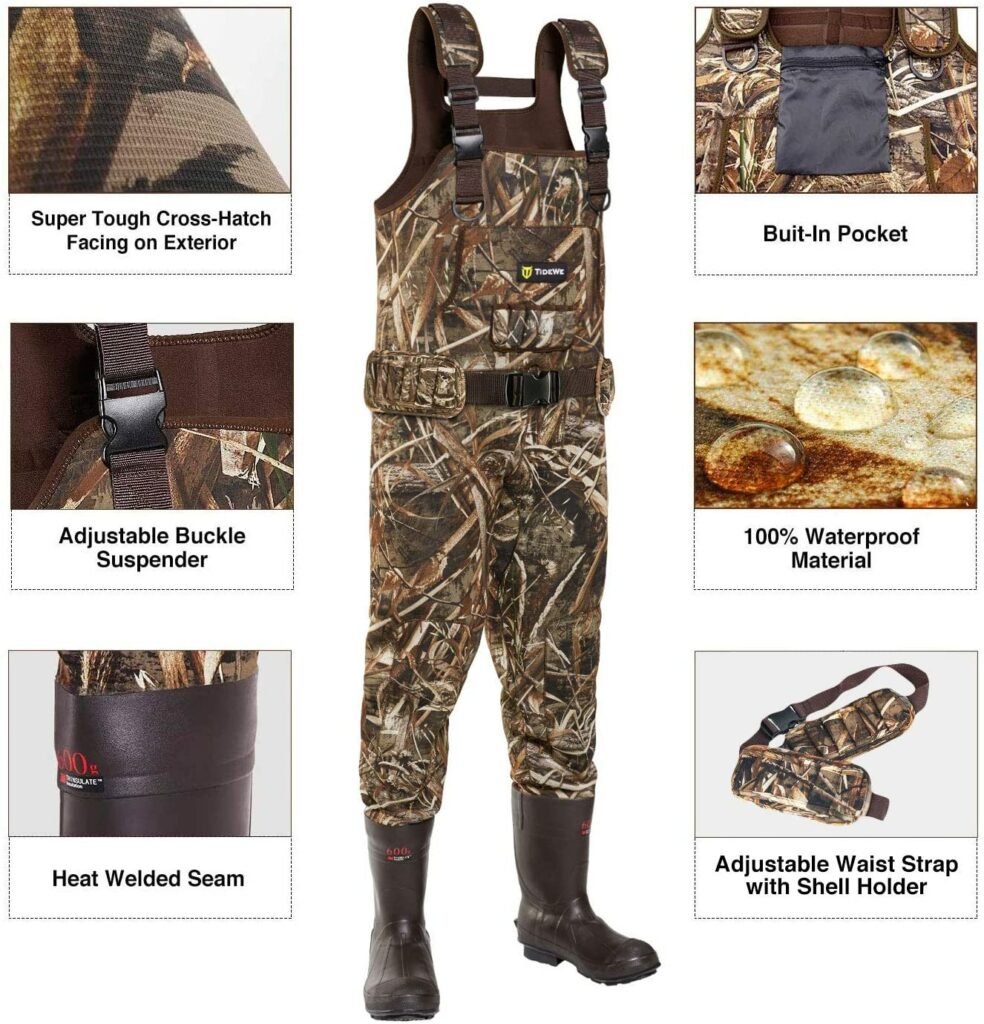 Technical Specifications
3.5 mm Neoprene Upper (100% Waterproof)

Triple finished seams that are glued, stitched, and finally tapped.

Built-in solid and insulated rubber boots.

Handwarmer pocket at chest with additional small waterproof pockets.

The wader has a waterproof phone case and a boot hanger (FREE)

Highly Versatile, Super Stylish Camo Design
#3 TideWe Chest Waders Camo Fishing Boot foot (Without Insulation)
Technical Specifications
4 mm neoprene upper (100% waterproof)

Anti-slip PVC boots with breathable lining.

Triple finished seams with a stretch liner at the waist.

Removable 12 shell- holder belt

Padded double-layered knee area for injury protection.

A waterproof phone case and a boot hanger (FREE)
Are TideWe Chest Waders Worth It?
Now you might be wondering, should you really get it? Well, in a simple word, 'Yes.' Thanks to the super affordable packages, TideWe Chest Waders are ideal for beginners as well as hardcore anglers. With all these awe-inspiring qualities, all 3 products are below the price range of $70 (Incredible!). Hence, we can undoubtedly say that TideWe Chest Waders are well worth the price. So, get your own set of TideWe waders today to take your fishing game to the next level.
Loved reading the article? Read our detailed review of the Best Chest Waders to buy in 2022.
Share the Love
If you found this post useful, please let others know about it by sharing it.