Moocor underwater fishing camera is well-known for its compactness and, more importantly, its battery life. The device can last up to 10hours – that's more than enough time to tail and catch your game.
However, there's a price to all the awesomeness of a Moocor camera. It is expensive and can let you down in murky water with its vision.
Overall, the Mocoor camera is a quality underwater fishing aid. Though it'll cost you up to $140, it's worth the investment.
But what if you're on a budget? What if you want a compact fishing camera with an incredible battery life despite being on a budget?
We can help!
After testing a range of underwater fishing cameras, we settled on 5 products that offer similar results as a Moocor camera but with lesser price quotes. Take a look!
5 Affordable Alternatives To Moocor Underwater Fishing Camera
Aqua-Vu AV715C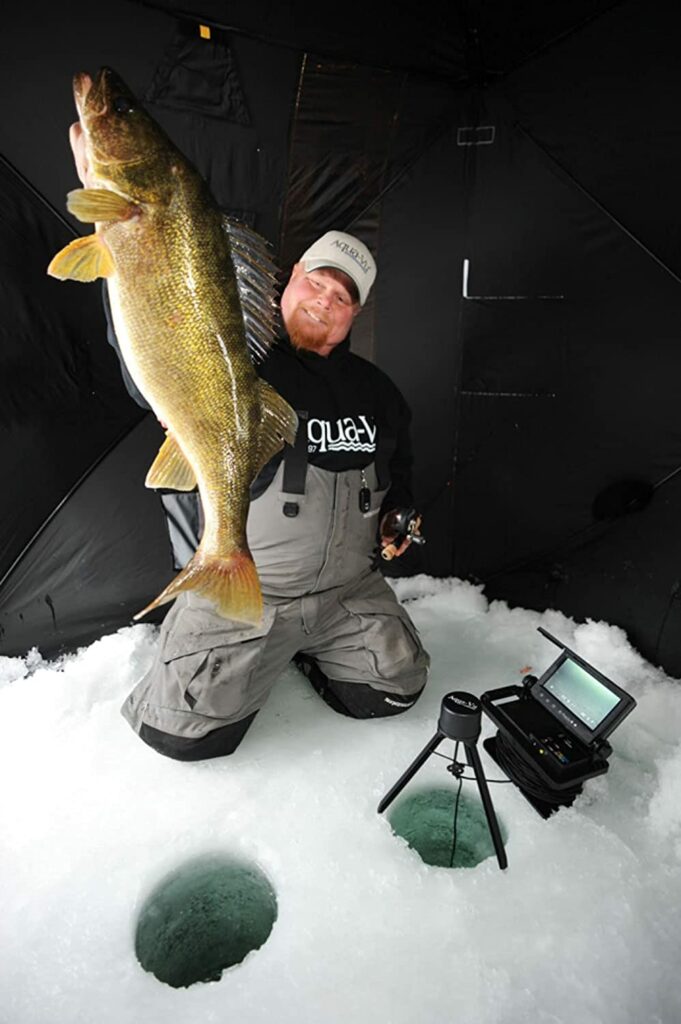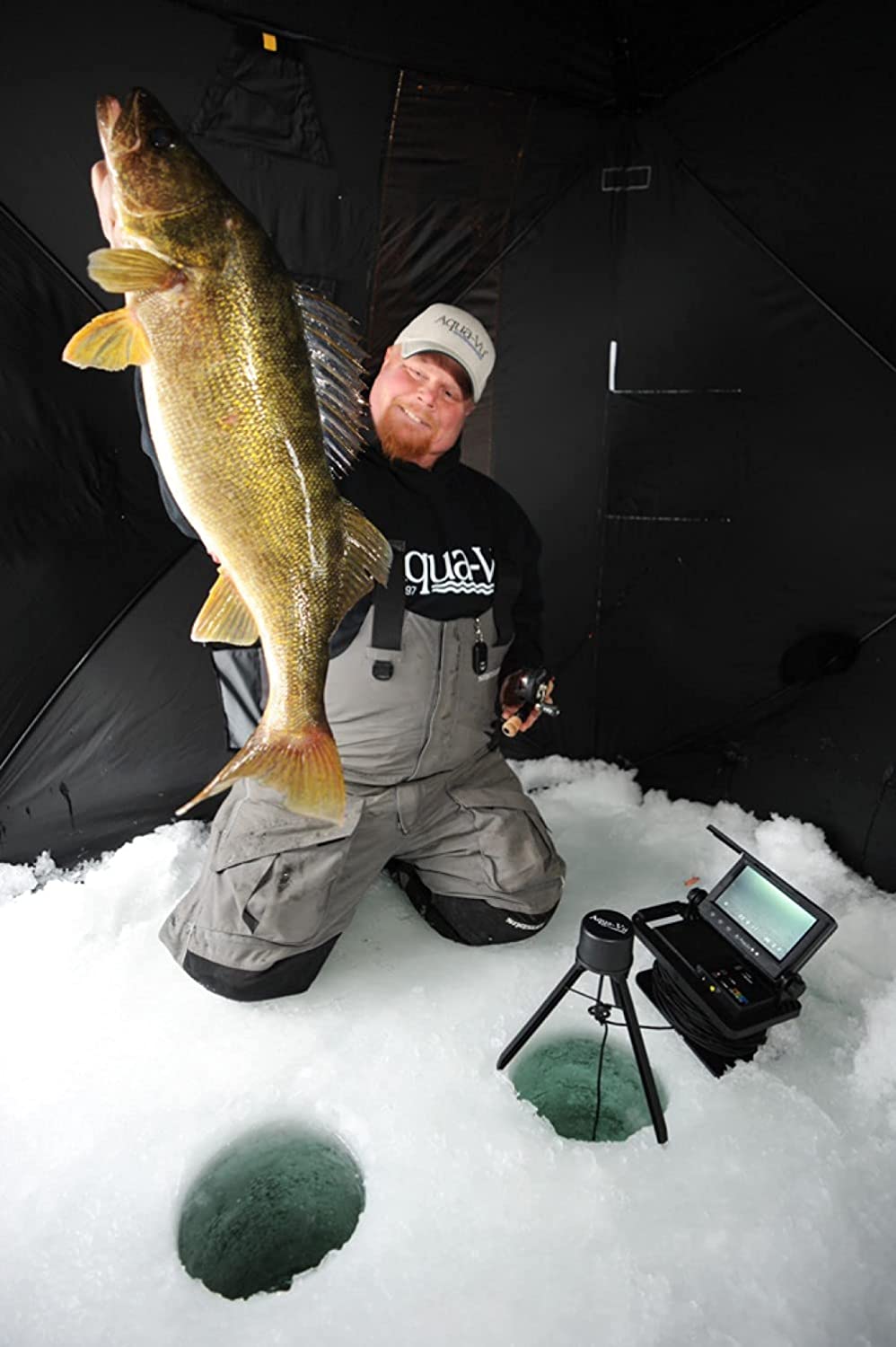 The Aqua-Vu fishing camera is totally waterproof. The best part: it comes with several features – even more than the benchmark you're used to with Moocor.
For specifics, only GoFish Cam can match Aqua-Vu for features. And considering that GoFish Cam cost almost $200, the Aqua-Vu camera is a steal.
Furthermore, the Aqua-Vu camera comes with infrared light (like Moocor) for video recording in low-light conditions. Also, it comes with a retractable 50ft cable that will suit your needs regardless of your favorite fishing spot.
The best of the features of Aqua-Vu is its LCD screen. It's a 7-inch, high-quality delight that you can fold for easy handling.
Pros
Beautiful and compact design

– the Aqua-Vu camera has a design similar to the high-end GoFish Cam. It's not only functional but also an aesthetic addition.

Quality Display

– Aqua-Vu camera comes with a buildBright LCD. With that technology, you can enjoy clear vision while fishing.
Cons
Aqua-Vu is not great for murky water. It can only see clearly in such conditions to a max of 6m depth.

The image protection and live footage can be better.
RICANK Underwater Fishing Camera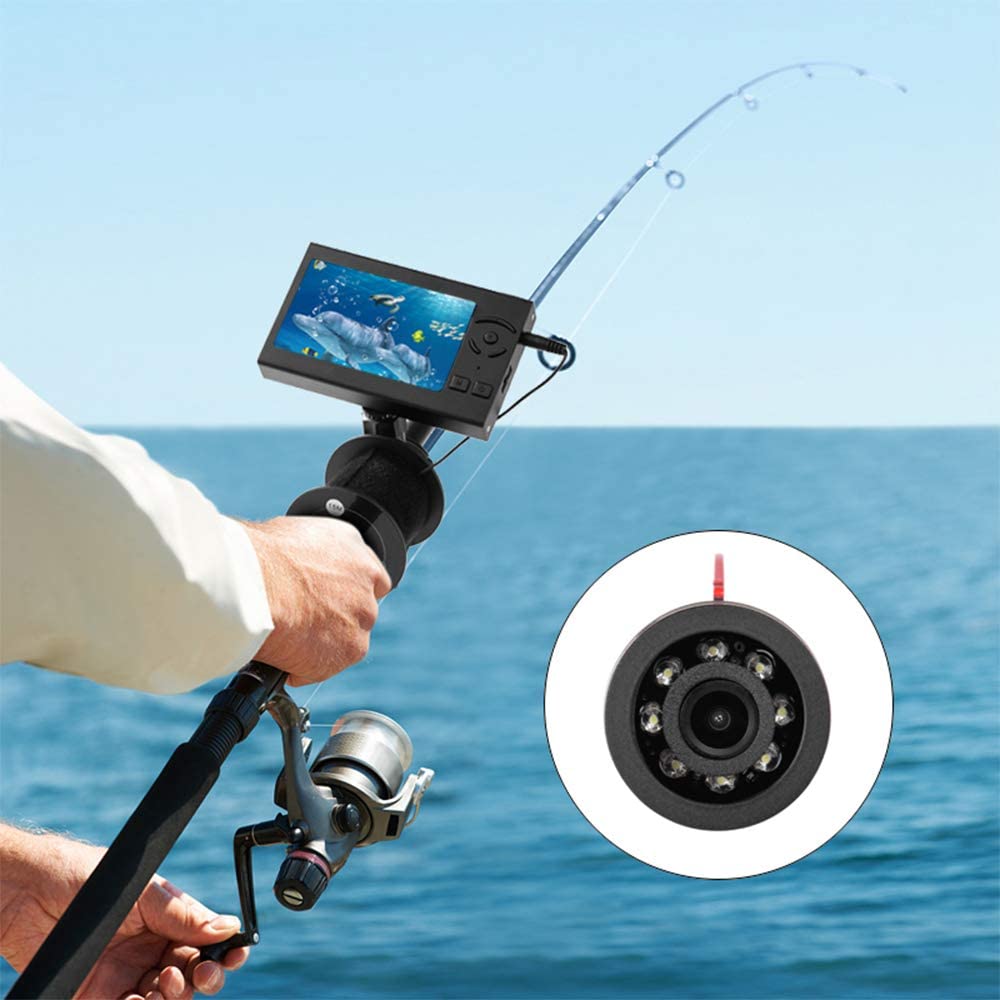 This product has the most similarities with the Moocor camera. They are both compact and have incredible battery capacity.
For specifics, both Ricank and Moocor fishing cameras feature a 4.3″ display. Also, they have a similar cable length: 50ft (15m).
Regarding the battery, Ricank and Moocor cameras have the same capacity. They both come with a 5000mA battery that lasts up to 10hours.
Unfortunately, the Ricank fishing camera doesn't have the infrared feature of Moocor. However, it features eight bright LEDs. And though they are non-infrared, the light works perfectly for video recording even in low-light conditions.
Pros
Versatile

– Ricank fishing camera can work for several fishing grounds and conditions, thanks to its durable 50ft cable. You can extend or retract the line to suit your needs.
Plus, you can use the camera vertically and horizontally. Just ensure it's well mounted on your rod.
Portable

– the compact display and makeup of the Ricank camera make it a portable delight. At just 1.4lbs, this device is perfect for travel.
Cons
No infrared light. 

The LCD monitor is not waterproof.
Dragon Touch 4K Action Camera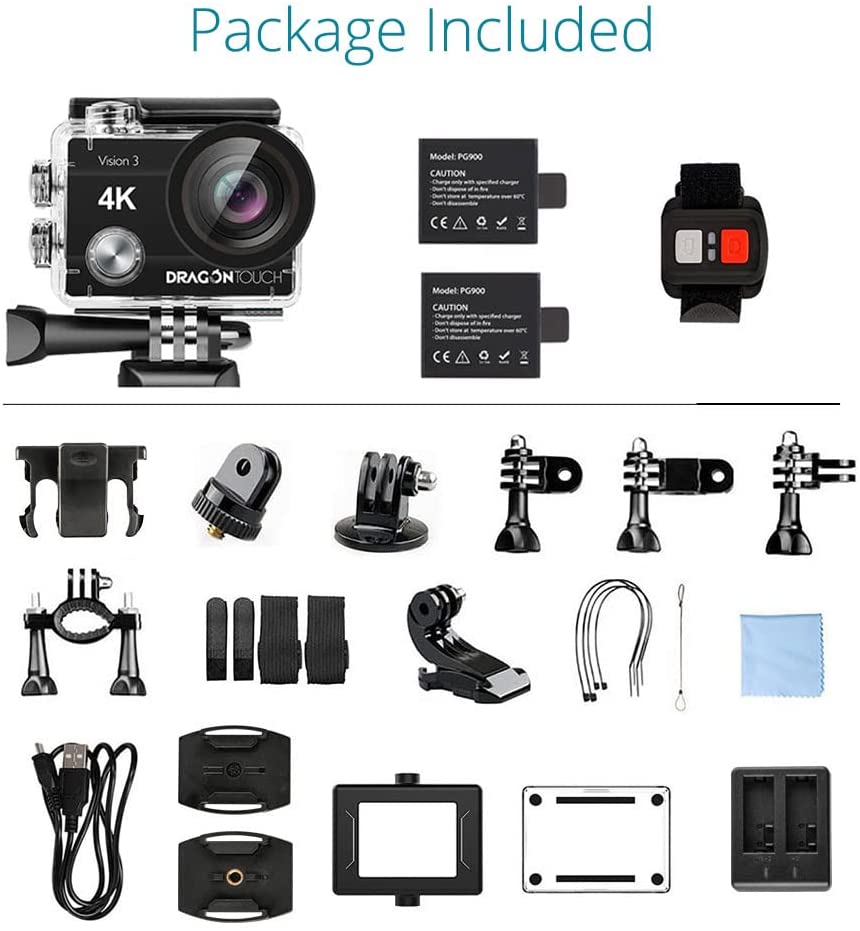 This underwater fishing camera is hands-down the most affordable choice on our list. It cost less than $60. Yet, it comes with a 4K Action technology.
With such technology, you can enjoy ultra HD video recording. Specifically, this camera can record your videos 1080 at 60fps. Plus, it has a 16megapixels picture quality.
Furthermore, Dragon Touch comes with image stabilization, unlike the Moocor underwater fishing camera.
In summary, the Dragon Touch camera is a beast. The price is a steal.
Pros
Versatile

– the Dragon Touch camera is the most versatile device on our list. It works with several fishing conditions. Yet, you can use it for your routine video recording needs.

Diverse storage options

– the Dragon Touch allows Wi-Fi connections to synchronize your videos. But if you prefer SD card storage, the device has a slot for it.
Cons
The two rechargeable batteries on the Dragon Touch camera can only power it for a max of 3hrs. And if you're recording a 4K/2K video, the runtime can reduce to 2hrs.
Olymbros D1 Fishing Camera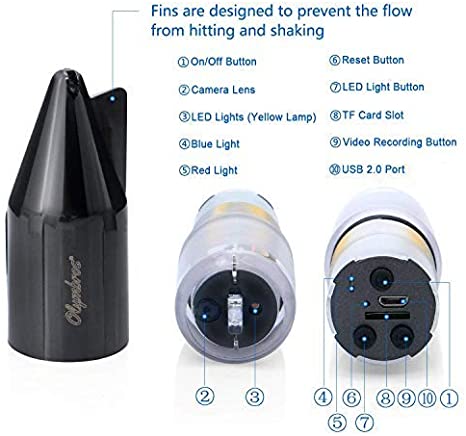 D1 is the runner-up for the most affordable fishing camera. It's only a bit more expensive than the Dragon Touch camera.
But unfortunately, there's no 4K recording on D1. Neither is their infrared light for low-light conditions.
Nevertheless, you can still enjoy a 720p HD recording. Plus, there is a yellow LED light to replace the IR light – though it's not enough.
Overall, the most outstanding feature of the D1 fishing camera is its cable length. At 20m, this product can reach depths that even a Mocoor camera wouldn't go.
Pros
Compact design

– D1 comes in an innovative, bullet-like build. The design is not only daring but functional too. It allows the camera to attain a streamlined body perfect for navigating the water.

Easy to use

– D1 camera interface and setup are straightforward. Even a beginner can set it up within minutes.
Cons
Indeed, the cable length of the D1 camera can reach 20m. However, you won't find any cable in the pack; you have to buy it.

D1 is not the best camera for fishing at night or in extreme low-light conditions.
Eyoyo Portable Underwater Fishing Camera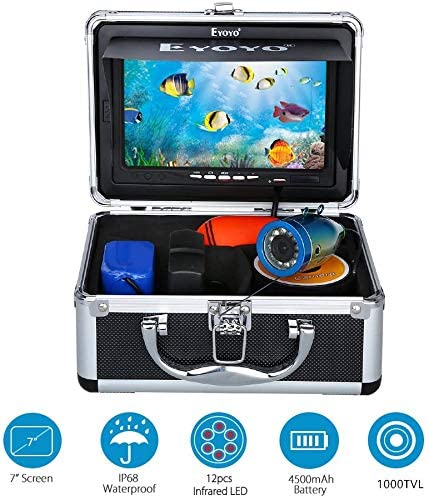 No list of underwater fishing cameras is complete without a product from Eyoyo. Like Mocoor, Eyoyo is a top player in the industry. And the Eyoyo portable camera is equally a top-notch device.
However, this camera is not as affordable as the other options on our list. In fact, it cost the same as the Moocor camera.
But overall, the Eyoyo portable camera is a better choice. No other cameras come close to its colored display.
More importantly, the camera comes with 12 IR lights. In other words, it is a perfect fit for low-light conditions.
Pros
HD display

– The Eyoyo portable camera comes in a 7″ HD monitor and offers clear views.

Battery life

– when fully charged, the Eyoyo portable camera can last up to 8hours. That's enough time to tail and reel in your game.
Cons
The IR light on the Eyoyo portable camera can limit image quality.
Further reading: Do You Need A Special Underwater Camera For Ice Fishing?
Summary
The Moocor underwater fishing camera is undoubtedly an incredible choice. It is worth every penny. But if you prefer an affordable one with similar functions, try the Ricank camera.
Share the Love
If you found this post useful, please let others know about it by sharing it.