In the winter season, most people sulk and prefer to coil on the couch with a warm blanket and unmatching socks while staring at the boring TV screen. If you are an angler, you must be willing to go out for fishing or other physical activity while other hibernates. 
The real problem starts when you have to use your fingers for messing and fiddling with smaller objects, but they get frozen solid within one hour of angling. Once your hand turns numb, the controlling line becomes extremely difficult. 
A quick fix will not help you longer than one hour on the water. Before the invention of premium palmyth gloves, most the anglers dried their hands and continuously moved their hands and fingers to use mittens to ensure the regular flow of their blood. 
But if you try these strategies these days, you will be packing back within a few minutes of fishing. 
Want the surest solution? 
High-quality, premium palmyth gloves. 
These gloves don't let the extreme cold weather stop you from angling. You will instantly know the importance of these gloves if you have tried tying a knot with entirely numb fingers. 
Premium Palymyth gloves will keep your hands warm and comfortable, as they are made of stretch neoprene windproof and breathable fabric. These gloves allow you to flip back your thumb and index finger to control the fishing rod, camera, or phone. This feature makes the gloves unique and a must-have for anglers. 
Features to consider while choosing Premium Palmyth Gloves 
If you plan to go fishing in the extreme cold weather, you can't settle on any gloves. Here are some top features that you can't ignore while buying gloves. If you know what you want, you will get the best quality, durability, and comfort you must have.
Warmth and dryness

Material

Insulation

Durability

Finger design

Good grip

Mobility 

Waterproofness

Affordability
Palmyth Ice Fishing Gloves

Key Specifications
Size: X Small, small, medium, large, X large, XX large, 3X large
Color: Gray
Material: Leather, Faux leather, Silicone, Thermoplastic
Hand orientation: Ambidextrous
Brand: Palmyth
Product Details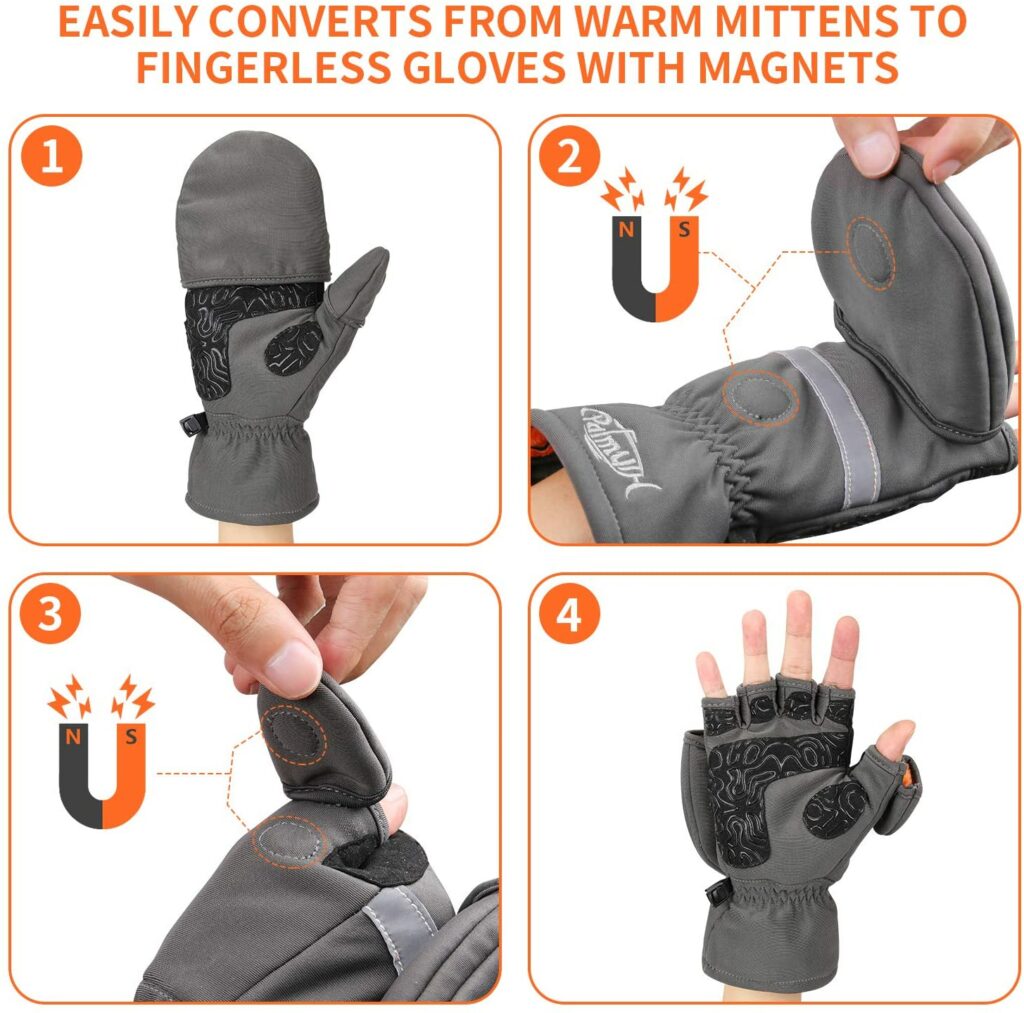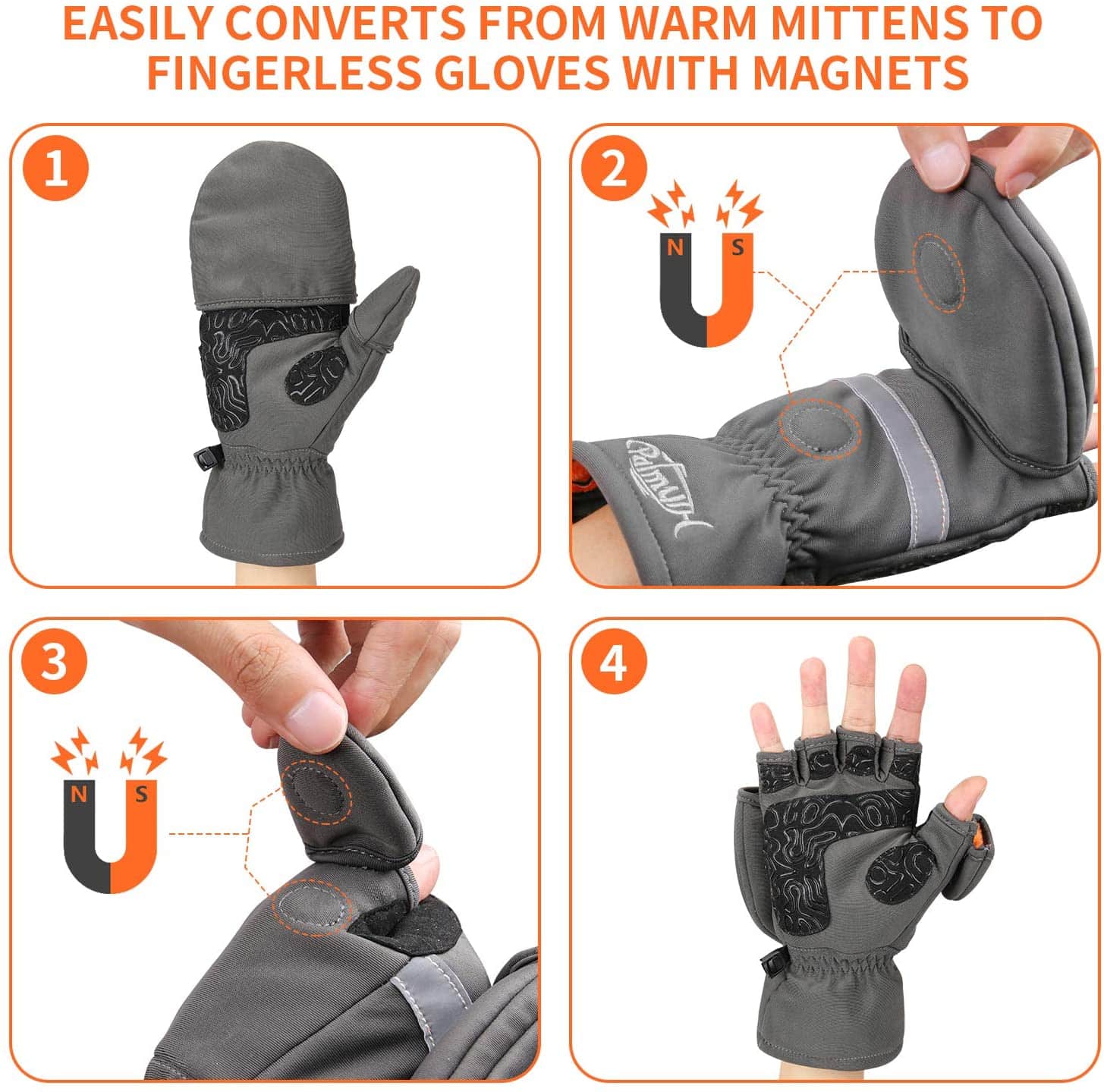 3M thinsulate: This glove is insulated with orange microfiber fleece, 4-way stretch shell, and 40 grams 3M thinsulate to provide warmth. If you sweat a lot then air dry it for a while. These gloves are recommended for a temperature of 20°F.
Convertible Mitt: These gloves are easily convertible from warm gloves to fingerless gloves with magnets. This feature frees your finger for pocket opening, fishing, tying knots, texting, and photography. 
For extreme weather and snowy days it has a compatible heat pocket on the wrist that adds warmth. 
Silicone palm grip: In palms of the gloves ergonomic leather is used that provides a better grip on phone, camera, or fishing rods and also protects from blisters, insect bites, and calluses. This premium anti-slip silicone and partial synthetic leather benefits in avoiding the daily wear and tear. 
The sizes mentioned on Amazon are for men. Women should buy a size smaller than mentioned. If you are in between the two sizes try buying the larger one for more comfort.  
Pros

It has 3 layers of fabric that makes it a great fit for winter
Comes with comfortable grip because of its anti-slip palm design
It can be converted from warm mittens to fingerless gloves with the help of its built in magnets
Cons
The material gives an unlikable odor
Palmyth Magnetic Fleece Fishing Gloves
Key Specifications
Size: Small, small, medium, large, X large, XX large, 3X large
Color: Black
Material: Silicone, leather, Faux leather
Closure type: Hook and Loop
Brand; Palmyth
Product Details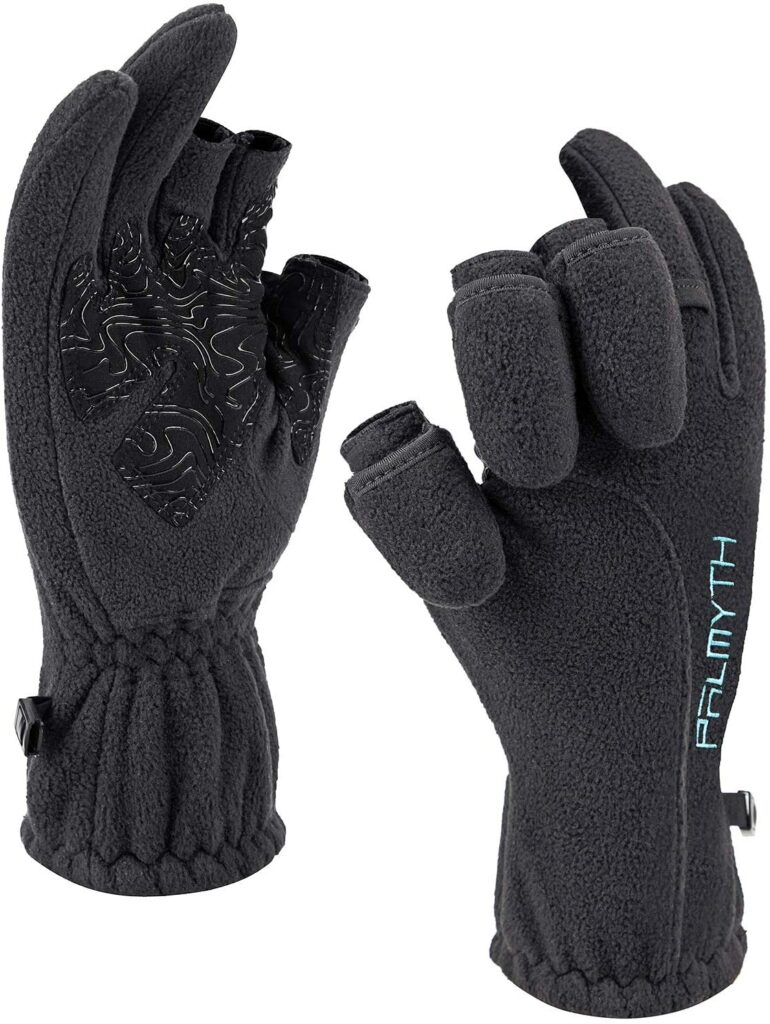 You can easily convert Palmyth Magnetic Fleece Fishing Gloves from a full finger to 3-cut fingers gloves that consist of a total 12 magnets. Unlike the ordinary hook and loop buttons, these magnets are way easy to use. Thus you can easily free your fingers to do knots, fishing, texting, pocket opening, running, and line stripping. 
These are the types of gloves that once you wear you might not be willing to take it off. It has a heat pack compatible pocket that provides more warmth for extreme weather. 
The premium Anti-slip silicone and partial synthetic leather enhance its grip and prevent its tearing. The size chart present on Amazon is according to men so for women if you wear a size L then buy a size M for men.  Besides before selecting your size measure your palm with the help of a size chart. 
Pros
Its soft high stretch and wind-resistant fleece protects the gloves from fraying
The anti-slip silicone benefits the grip and avoids the wear and tear
The heat pack pocket on the wrist provides warmth
Cons
You may feel uncomfortable if wear it for longer periods
Palmyth Flexible Fishing Gloves Warm for Men and Women
Key Specifications
Size: Small, small, medium, large, X large
Color: Grey and Black
Material: Faux Leather
Closure type: Hook and loop
Brand: Palmyth
Product Details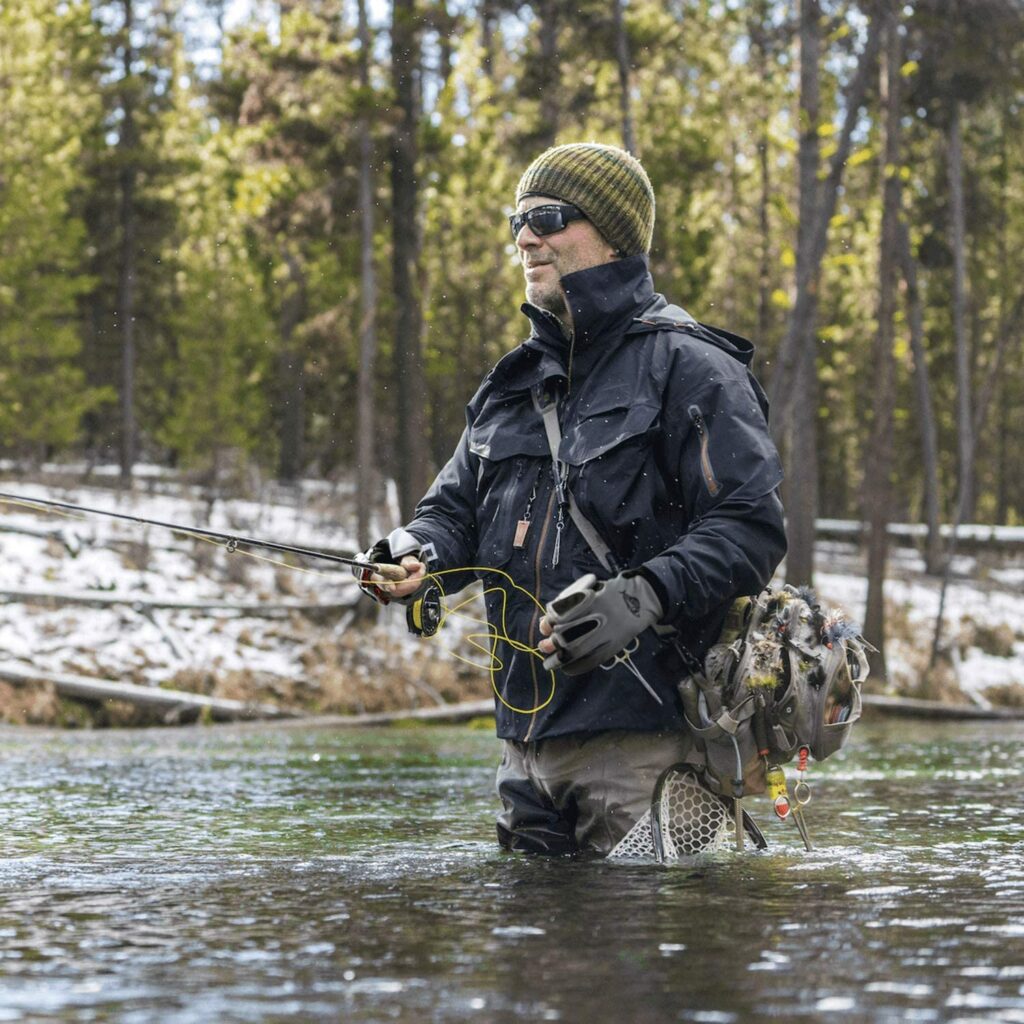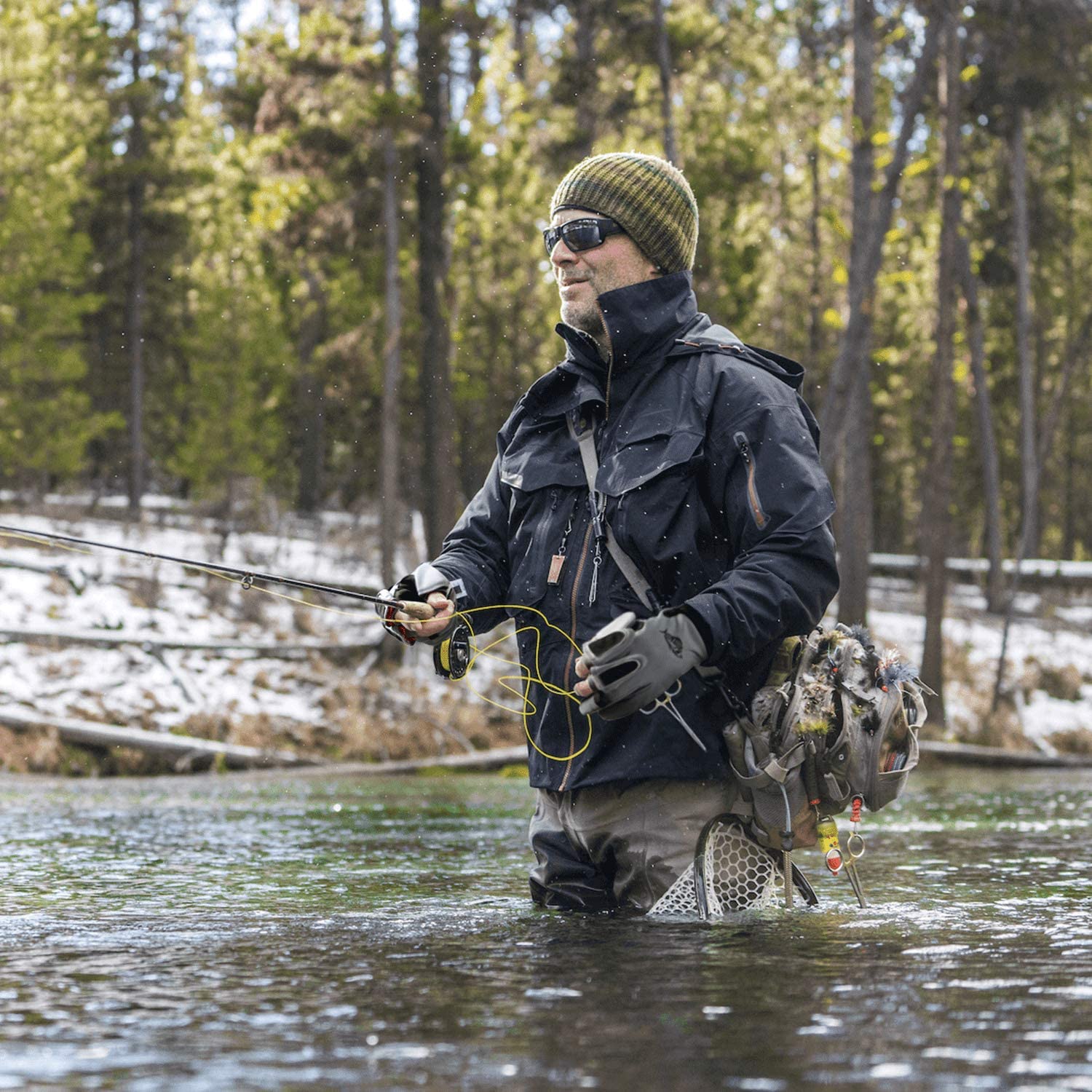 The convertible gloves are almost perfect for every sport like motorcycling, fishing, and photography. You can easily free your thumb, index finger, and middle finger with the metal buttons to handle the small objects with perfection. 
The windproof softshell and breathable water repellent prevent water and snow from damaging. Remember it's for the accidental water splash not if you are dipping your hand in the water. 
3 cut fingers means that you have maneuverability that makes it suitable for anglers, fishermen, cyclists, motorcyclists, photographers, shooters, hikers, runners, and outdoor athletes. 
By following the size chart remember to measure your palm size before making a purchase. And if you are in between the two measurements select the larger one for more comfort. The gloves are machine and hand washable but try avoiding bleach, iron, or fabric softener for it.
Pros
You can wear it in rain due to its waterproof material
The pull rings on the fingertips make it easy to take off the gloves
It has the perfect fitting because of its built-in adjustable
Cons
Mediocre stitching quality
Many mean brokers and malicious business people are trying to hunt your bucks. Before realizing you get tricked, there will be nothing left except using this crap. 
Fake replicas of some good gloves have flooded the market, but a buyer having a sharp eye will take a minute to separate gold from dust. 
Share the Love
If you found this post useful, please let others know about it by sharing it.