Hey all angling enthusiasts! Today we will be reviewing the Bubba Blade Electric Fillet Knife Kit– a brand all set to impress a new generation of anglers. So, without any further ado, let's start!
What is a Fillet Knife?
Highly performance-centric and specially designed to make your fishing experience more enjoyable, Fillet Knives are an angler's best friend. Rightfully named, a fillet knife features a sharp, flexible, and narrow blade that offers expert-level precision while dispatching or cleaning your catch. Furthermore, the knife allows greater control and maneuverability for the effortless removal of skin, bones, fins, and entrails from a fish fillet. Moreover, you can also use these kni犀利士
ves for other meats like chicken, beef, and other field dressing games.
So, you are planning your next freshwater, saltwater, or fly-fishing adventure? Don't forget to add a quality Fillet knife to your tool kit. Remember, not all these knives are created equal, so you must be very conscious while choosing the perfect one. 
Benefits of Investing in a decent Fillet Knife
Talking about the benefits of buying a fillet knife, let's consider a condition. Suppose you are given a task to drive a nail, and you have two options: a rock and a hammer. What would you choose? The hammer option is a no-brainer. Similarly, you can use a regular knife to prepare your fish, but a fillet knife makes the job a whole lot easier.
Here are some important tasks that best describe the efficiency of a professional fillet knife.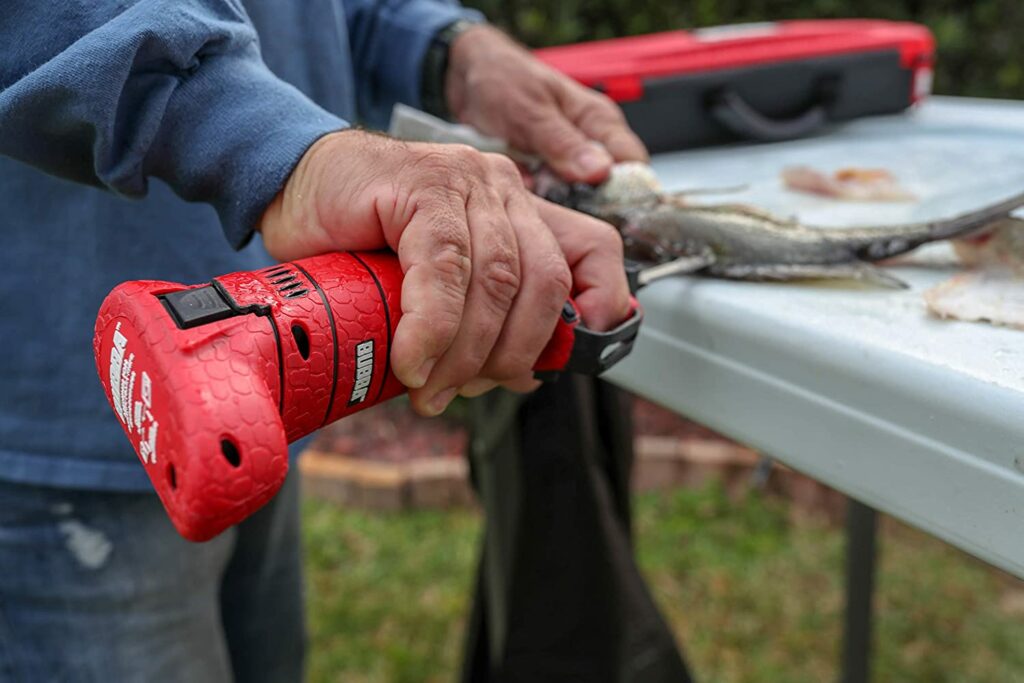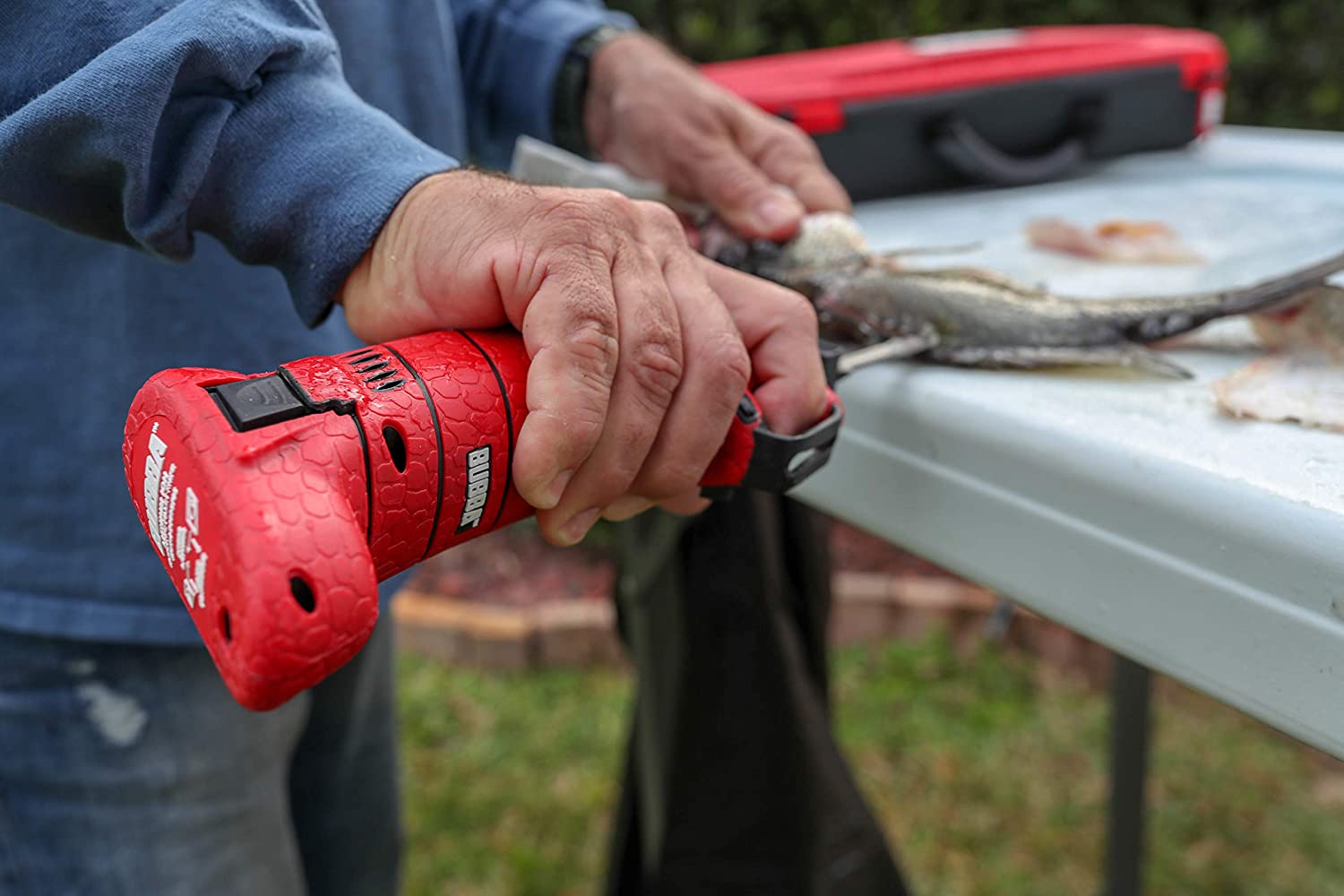 Fillet the fish: Get the perfect fillets you always want – maximum meat and clean bones and cartilage with a fillet fish.  
Skin the fish: Secondly, the thin blade in a fillet knife makes the "Skinning Process" 100 times smoother. No meat will be wasted while removing scales, and you'll enjoy the process – for sure!
De-bone the fish: Removing rib cage and smaller pin bones has never been this easy as with Fillet knives. Additionally, these knives easily cut through larger bones like the spine so that you can have perfectly cut pieces.
Fillet knives VS. Traditional Knives- Which one is better?
From traditional to manually operated or electric-powered knives, there are literally hundreds of options. So, if you ask, which one is the perfect fit for all your angling needs, "Fillet Knife" is the ultimate answer. Here is why:
While traditional knives may lead to a lot of waste, fillet knives excel at obtaining the maximum meat.

Secondly, traditional knives may not perfectly cut all fish types. That said, fillet knives professionally cut various gamefish like

panfish, catfish, trout, walleyes, northern pike

, etc.

Additionally, you need more precision while cutting baits like bluey, mackerel, herring, squid, large peel crabs, etc. That's exactly where the magic of a branded Fillet knife comes in.

Finally, a fillet knife's flexible, sharp blade gives you more grip while cutting a slippery fish.
What to look for while finding your perfect fillet knife?
Cleaning the catch can be draining and exhausting if you don't have the right fillet knife. In fact, some knives are so not user-friendly that they put you at risk of cutting your hand while cleaning the fish. That's why opting for the right brand is very important.
Here are some important features that you should always consider while choosing your perfect fillet knife:
Firstly, the knife must feature an ergonomic, non-slip grip and have a lockable sheath.

Secondly, the blades should be made up of stainless steel and not some cheap carbon steel. The stainless steel doesn't let the blades rust, chip, or stain.

The ideal blade length should be anywhere between 7″ to 9″. From Crappie to Salmon, a medium-sized blade best accommodates the fillet process with no difficulty at all.

Additionally, an avid angler should always look for the blades' strength, length, and sharpness while choosing the perfect knife.

Finally, a cordless option is a no-brainer. A corded fillet knife can put you in a terrible position, especially if someone walks into the knife's power cord while you are working. In addition, there is always a risk of the "Cord-cut" involved. Also, these types of knives are useless without a power source.
Editor's Top Pick- Bubba Blade Electric Fillet Knife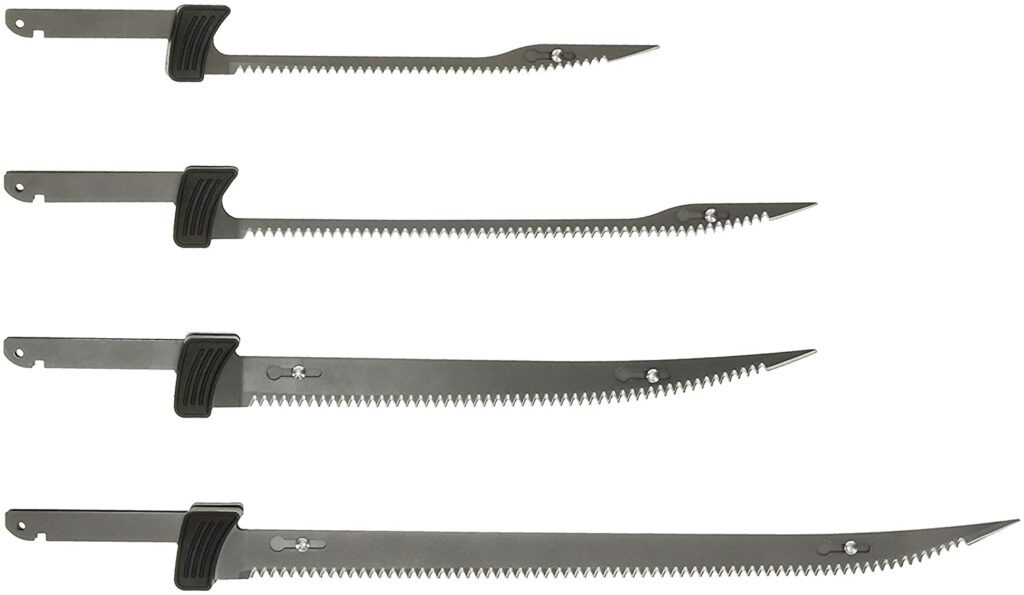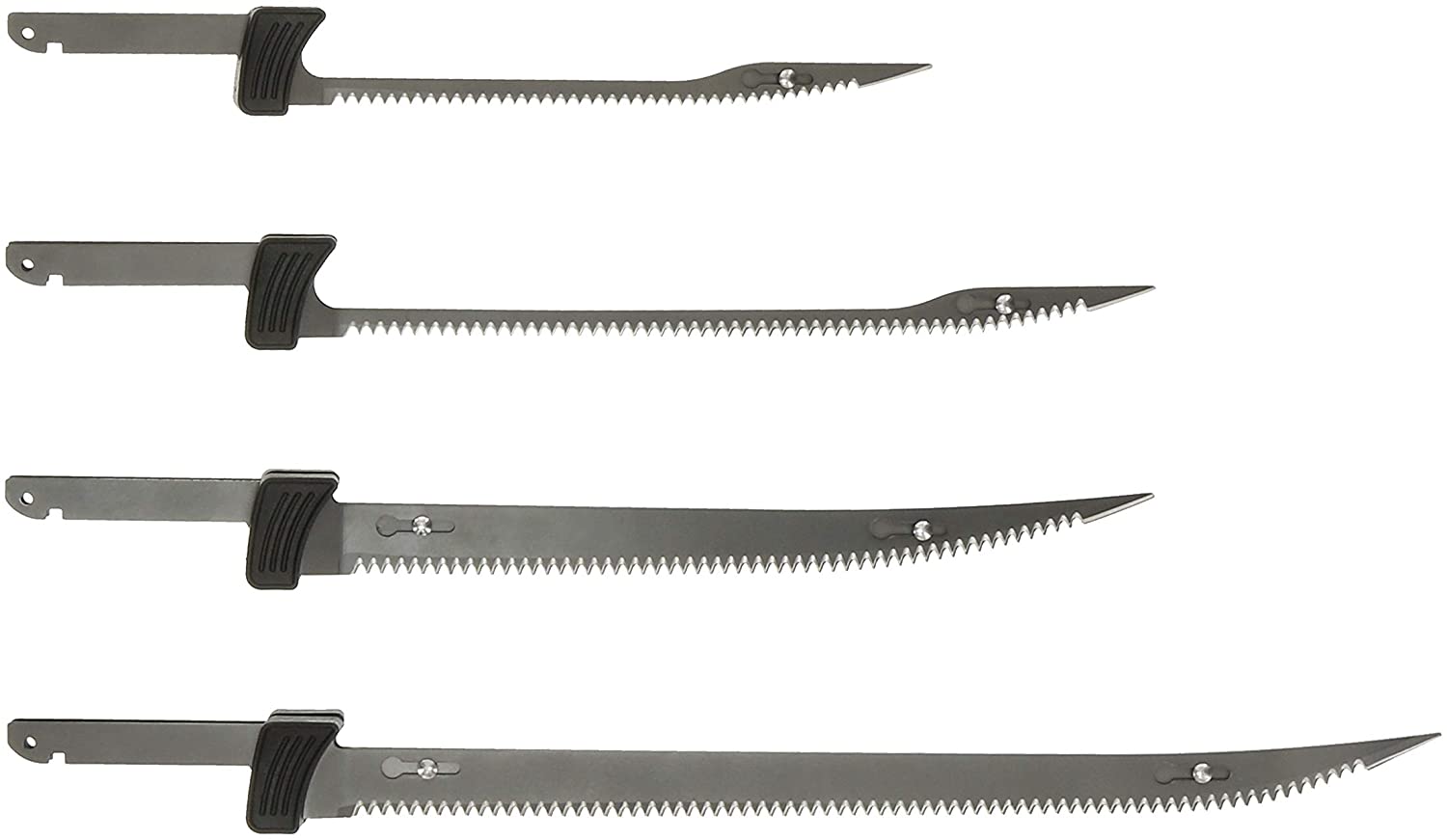 Here comes the best part of our Bubba Blade electric fillet knife review, i.e., talking about the product itself. With more than 86% 5 Star reviews and thousands of satisfied customers, Bubba Blade electric fillet knife tops our list of the best cordless electric knives in 2022.
Excited to learn more about the product? Let's jump in,
Tech Specs
Industry-leading cutting efficiency

Dual rivet blade design and 4 different blade options

Premium rechargeable technology

Handles fish of all types and sizes

8.5″ handle with a user-friendly non-slip grip

Ergonomic trigger and added safety guard

2 top-tier lithium-ion batteries (FREE with the package)

LED battery life indicator

Classy EVA case for storage and transport
Product Details
Bubba Blade Electric Fillet Knife is in a class by itself with a cutting-edge design and a bold theme color. Additionally, the advanced brushless motor delivers 22% more motor efficiency, 21% more torque, and unparalleled cutting efficiency. Developed and marketed by an industry leader, the product is the most powerful electric fillet knife in the category. The brand promises seamless cutting, featuring the 7″ E-Flex, 9″ E-Flex, 9″ E-Stiff, and 12″ E-Stiff blades. Additionally, the non-slip grip and added safety-guard promise protection and eliminate other risks.
But the specifications don't end here. The knife comes with 2 premium quality Lithium-ion batteries that are long-lasting. The Bubba Blade knife also features an LED Battery life indicator so that you can have more control over the process. The best thing is it's cordless – it means you are not at the slightest risk of the above-discussed perils. From stainless steel sharp blades to the ergonomic handle, the product has everything a hardcore angler wishes. So, get ready to cut like a PRO with the best fillet knife in the world. 
Verdict of our Bubba Blade Electric Fillet Knife Review
And that sums up our Best cordless electric fillet knife review. We really hope that this expert guide will help you choose the BEST fillet knife. Keep in mind that the right tool can make the cleaning process exciting, but a low-quality tool can be your worst nightmare. Don't forget to check other customers' reviews before finally buying a product, or just trust your Angling partner – Fishingpioneer.com.
Bottom line: From your Fishing affair to Table-Fare, the process should be FUN. So, get into犀利士
the game with the best fillet knife and enjoy every precious moment of your hobby.
 If you are on a strict budget but want the same best quality fillet knife, don't forget to check our:
Bubba Li-Ion Cordless Electric Fillet Knife Review- Best Price
Share the Love
If you found this post useful, please let others know about it by sharing it.