Angling is fun only when you have your fishing gear ready and organized, or else it can turn into an absolute nightmare. On a fishing trip, you need to carry a lot of equipment; here, a lot means literally "A LOT!" Carrying 10 to 15 things all at once is no joke. But stuffing all the equipment in a regular backpack is not the solution; it will only add to your problems.
Take it from an expert, "Nothing damages your flies, lures, and equipment more than lacking a proper strategy to organize your gear". That's exactly where a Tackle bag comes in. The right tackle bag organizes the equipment and keeps your supplies tidy. Not just that, it also develops confidence and brings the much-needed balance between mobility, efficiency, and comfort.
The market has evolved so much in the past few years that it has become more of a challenge to find the perfect one. That's why we have prepared our list of the 3 best tackle bags to make your fishing hassle-free and fun. So, let's dive in.
Our Top Picks for the Best Tackle Bags
Well, suggesting any product is a big responsibility, and we take pride in our research and industry knowledge. Our savvy experts have investigated hundreds of different products to suggest the best of the best. So, let's start.
#1 Prospo Military Tactical Shoulder Backpack
The Finest Quality Elite Tackle Bag
Multifunctional, Durable, Stylish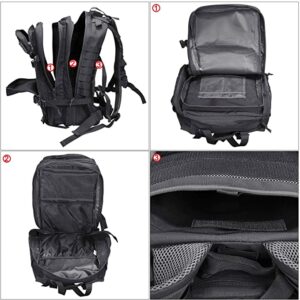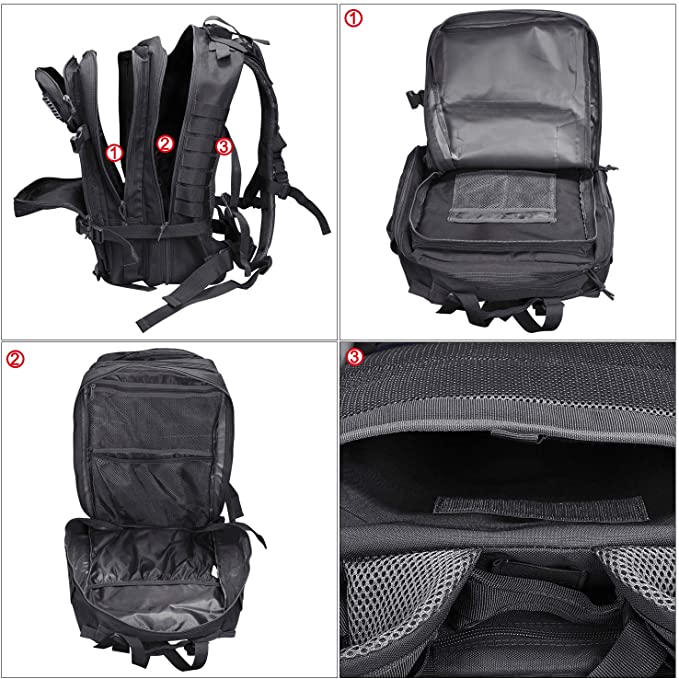 Tech Specs
✔  1000D Polyester Fabric with breathable mesh
✔   40 L Holding Capacity
✔   Water Resistant Coating
✔   Molle System with well-organized compartments
✔   Dimensions: 12 x8 x12.5 inches
With a perfect 5-Star rating and countless reviews, Prospo Tactical Shoulder BackPack tops our list for the Best Tackle Bags. The bag is made up of high-density 1000D fabric that is abrasion and water-resistant and has shape retention. Furthermore, the shoulder and chest straps and waist belt for added safety create stiff competition for other brands.
The best thing about the bag is that it's tough as a military man and super stylish at the same time. Another plus point is the bag is spacious and has well-organized compartments to adjust your pliers, lures, lines, reels, phone, camera and other essential accessories.
Some Good and Not-So-Good Features!
Pros
Firstly, the bag has a Molle webbing all over to support large-sized gears that don't fit inside.
Secondly, the breathable mesh makes it your best buddy for hiking, trekking, fishing, and other sports.
Finally, the bag is super budget-friendly
Con
The bag doesn't come with a warranty, which may concern some customers.
#2 Ugly Stick Fishing Bag
Exclusive Tackle Bag in the Best Budget for You!
Affordable, Adjustable and Multi-pocketed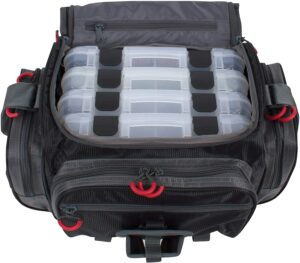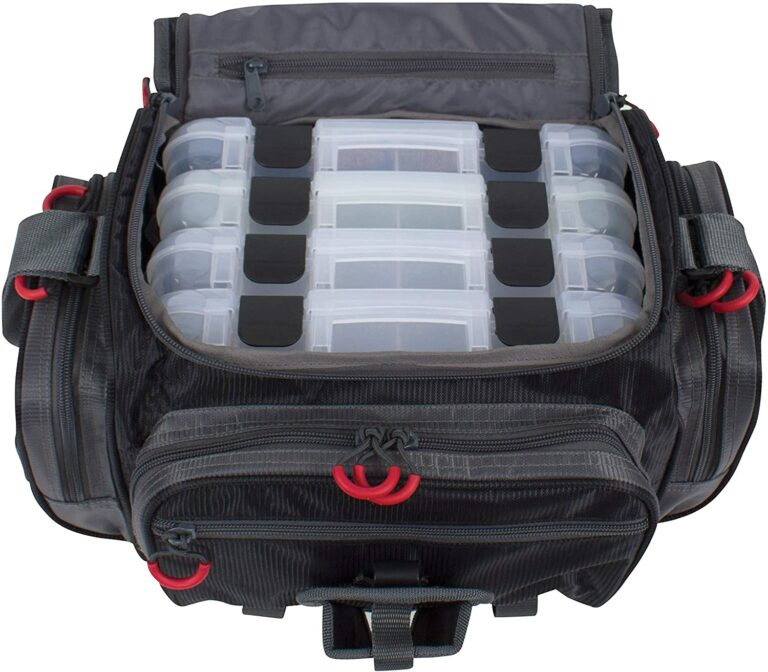 Tech Specs
✔   Heavy-Duty Water-Resistant Base
✔   20.8 L Holding Capacity
✔    Multi- Pocketed
✔    4 Plastic Utility Boxes
✔    Padded straps and Mesh Handle
✔    2 Years Manufacturer Warranty
✔    Dimensions 11.7 x 9.45 x 7.5 inches
Next on the Best Tackle Bags list is Ugly Stick Fishing Bag by The Outdoor Recreation Group. Just open up the product's landing page, and you will see thousands of customers showing their reliance and confidence in the bag. It's the star of the show as it provides so many amazing features at such a pocket-friendly price. So, if you are on a budget and want something exceptional, look no further; this tackle bag is for you.
The 2 years warranty boosts customers' confidence in the purchase. Besides, the bag is well-organized and has pockets for all your fishing needs. Another fantastic feature is that the bag comes with 4 reusable utility boxes that are both reusable and adjustable. Though the bag is not waterproof, it has a high-duty water-resistant base that makes it the ideal choice for saltwater fishing.
Some Good and Not-So-Good Features!
Pros
The bag has 4 adjustable plastic utility boxes that help you professionally manage your fishing stuff with ease.
It has 3 external zipped pockets, mesh top carry, removable tool holster, and an additional shoulder strap.
The bag comes with a 2 years manufacturer warranty that creates confidence in the purchase.
The amazingly pocket-friendly price makes the offer irresistible.
It's an Amazon choice product that ranks tops in its category and has thousands of satisfied customers.
Cons
As you can see from the dimensions, the bag is relatively smaller compared to the competing products.
This tackle bag has all the features that a fishing enthusiast can wish for. That said, the only not-so-good point is that the design is slightly off, which may be a turning point for some customers.
#3 Okeechobee Fats Fisherman Deluxe Tackle Bag
The Premium Tackle Bag to rule them all!
Deluxe, Fine Quality and Super Spacious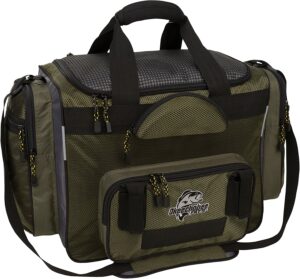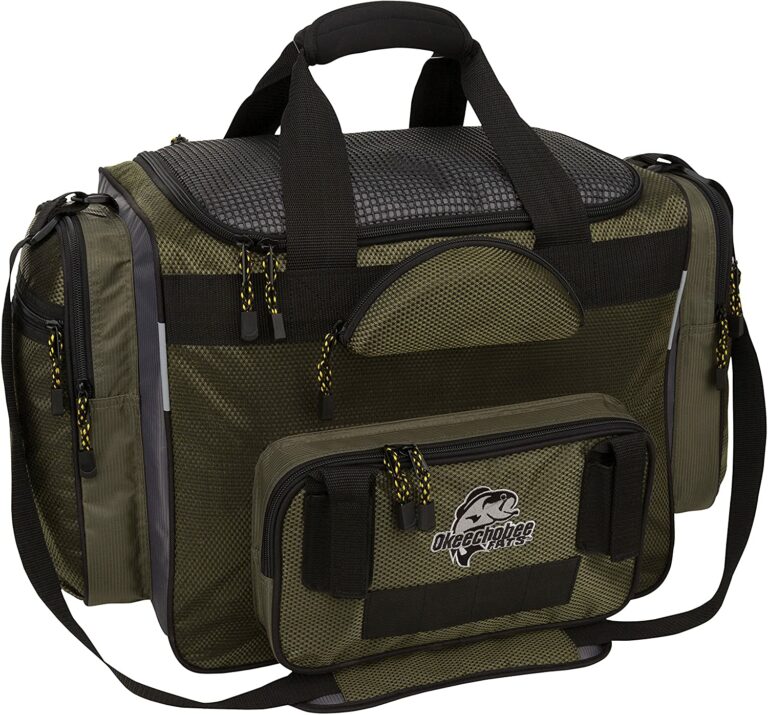 Tech Specs.
✔  Heavy Duty 100% Polyester
✔  Spacious Top-load main compartment
✔  Comes with 4 Large Utility Boxes
✔  Water-Resistant
✔  Hard Cover Sunglasses case
✔  Dimensions: 16.4 x 10.2 x 13.9 inches
Okeechobee Fats Fisherman Bag qualifies for the Best Tackle Bags for avid pro anglers who want to keep it professional and well-organized. Furthermore, the best thing is that the bag comes with 4 spacious Utility boxes but can hold up to 8. Apart from the capacious main compartment, the bag has plenty of external pockets and sections. In addition, the bag is made up of high-quality Water-resistant Polyester fabric that makes it the perfect fit for fishing.
Another pro feature is the hard-cover case for keeping your sunglasses safe while trekking or hiking. Moreover, the bag comes with a neoprene wrap handle and adjustable shoulder strap to make it more feasible. The good thing is the bag has mesh pockets on both the front and rear sides that are protected by the zipper closure. The product also comes with a manufacturer warranty so that you can be confident about this purchase.
Some Good and Not-So-Good Features
Pros
The bag comes with a sunglasses case, multiple pockets and an elastic accessory loop.
Secondly, the bag is highly durable, which is evident from the double-stitched seams.
Moreover, the brand raises the bar for other competitors with a lifetime manufacturer warranty.
Finally, this tackle bag comes with 4 adjustable utility boxes and can withhold up to 8.
And that's all. I really hope this 5-minute read will be super helpful in choosing the right fishing tackle bag that best meets your unique needs.
Loved reading the article? Want to learn more about other amazing Fishing Tackle Bags?
Share the Love
If you found this post useful, please let others know about it by sharing it.