Fishing bags and boxes are crucial for keeping your lures and gear intact. Also, they help you to stay organized. However, there is one tiny issue when it comes to saltwater.
Saltwater fishing requires special tools because of the salinity of the water. In other words, your tackle bag or box should be resistant to the conditions of saltwater. Else, your fishing gear is as good as being exposed to damaging weather elements.
In essence, any fishing tackle box can't work for saltwater conditions. You need the durable kinds built to cope with the salinity of the environment. And fortunately, we have some of the best options in this post. Check them out!
5 Fishing Bags Perfect For Saltwater Conditions
The clue is already in the name; KastKing Saltwater Bag is built for saltwater conditions. It is made from 420D rip-stop nylon material, hydrophobic coating, and PVC layer. Together, the tough layers help improve the performance of this fishing bag.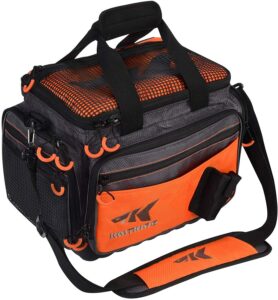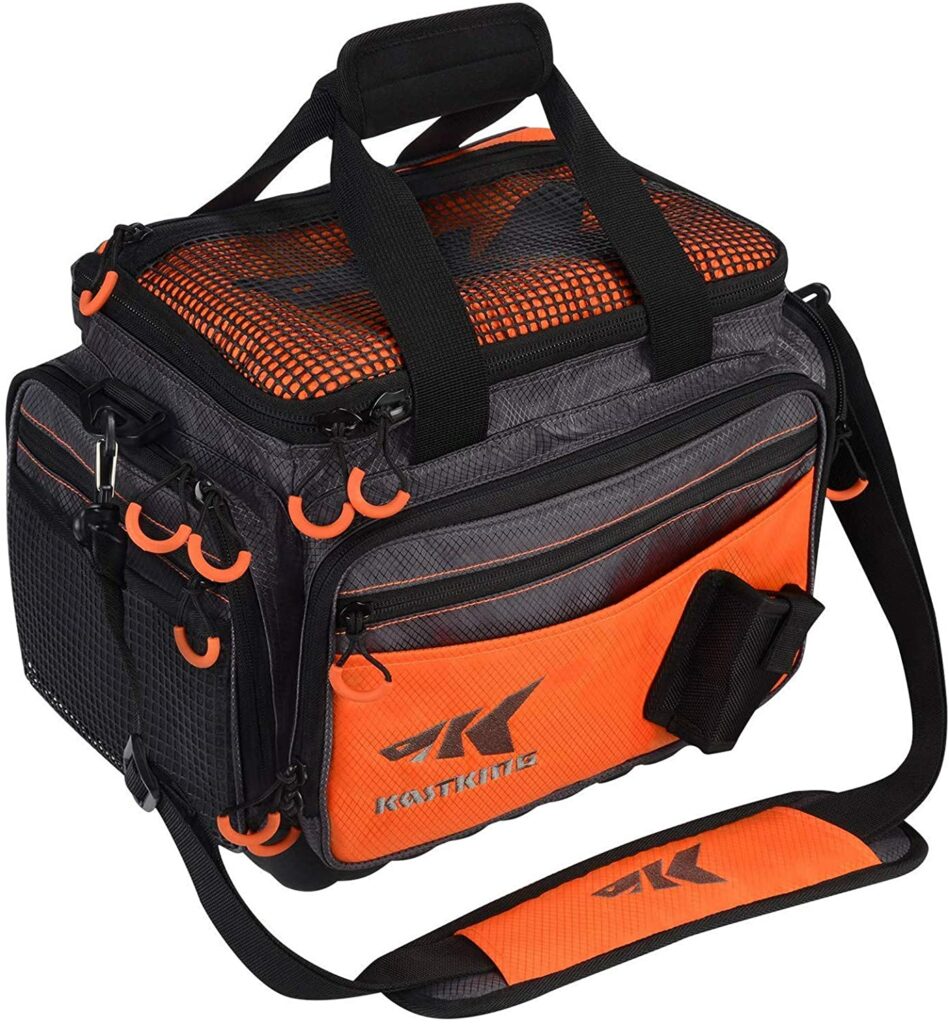 So, rest assured that the exterior of your bag and the tackles inside have adequate protection. But beyond the suitability to the rough conditions of saltwater, this fishing bag has excellent storage.
The hoss on the KastKing Saltwater fishing bag can take up to 7 different tackle trays. And the best part: the storage is not all in the same place. How so?
The main storage compartment can house 6 of the 7 tackle trays

The front-zippered pockets (7) will hold the last tackle tray
Either way, you can easily store and separate your lures, jigs, hooks, rigs, and hooks from each other.
Pros
Storage and organization

– no other fishing bag offers close to the storage capacity of KastKing Saltwater. In addition to its "main storage" and front-zippered pockets, this bag still has internal pockets for small items like phones and keys. Yet, it has external mesh pockets for storing tools like pliers that need easy access.

Comfort

– KastKing Saltwater bag comes with a neo-grip shoulder strap and extra paddings. With that, you can carry your tackles firmly and with ease. The load won't slip off, and the weight will be evenly spread.

Cons
The KastKing Saltwater fishing bag is not suitable for simple trips. If you don't use at least 70% of the storage options, the bag will come off as an awkward load.
While the name might be misleading, the Ugly Stik fishing bag is, in fact, a beauty. It is perhaps the most beautiful saltwater fishing bag we tested.
Beauty aside, you can trust the Ugly Stik fishing bag. It is one of the many products of the Shakespeare fishing brand.
However, unlike KastKing, the Ugly Stik Fishing bag offers limited storage options. Nevertheless, it can still house up to 4 tackle boxes. That's enough for typical angling trips, especially kayak fishing.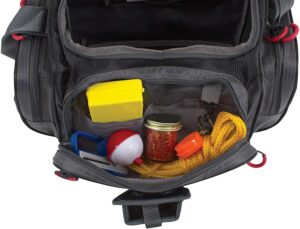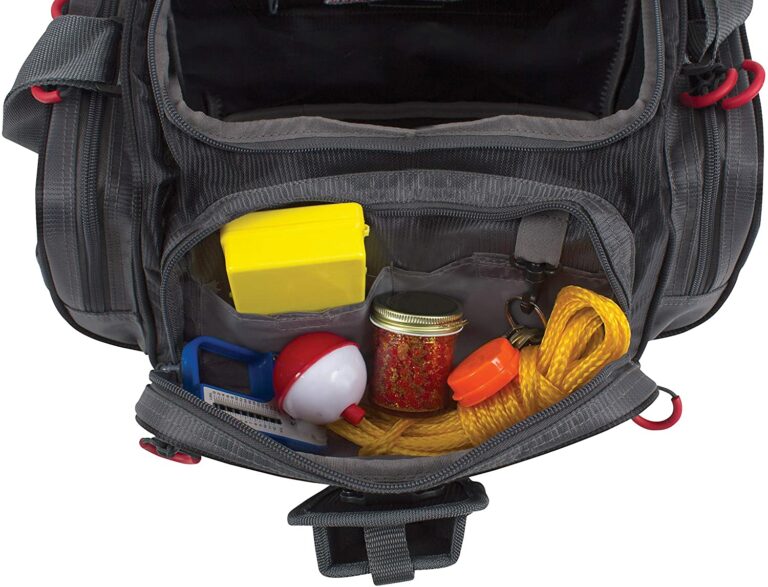 Plus, this fishing bag has the same comfort as KastKing. It comes with a shoulder strap but with a mesh-top handle. So, rest assured that you'll carry your tools with ease.
The best part: regardless of the load (within its capacity) inside an Ugly Stik fishing bag, it won't sag. How so?
This fishing bag comes with a compression-molded bottom. Thanks to that feature, it will always retain its attractive form regardless of its weight.
Pros
Average storage option

– you won't always need a large capacity fishing bag, especially if you're into commercial fishing. In that case, the Ugly Stik bag is your best option. It can hold a max of 4 tackle boxes. Yet, there are extra pockets for your quick access tools.

Attractive bag

– the beauty of the Ugly Stik fishing bag is down to its material and design. In particular, the texture of the bag's imported polyester makes it stand out. 

Cons
The emblem of Ugly Stik on the fishing bag seems a bit odd. But if you can overlook that, you'll enjoy the product for your kayak fishing.

Suggested reading: 12 Effective Saltwater Kayak Fishing Tips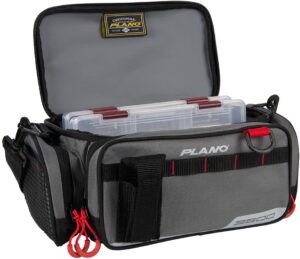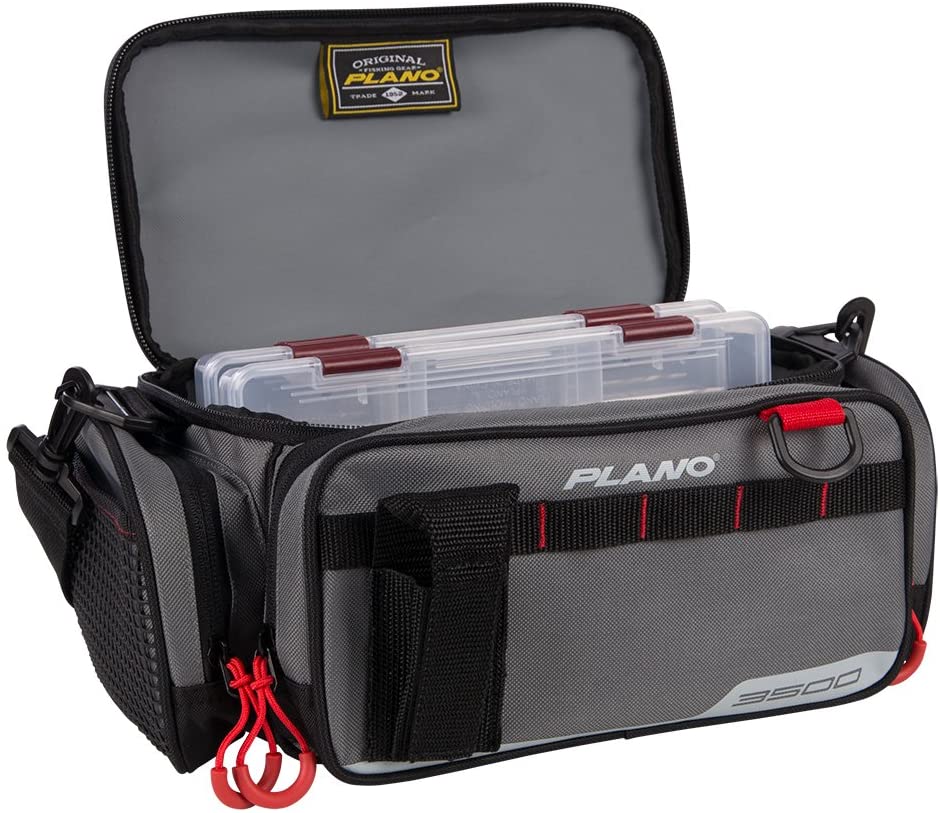 Like Ugly Stik, the Plano Weekend storage is a beautiful fishing bag. Also, it is loaded with moderate carrying capacity. Even at that, it offers more than the former.
Plano Weekend storage can house a 3600 tackle box in its main compartment. Yet, it has zippered and meshed pockets (three each). In comparison to the Ugly Stik bag, you'll have more space to fit your different lures and tools.
Funnily enough, the strength of Plano Weekend storage is not beauty or storage but its portability.
Pros
The light-colored interior

– Plano Weekend storage is perfect for low-light conditions. In essence, you can use this bag for your night games. Thanks to its light-colored interior, you'll find your tackles with ease.

Lightweight and comfort

– when you consider that you'll add more loads to your fishing bag, it is crucial that the bag itself has minimal weight. In that case, Plano Weekend storage is a perfect choice. It weighs only 1.7pounds and comes with a shoulder strap.

Cons
Plano Weekend storage is small compared to other fishing bags. For that reason, it is only suitable for short-term angling.
If you love premium products, the Piscifun backpack will excite you. It combines all the features of KastKing, Ugly Stik, and Plano Weekend fishing bags beautifully. How?
If you want storage, the Piscifun backpack can hold 4 tackle trays. In particular, it has at least eleven storage units. Even better, you can collapse the compartments to increase your storage options.

If you prefer water resistance, the Piscifun backpack is a great choice. It comes with a 1200D nylon that will keep water off your fishing tools. Also, the fishing bag has a protective rain cover. Yet, there are rubber feet that keep out dampness from the ground.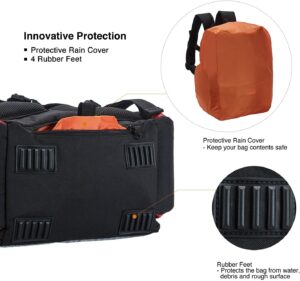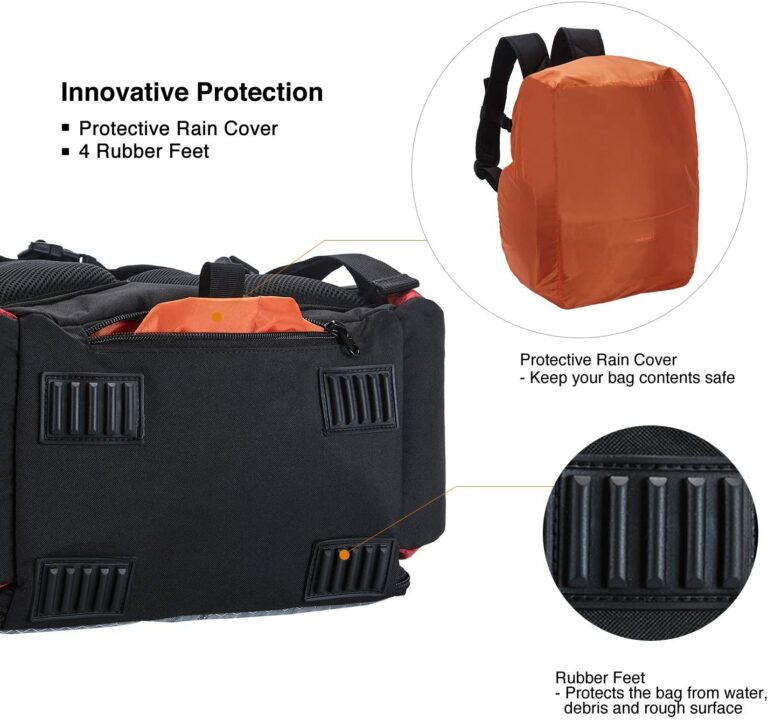 In addition to storage and water resistance, the Piscifun backpack has several features. In short, it is the best fishing bag for all fishing conditions. But like all premium products, be ready to splash the cash.
Pros
Trusted brand

– all the products from Piscifun are always top-quality; this backpack is no different. The brand aside, there are several positive testimonies about this fishing bag. So, rest assured you're getting a value-packed product.

Portable

– despite the several features of the Piscifun backpack, it is surprisingly portable. In other words, you can move the bag around without taking too much space or causing you too much work.
Cons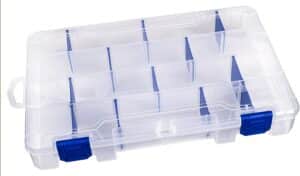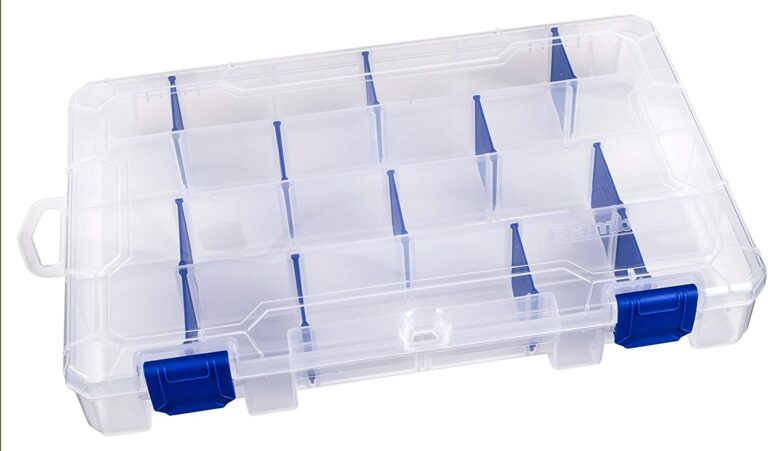 If you're a beginner to saltwater fishing, the chances are that you don't want to go all out on a fishing bag. You want something affordable but with enough juice. The Flambeau tainer fits the description!
This product is not a bag, but it's an excellent saltwater tackle box. It is a great place to start to protect your gear from the damaging nature of saltwater.
Pros
Adequate storage and identification

– the Flambeau tainer has 24 compartments to store your fishing tools. But the real deal is the ease of retrieving your gear – thanks to the see-through polypropylene material. 

Rust protection

– the Flambeau tainer compartments are lined with protective vapors from its Zerust anti-corrosion technology. Thanks to that, your tools will stay rust-free. The best part: you can get the rust protection for at least 5years before changing your tainer.

Cons
The latches are not exactly durable.
Verdict
The decision on what fishing bag you need relies on your preferences. But overall, we'll recommend the Piscifun backpack; it ticks all the boxes and comes with extra features to ease your angling trips.
Share the Love
If you found this post useful, please let others know about it by sharing it.