Whether you're a beginner or regular of shoreline (or wading into surf) fishing, the way you arrange your tackles is critical to your hauls. Hence, the reason you should master setting up fishing rigs.
Unfortunately, manually setting up your rigs can take a lot of time. You'll ponder on the lines, hooks, bobbers, and sinkers to use. What if, after all the stress and time you've wasted, the rigging technique isn't suitable for your game?
Well, you can avoid all the unpleasant episodes and use pre-made rigs. Even at that, don't settle for inferior products – choose from the best surf fishing rigs. Fortunately, we have some options for you here. Have a look!
5 Best Surf Fishing Rigs Anyone Can Use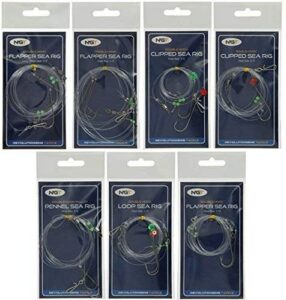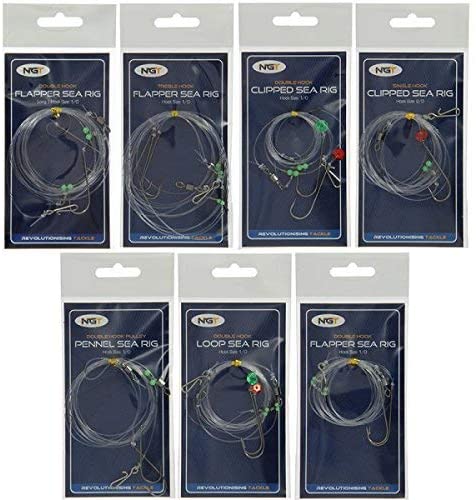 The flapper rig tops our list because of its versatility. It doesn't matter if you prefer still fishing, fly fishing or bait fishing – this rig works with all fishing methods.
Despite the versatility, we love the simplicity of the flapper rig. Everything from its design down to usage is beginner-friendly. You don't need a complex manual for your surf fishing.
And about the design, the flapper rig is a flexible beauty. It comes with hook set options – you can use one, two, or all three hooks. Thanks to that flexibility, the chances of catching your game are relatively high.
Note: you don't necessarily have to use all three hooks on a flagger rig. While doing so might increase the chances of hooking a fish, it might not be best for rough grounds. In turbulent situations, a single hook will suffice.
Pros
Flexible options

– the greatest strength of the flapper rig is how it allows you to navigate different methods to increase your fishing results. You can choose from its different hook sets and distribute weights depending on the water.

Ease of use

– despite the 3-hook design, a flapper rig requires zero expertise to set up. Neither does it require a rigorous process to use.
Cons
Flapper rig doesn't work well with long casts, especially when using the three hooks.
Suggested reading: The Ultimate Guide For A Successful Wade Fishing Trip
Saltwater Fishing Bait Rigs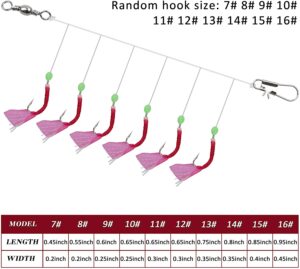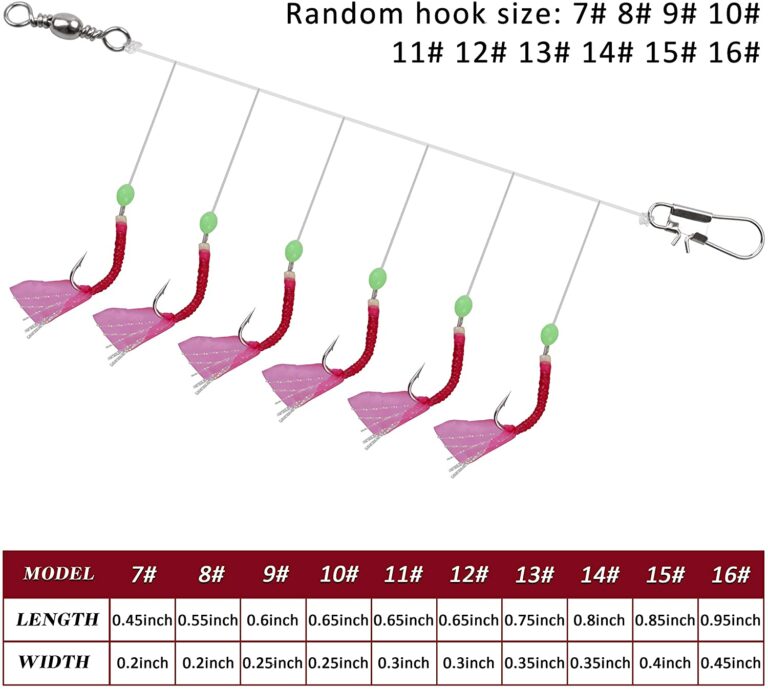 While the flapper rig is versatile, saltwater rigs are a bit selective. The latter is perfect for heavyweight species such as walleyes, trouts, and basses.
And because of the species saltwater rigs target, they are rigid. For specifics, these rigs are made with high carbon steel. As such, they can withstand all the hits and last you for a long time.
Beyond the rigidity and durability, saltwater rigs are a beauty. They come with attractive, soft fish-skin rubber. Beautifully, the aesthetics also doubles as an excellent camouflage to lure your games.
Note: we understand that the name of this rig can be confusing; it seems it's only suitable for saltwater species. However, that is not true – you can use a saltwater rig for freshwater fishing.
Pros
Trusted brand

– saltwater rig is one of the mainstays of the renowned fishing gear brand,

Shaddock Fishing

. And like the other products of the brand, you can rest assured of quality.

Complete pack for effective surf fishing

– saltwater rigs come with ready-to-fish tackle sets. There, you'll find beads, rigs (10 packs), lures, and hooks (6). And the best part: the sets are all pre-made to get the attention of your games.
Cons
AGOOL Fish Egg Sinker Weight Rig
AGOOL rig is every bit as rigid as a saltwater rig. However, it is more versatile. With AGOOL, you can fish for species such as drums, halibuts, flounders, groupers, striped bass, and even redfish. In short, your options are endless!
However, note that AGOOL rigs work best for bottom fishing conditions. But beyond that, the REAL beauty of these rigs is their durability.
Unlike saltwater rigs, AGOOL rigs use stainless steel materials. For that reason, it stays longer before rust or corrosion. And trust us, you'll get enough time on the product to extract all your money's worth.
Pros
Versatile and durable犀利士
ht: 400;"> – unlike other pre-made fishing rigs that only ticks one of the qualities, AMOOL rigs feature the two. It is rigid and corrosive-resistant. Yet, it is compatible with different species of fish.
Ease of use

– though AGOOL rigs come in different sizes and sets, it is relatively easy to set up. And it doesn't matter if you use the 4-piece or 8-piece; you don't need any expertise to get results.
Cons
Tailored Tackle Saltwater Surf Fishing Kit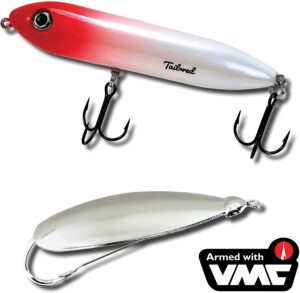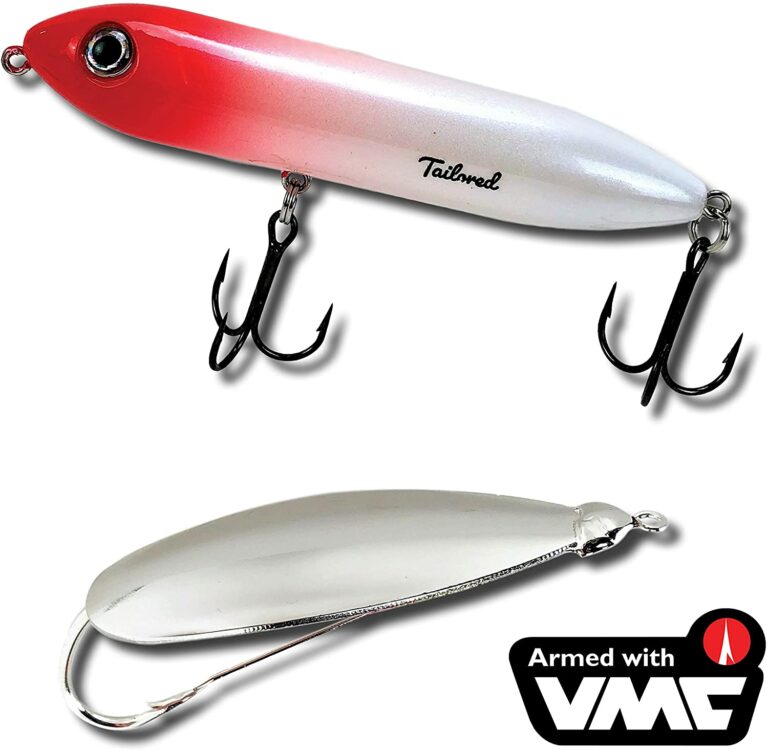 In terms of accessories and tackle sets, no other rigs come close to tailored rigs. The latter changes the definition of a ready-to-use kit for surf fishing; it comes with an incredible 82-piece tackle box. There, you'll find all sorts of lures, swivels, and gears.
Thanks to the accessories, tailored rigs are suitable for all fishing methods. For example, if you prefer casting and jigging, you'll find a spoon, lures, popper, and jigs fitting for your needs.
But if you prefer bait fishing, the tackle box includes jetty, pompano, and bottom rigs. And it doesn't matter if you want live or cut bait (or even both). Either way, you have what you need for successful surf fishing.
Another thing we love about the tailored rig is the eBook included in its set. With that, you can learn and master surf fishing even if you have never gone on an angling trip.
Pros
Ease of use

– aside from being beginner-friendly, the tailored rig comes with a 22-page eBook to help you get results from surf fishing. Most importantly, the preset rigs and sliders are effortless to set up.

Affordable

– at roughly $50, tailored rigs offer excellent value for money. . At such a price, this gear is a steal because the rigs are perfect for different fishing methods and species. Plus, the tackle box is fully-loaded.
Cons
The lures are a bit too much; perhaps some of them should be replaced with more pre-made rigs.
Also read: 2021 Best Neoprene Waders
The Fish Finder Rig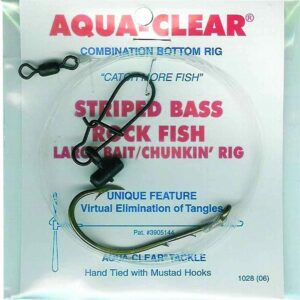 This rig is arguably the best in the market; it is beginner-friendly with a simple design. About the design, the fish finder rig is enhanced for stealth. How?
The design of the fish finder rig is the simple "hook to the lead" and "swivel to the mainline." Thanks to that simplicity, your lures will be in sync with the waves. That way, your game won't notice any maneuvers.
The intriguing part: fish finder rigs are perfect for big games because they use large baits. Even with the waves and turbulence caused by such games, the rig remains quiet and effective. 
Pros
Simple

– the designs of fish finder rigs make them invincible to your games. As a cherry on top, these rigs can withstand the turbulent conditions of surf fishing.

You will hardly do any work; the bait will find the game itself.
Cons
Unfortunately, fishfinder rigs don't cast very far – regardless of the length of the line.
Verdict
Any rig in this guide will work perfectly for your surf fishing needs. But for the best results, ensure you consider the conditions around your fishing ground. That way, you'll know if you should focus on rigidity or accessories. We hope that helps!
Share the Love
If you found this post useful, please let others know about it by sharing it.