Unless you are an angler with aggressive fishing styles, braided lines are arguably the best of their kind. They are compatible with both baitcasting and spinning reels. Plus, they are perfect for any fish.
And in comparison with fluoro and mono lines, braided fishing lines are the most durable. But like every gear, you need the best braided lines to get the most results from your angling trips.
Unfortunately, all brands claim that their braided lines are the real deal. But who can you trust?
Well, you can trust the recommendations in this post. We don't manufacture fishing lines, so we are not pushing any agenda. More importantly, we hand-tested most of the braided lines here. So, rest assured that we have your best interest at heart.
And about interests, we factored varied budgets and preferences while compiling our list of best braided fishing lines. In essence, we have something you.
That said, let's show a quick summary of the braided lines you can expect in this post:
Berkley NanoFil Uni-Filament Fishing Line

KastKing SuperPower Braided Fishing Line

PowerPro Spectra Fiber Braided Fishing Line

SpiderWire Stealth Braid Fishing Line

SpiderWire Ultracast Invisi-Braid Superline
Berkley NanoFil Uni-Filament Fishing Line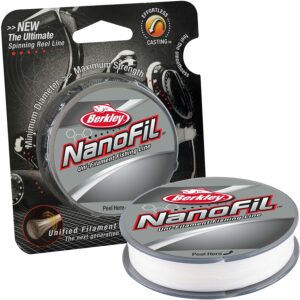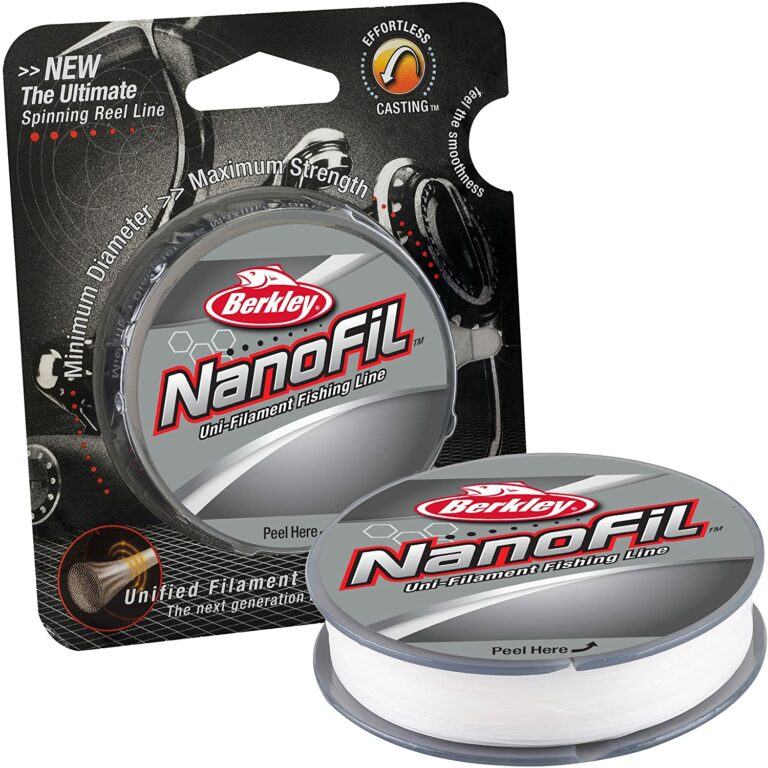 From all the braided lines on our list, Berkley NanoFil is undoubtedly the most innovative. It is almost confusing because it neither looks like a braid nor a mono. And yet, it shares the properties of the two fishing lines. How come?
Unlike typical braided fishing lines, Berkley NanoFil (like the name) is an aggregate of hundreds of nano-filaments. For that reason, though thin, this line has the strength of braids and the smoothness of monos.
Compared with other fishing lines from the same brand, NanoFil casts the farthest – and with incredible accuracy. Also, it is an award-winning product (at least 4 international awards).
Pros
Lightweight

– thanks to the super-thin structure of NanoFil, it weighs almost nothing. More importantly, the thin frame makes it perfect for angling trips that require light tackle.

Super sensitive

– despite being tiny, NanoFil is one of its brand's most sensitive lines. It has a zero-stretch feature that will allow you to feel even the slightest vibration. In essence, you'll reel in your catch swiftly.
Cons
The thin frame of NanoFil isn't the best for large fish – it might break.

Compared with other braided fishing lines, the price of NanoFil is steep. But it is worth the investment.

Suggested reading: How To Tie Shock Leader To Braid
KastKing SuperPower Braided Fishing Line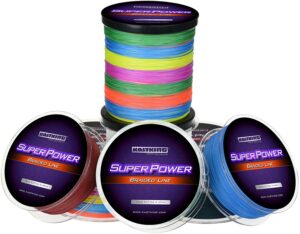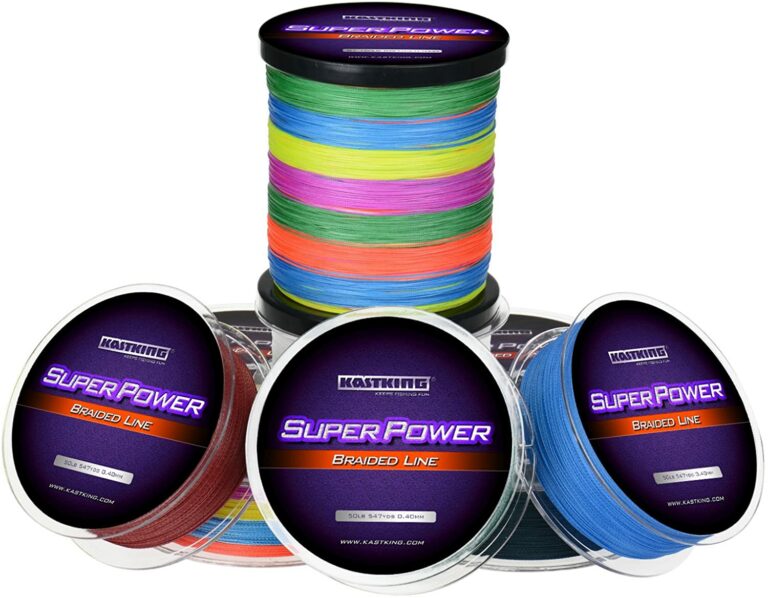 If you want the best braided fishing line in terms of money and value, KastKing SuperPower is your best option. At just $42, this line has incredible sensitivity and average strength-to-diameter suitable for natural lure action. More importantly, you won't experience line memory issues with SuperPower.
Overall, much like any braided line in our recommendation, SuperPower is a bestseller. 
Pros
Affordable

– compared to similar best-selling braided lines, SuperPower is almost free. Despite the affordability, the overall effectiveness of the product is impressive.

Durable

– despite being only $42, SuperPower is a rugged beast. Under adequate care and usage, the fishing line can last you for years.
Cons
KastKing SuperPower is a bit stiffer than most braided lines. With an aggressive angler, it will break easily.

We wish the color and fade resistance of SuperPower are much better; they often wear off on the skin.
PowerPro Spectra Fiber Braided Fishing Line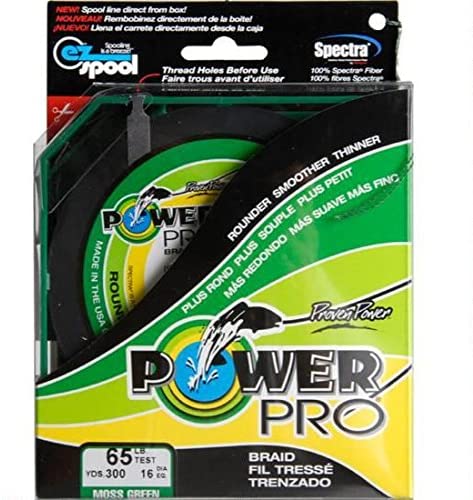 If KastKing SuperPower is incredible at $42, you'd be surprised by PowerPro Spectra. The latter is only $20 and has almost triple the effectiveness of the former. 
Talking about effectiveness is too broad; let's look at Spectra's strength for a start. Spectra Fiber comes with enhanced body technology. Thanks to that, it is at least twice more durable than average braids.
In other words, you'll use your line relatively longer – even more than its money's worth. Durability aside, Spectra has enviable sensitivity, smoothness, and roundness. For those reasons, it can cast towards a long distance and still be sensitive to the slightest of touches. In summary, Spectra is the braided fishing line to have – that is why it is anglers' favorite.
Pros
Flexibility

– Spectra has several pound tests and line lengths. As such, you have several options that are suitable for fishing almost any kind of fish (both freshwater and saltwater).
Line weight and lengths aside, Spectra has several color options that meet different fishing conditions. Summarily, this braid has robust functionality, surprising for its price.
Super-sensitive

–  Spectra Fiber can detect even the tiniest bite regardless of the fishing condition. As such, you'll see the moving lines and reel in your catch faster.
Cons
Spectra Fiber can be sticky when new, especially after the first use. But after that, it'll return to normal.
SpiderWire Stealth Braid Fishing Line
While we praise Spectra for its strength, it is still no match for SpiderWire Stealth. The latter is the most durable braided fishing line on our list.
Like NanoFil, SpiderWire Stealth is an aggregate of microfibers. That to the fibers, this line has the strength to hold the weight of large fish. Furthermore, the thinness of the microfibers makes SpiderWire Stealth lightweight. In other words, it can cast over a long distance.
In addition to castability and durability, Stealth Braid is a flexible line. It comes in several pound tests. Fortunately, that makes it suitable for fishing in freshwater and saltwater.
Pros
Trusted brand

– SpiderWire is a household name for fishing lines. As such, you can always rest assured that you're getting a product designed and perfected for your needs.

Versatile

– the strength and flexibility of Stealth Braid make it a favorite for all kinds of fishing grounds. Plus, it has several color options and adjustable sensitivity.
Cons
Related reading: 12 Effective Saltwater Kayak Fishing Tips
SpiderWire Ultracast Invisi-Braid Superline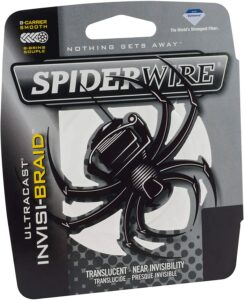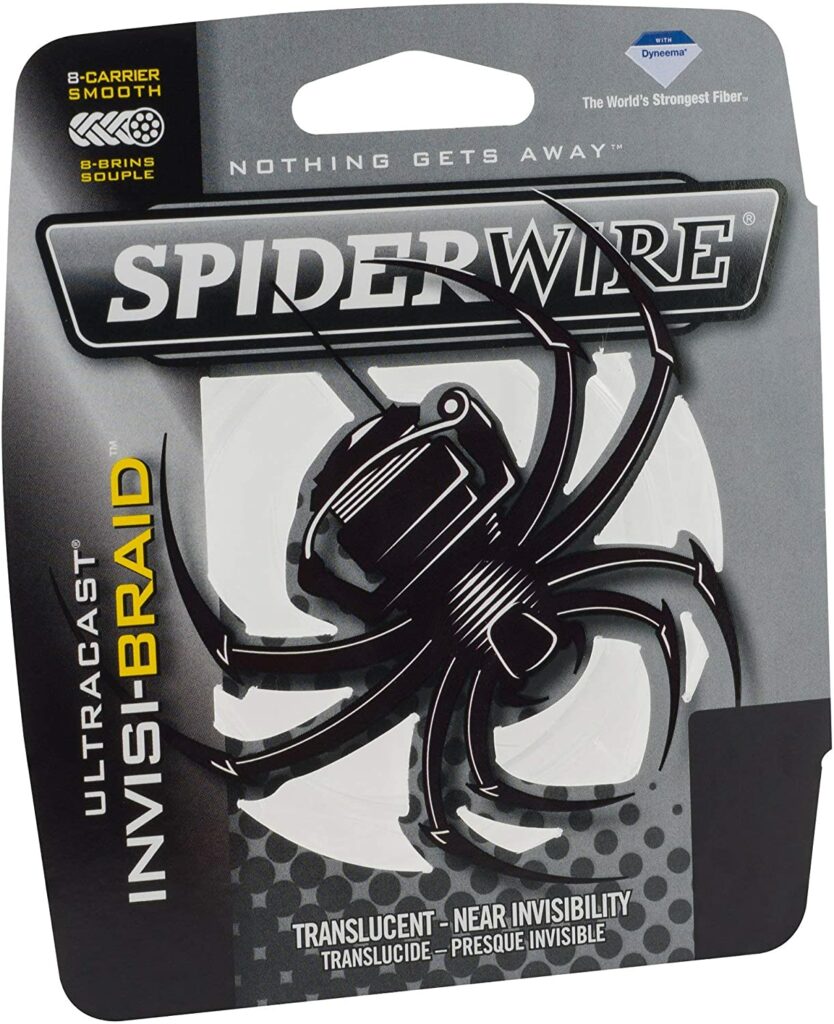 Ultracast Superline is another bestseller from SpiderWire. Like Stealth Braid, Ultracast is equally durable. However, its strength lies in the low visibility.
If you want a stealth braid fishing line (for clear water) to lure your game, there is no better line than Ultracast. That aside, the line has incredible castability too. It can go a long distance and still maintain an excellent sensitivity.
Pros
Saves money

– unlike other braided lines that need mono, Ultracast doesn't need help to boost stealth. By itself, it has low visibility to fish in clear water.

Cold-fusion tempered lines

– in addition to the fiber component of Ultracast, the line still uses cold-fusion technology to increase its strength.
Cons
Ultracast isn't versatile enough; it has only one color and limited size options.
Verdict
Overall, any braided fishing line in this post will work excellently for your angling trips. However, consider the line weight and strength to make the best choice.
Share the Love
If you found this post useful, please let others know about it by sharing it.