If you have always craved ice fishing during the winter seasons but don't know how to get started, this article can be your ultimate guide. Here, we shall be discussing how to go about ice fishing safely and comfortably.
In particular, this article will answer the following questions:
What do you need for ice fishing?

How can you do ice fishing?

Where are the best locations in the US for ice fishing?
But before we answer the questions, let's first handle your safety. That said, what should you know about being safe during ice fishing?
A little preamble: If you don't know the meaning of ice fishing, it simply means fishing through an opening in a frozen body of water.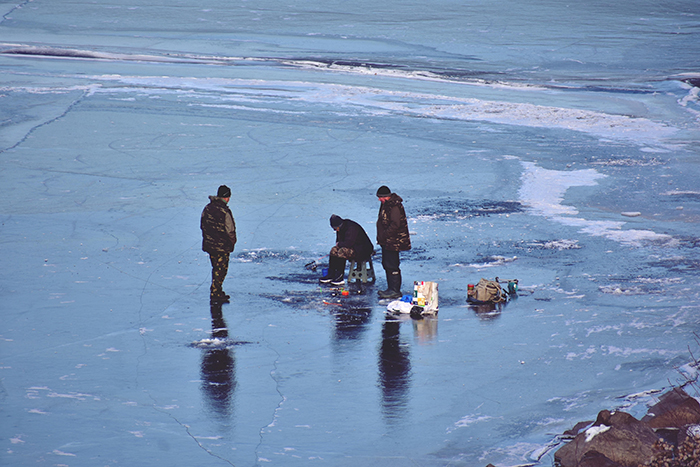 How To Stay Safe During Ice Fishing
Ideally, you would be scared of getting cold when ice fishing. And mind you, we are not just talking about the "casual cold" but the extreme freezing temperature that might lead to hypothermia. Beyond all that, what if the ice you're standing on to fish cracks?
So, yes, ice fishing can be dangerous. Nevertheless, it is one of the inexpensive and most adventurous ways to catch a fish. But does that mean you should risk your safety because of a fish? No!
You can significantly reduce the risk of ice fishing when you follow the safety precautions below: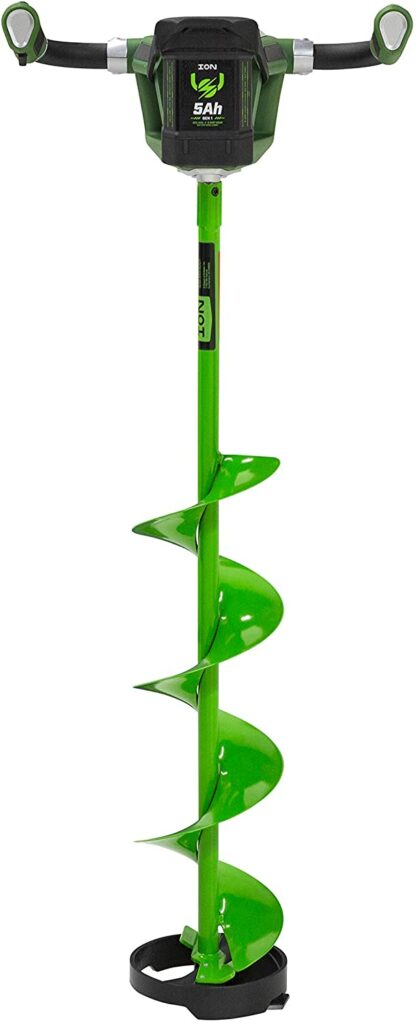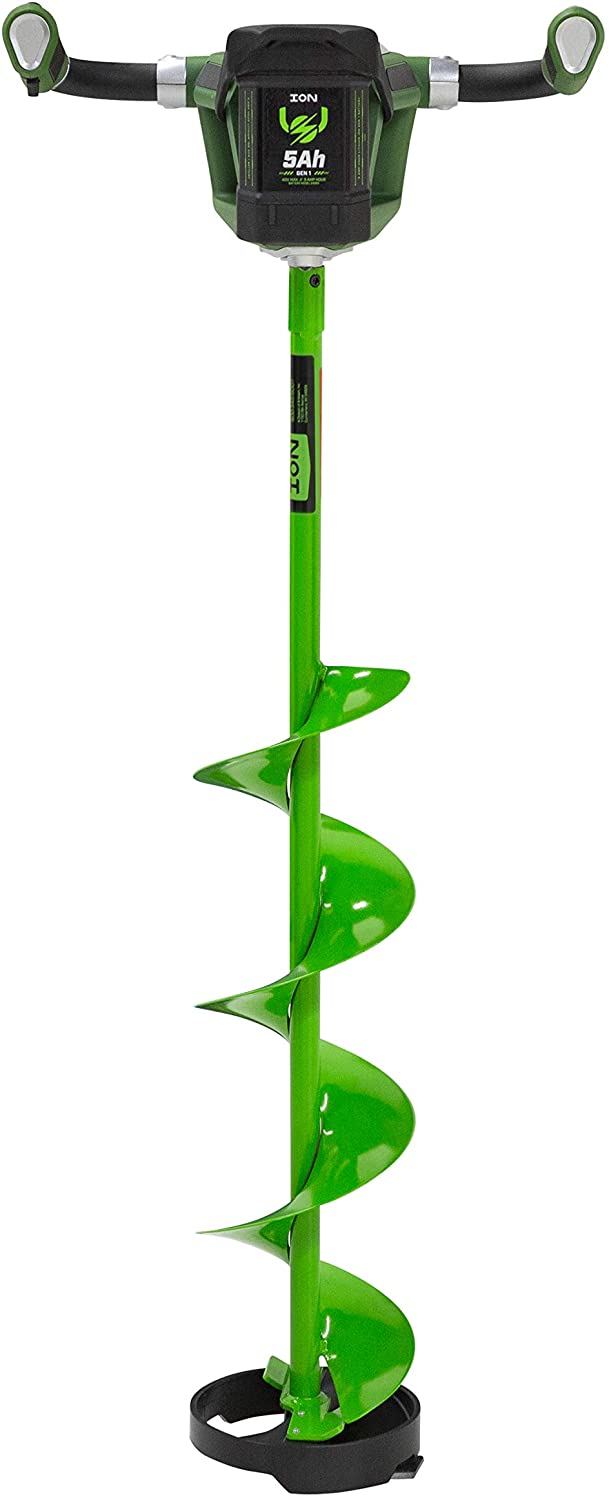 First, before you stand on any ice, check that it is thick enough. You can use an auger or spud bar to pierce the ice and see if it breaks.

Don't stand on thin and crispy ice.

If you see that the ice has discolored or has water flowing in it, don't stand on it – such ice is rotten.
Note: ice should ideally be blue and thick!
Also, ensure you keep to the standard ice-to-load measurement. Here is a guide for you:

4 inches of ice for people

6 inches of ice for snow machines

7-12 inches of ice for light vehicles

14-16 inches of ice for full-sized trucks

Invest in safety equipment for ice fishing. Here are the top picks:

Metal cleats

Gloves

Ice spud

Life vests

A whistle

Warm-layered clothing – socks, underpants, underwear, and jackets
Lastly, if you plan to stay out in the cold for a while, you should buy or rent an ice shanty. It is a mini shelter to protect you from the snow and wind.
Related reading: How To Plan A Simple But Exciting Fishing Staycation

Now, we have discussed the safety requirements. Let's see the gear you need to make your ice fishing comfortable.
What Do You Need For Ice Fishing?
The nature of ice fishing is naturally different from regular casting. While they both follow similar principles, the gear here differs. That said, we have compiled the basics you need to get you started below:
Bucket

Chair

Fish picker

Ice scoop and sled

Jigs and jigging rod (or tip-up)

Leader and lures

Rubber-soled boots

Small, 2-3 foot rod, fluoro line, and hooks

Spring Bobber
Suggested reading: How To Choose The Perfect Fishing Line
Now, you have the right gear to ice fish. Shall we go fishing?
How Can You Do Ice Fishing?
Ice fishing requires two processes: first, find the perfect spot for ice fishing; second, employ the right technique. That said, let's delve into the details!
How To Find The Perfect Spot For Ice Fishing
The perfect spot for ice fishing depends on the time you're fishing. If you're doing so early in the winter, you'd likely find your game where they habitually feed. So, even if the water freezes, your games will still assemble at their usual feeding ground.
But if you'd gone ice fishing midway through winter, you won't find any fish at their usual feeding ground. At that time, your games would have swum deep beneath the surface water that is "too cold."
Another factor to consider when finding the perfect spot is the section of the water you're fishing. From our end, we'd advise you to try the steepest shoreline. That area is where you'd find the bigger fish – especially at dawn and dusk.
Pro tip: invest in a quality fish finder to simplify your fishing-spot finding process.
Now, after finding the fishing spot, the next step is to drill an 8-10" "fishing hole." To do that, you can use either a gas or manual auger. Then, clear the area with a skimmer.
So, what next? Pick a technique to ice fish!
What Are The Best Techniques Of Ice Fishing?
Jigging
If you want a fun and simple way to ice fishing, jigging is the perfect technique. You'll only need a rod, bait/lure, and lines.
About the rod, a 28" light stick would suffice. But, get a spring bobber with it. And lastly, ensure that your lines are fluoro lines – they are the perfect aids for ice fishing.
Tip-ups
If you need to cover more grounds and don't mind the work, the tip-ups technique is perfect. With it, you can set your gear to suspend baits at a significant depth. And when the fish takes the bait, a waving, small flag will notify you to reel in your catch.
Spearfishing
This technique is the most difficult of the lot. It requires extreme concentration, care, and skill to master the use of its multi-pronged spear. And since you'd be fishing very close to the surface, you need to be crafty to lure your game.
Where Are The Best Locations To Ice Fish In The US?
Lake of the Woods, MN

– is the best location for ice fishing because of the social experience. That aside, it is also home to various species of fish. In particular, you would find bass, crappie, lake trout, perch, and walleye here.

Lake Winnebago, WI

– is not only an excellent ice fishing location but the largest inland lake in Wisconsin. The species you will find here include white bass, perch, sturgeon, and walleye.

Fort Peck Lake, MT

– is the perfect destination for hunting lake trout. But besides that, you can also get sauger, northern pike, and walleye. 

Eleven Mile Reservoir, CO

– is another top destination for lake trout. But it stands out for the size of its trouts; the average size of the trouts here is 17".

Lake Champlain, VT

– known for its many bait and tackle shops, this destination has plenty of shanty rentals on display. About the species, the mainstays here are salmon and trout.

Devil's Lake, ND

– is the top destination for perch. But note that this lake can be "extremely" cold – so ensure you pack lots of warm-layered clothing.
And that's it: how to go about ice fishing. Now, go out there and start reeling in your games. Have fun!
Share the Love
If you found this post useful, please let others know about it by sharing it.