Chapter 1
Naples Fishing Pier, Southwest Coast of Florida in the Gulf of Mexico
Catch of the Day Best Places to Fish in Florida Without a Boat:
Snook
Sea Trout
Spanish Mackerel
Pompano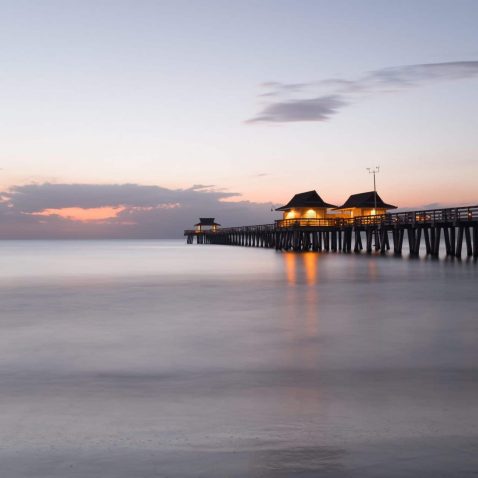 Naples Pier, Originally constructed way back in 1888 as a passenger and freight dock is now a popular fishing hot spot for locals and tourists alike.
Stretching 980 feet into the Gulf of Mexico with multiple washing stations, bait shops, and surrounded by 100's of miles of beach to explore, it is really no surprise that this is one of the most popular fishing spots in Collier County.
Local anglers tend to recommend the use of a light spinning gear reel and a collapsible rod (it's easy to carry), plus live shrimp bait to catch Mackerel, Snook, Pompano, and Sea Trout. If you venture into the local bait shops be sure to ask them about the 'pink lure', a local legend in its own right designed to help you get that rod twitching.
If you're lucky enough to be in the area during the cooler mornings or evenings, you will have the opportunity to enjoy the magnificent views of the sunrise and sunset over the Gulf of Mexico. Naples Pier is one of the best viewing spots to take in this natural beauty.
While there, it is also possible to spot Stingrays, Dolphins and even the occasional Shark in the 20ft waters surrounding the pier. Watch out for Pelicans though, who are known to steal fish right off the line.
Catch of the Day Best Places to Fish in Florida Without a Boat:
Redfish
Sheepshead
Yellow Tail Snapper
Flounder
Stingrays and Sharks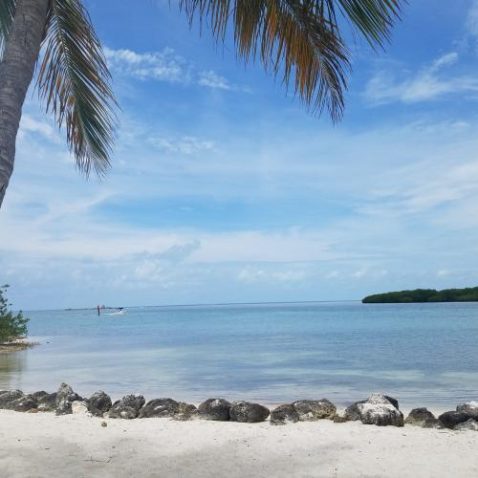 Once only accessible by boat, Lovers key is as nice as it sounds, one of the most beautiful destinations for weddings honeymooners. Fishing, on the other hand, even better!
Surrounded by stunning views and accessible by a short boat or tram ride, Lovers Key will undoubtedly see Redfish, Sheepshead (as big as 24inches), Flounder, Yellow Tail Snapper, Stingrays and even Sharks breaking water for you at Big Carlos Pass.
The Pier, located on the south end of the main barrier island offers complete peace, seclusion, and privacy from park-goers. While still providing you with a purpose-built shelter to escape the sun and cool down.
Just like Naples Pier, the locals choice for bait is once again live Shrimp, just be sure to not place the whole shrimp on your hook as local fish species here will put up a fight and gladly steal the bait from the line.
You can also catch the live bait yourself by casting a net, keeping an eye on the tide and biding your time. You will find the most success between the months of September and November.
While you're there don't forget to check out the south end of the park at New Pass, as well as the grass beds at the north beach, Imperial River and of course Estero Bay too.
Catch of the Day Best Places to Fish in Florida Without a Boat:
Snook
Mackerel
Pompano
Trout
Redfish
Flounder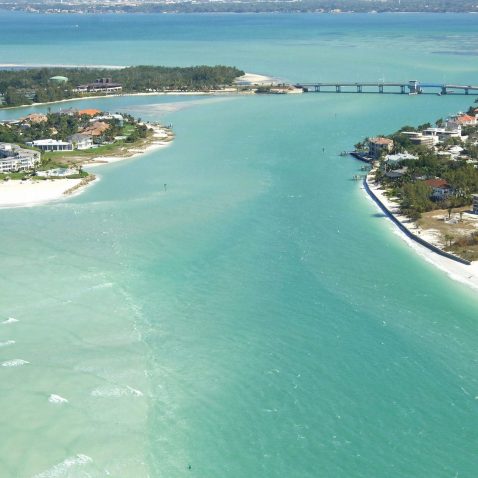 Separating Lido key from Longboat key, New Pass Bridge is the top spot for record-breaking catches. From Mackerel, Pompano and Snook in the pass itself, or the grass flats either side of you Trout, Flounder, and Redfish can all be found.
While you're there I would suggest trying your luck against the seawall too, a favorite amongst the locals as a honey pot for fish.
Concrete platforms found at the base of both sides of the bridge are also a popular spot for anglers, also, just a short walk away on the south end is a small beach too.
Parking can be found at either end of the Bridge or head slightly further in and you will discover local bait shop New Pass Grill & Bait Shop, perfect for anyone looking to acquire local knowledge and grab a bite to eat too.
Catch of the Day Best Places to Fish in Florida Without a Boat:
Snook
Redfish
Sea trout
Spanish mackerel
Snappers
Grouper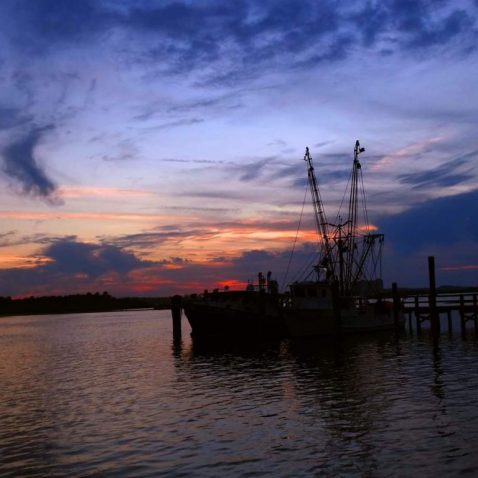 Causeway Park is a hidden gem, this little island offers amazing scenic views as well as being a great, relatively unknown fishing spot. Located around the midway point of the Sanibel Causeway.
Featuring a unique marine eco-system because of it's location between the Caloosahatchee River, Pine Island Sound, and the Gulf, the season you go will determine what species are present for you to tackle.
Fly fishing, for example, will give you that distance advantage while still staying ashore that could have you landing Ladyfish, Jack crevalle, Spanish mackerel, Kingfish, Barracuda, Cobia, Permit, Pompano, Flounder, Snapper, and Shark.
Be sure to check out the Sanibel Fishing Pier on your trip, perfect for gaining helpful insights from the locals and located right next to the lighthouse too, marking the location as an easy find.
Chapter 5
Fort Myers Beach Pier
Catch of the Day Best Places to Fish in Florida Without a Boat:
Snook
Redfish
Sea trout
Spanish mackerel
Snappers
Grouper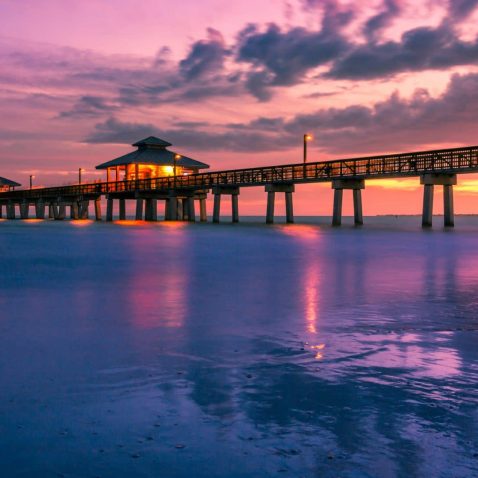 First built in the 1930s and extending 560 feet into the Gulf Of Mexico, Fort Myers Beach Pier has always been a hot spot for anglers.
Catch of the day here includes Flounder, Silver Trout, Whiting and if you're really lucky even the occasional Bonnethead Shark.
Located right in the heart of Fort Myers Beach, there are plentiful amounts of restaurants, bars, bait shops, and restrooms. Parking is close by, with everything found within an easy walking distance from prime fishing spots. There are also several vintage look trolleys available to help you transport your equipment.
I would highly recommend any budding photographers bring their camera along for the trip, as with most of these locations, the sunrises and sunsets are stunning and not to be missed.
Be warned, there is a local Pelican population who situate themselves towards the end of the pier, and wait for a lapse in concentration to snatch themselves an easy lunch from unwitting anglers.
Chapter 6
Sunshine Skyway Bridge/Pier
Catch of the Day Best Places to Fish in Florida Without a Boat:
Cobia
Spanish mackerel
Sheepshead
Black sea bass
Red snapper
Grouper
Pompano
King mackerel
Tarpon
Snook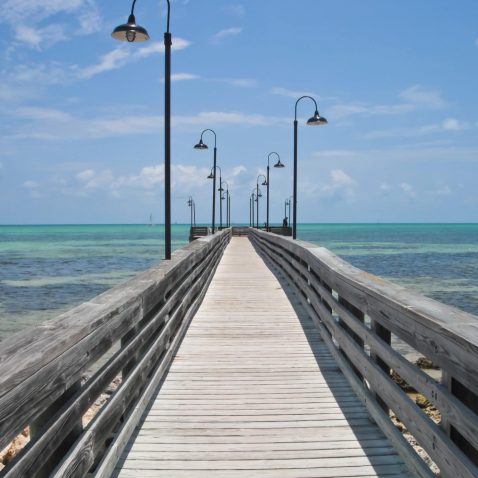 With parking available practically on the doorstep of this stunning bridge and pier, you will have cast your first line within minutes of arrival. With the south side measuring in at 8,250 feet long, Sunshine Skyway Pier is the worlds longest fishing pier, giving you the perfect opportunity to catch those big burly fish, eliminating the need to charter a boat.
Head to the north side which, although shorter, measuring in at only 3,300 feet long manages to reach  water depths of 25 ft. Giving you the ability to catch the same big fish species as nearshore boats that have been chartered on either side.
Grouper (some up to 240-pound giants), Mangrove Snapper, Lane Snapper, Snook, Tarpon, Amberjack, King Mackerel, Sheepshead, Cobia, and a variety of sharks (with a 7-foot lemon shark being a notable catch) are the piscatorial travelers here.
Chapter 7
Fort DeSoto County Park
Catch of the Day Best Places to Fish in Florida Without a Boat:
Snook
Redfish
Trout
Pompano
Spanish mackerel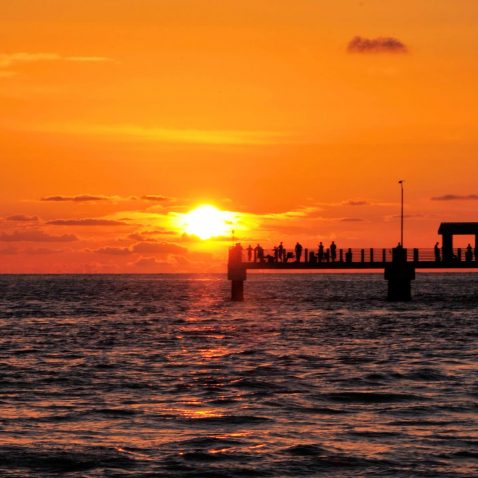 At Fort DeSoto County Park you are met with two choices of Pier, either the Gulf Pier which stretches out over 1,000 feet into the bay and towards the opening for the Gulf Of Mexico or the Bay Pier which grants an additional 500 foot into protected waters.
Live bait is preferable here, due to the strong tidal currents, with many larger species including Tarpons, King Mackerel, and the occasional Shark too. Plus, being situated within the Gulf, you will more than likely spot the odd dolphin playing in the distance.
Bring your light tackle for the Bay Pier where you will experience calmer waters.  Common catches off the Bay Pier include Trout, Redfish, Pompano, Spanish Mackeral and Snook.
Locally you may even spot anglers netting for bait from the Pier, not an easy task by any means but possible if you're feeling strong. We would recommend a weighted, gold-hook Sabiki rig instead.
The beach areas provide prime opportunity to try your hand at some wade fishing, first find the seagrass beds, and cast your line between the channels. Be mindful not to trample the seagrass as it is a critical part of the local ecosystem and a breeding ground for various species of fish.
Having spoken with locals for recommendations, they generally suggest a lighter (8 – 12 lb) line, coupled with a smaller hook and float to mark your bait while wading.
Locally you can find plenty of bait shops in the surrounding area, perfect for gaining local knowledge, renting equipment or just buying bait if you haven't pre-prepared your own. As well as restrooms, food, and drink to replenish your energy levels, or just take a break from the sun.
Chapter 8
Cocoa Beach Pier
Catch of the Day Best Places to Fish in Florida Without a Boat:
Wahoo
Tarpon
Snapper
Pompano
Blue Fish
Sheepshead
Red Fish
Jack
Sea Trout
Flounder
Croaker
Black Drum
Grouper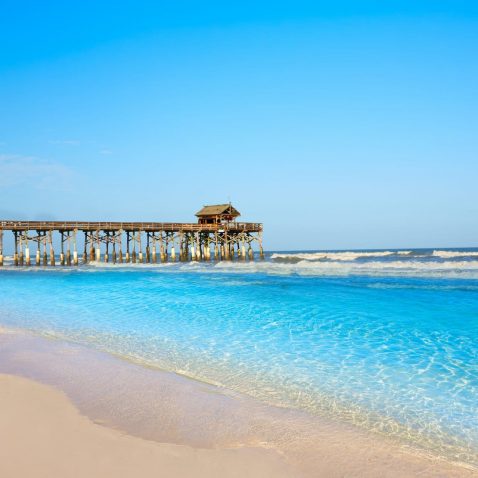 Cocoa Beach is one of the more secluded areas to be featured on this list, generally requiring a little bit of local knowledge to find all the best spots. Once comfortable navigating yourself around, Cocoa Beach Pier will have you smiling from ear to ear, taking in the stunning scenery whilst you fish.
Slightly more expensive than other destinations we have listed here, although parking is free if you're sticking around for a while then prepaid passes will bring your costs down. Likewise, they have a system set up with the local bars/restaurants for money off drinks/food for visiting anglers too, so be sure to keep those receipts to save yourself a bit extra.
There is, unfortunately, no shark fishing available here, due to the area being very popular with surfers.
It does, however, stretch over 800 feet into the Atlantic Ocean providing you the depth required to land those bigger catches, if that's what you're looking for. Plus being situated on the Atlantic Ocean, there is a wide variety of fish species waiting to be reeled in.
Chapter 9
Jacksonville Beach Pier
Catch of the Day Best Places to Fish in Florida Without a Boat:
Pompano
Bluefish
Black Drum
Redfish
Trout
Flounder
Striped Bass
Kings
Sheepshead
Barracuda
Mahi
Tarpon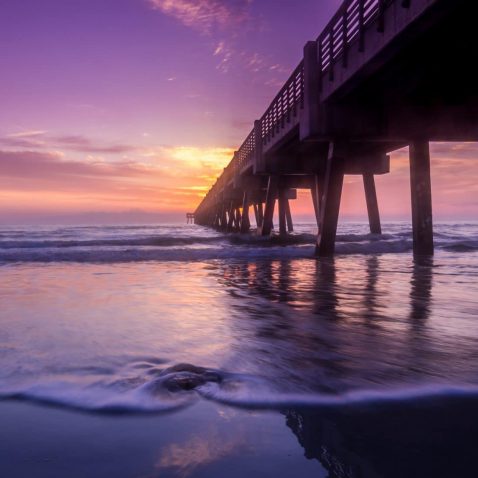 Initially built in 1925, with recent renovations extending the pier a further 303 feet. Multiple cleaning stations (for fish, not people), a bait shop, restrooms and of course a concession area are all supplied locally. Jacksonville Beach Pier has everything you need to enjoy a full day fishing without spending your valuable time running errands for supplies.
It now stands at 1,320 feet long (replacing the old Jax Pier), is 20 foot wide and completely wheelchair accessible.
Most importantly, it has a 22ft depth in high tides. So those bigger catches are still a possibility from nearer the end of the pier, which means Kings, Barracuda, Tarpon, and Mahi are also on the daily catch menu here.
Summary
With Florida being so large and there being 1000's of dry land fishing options, these are just some of the best picks for you to choose from.
Serving as the perfect starting point for your fishing journeys, you can be sure to pick up plenty of local knowledge and tips in local bait shops and fishing hot spots.
Don't forget to leave a comment below and let us know where you have decided to fish, what you caught, or if you have any insider knowledge you would like to share as we would love to hear that too.
Share the Love
If you found this post useful, please let others know about it by sharing it.