The Delta has been described as an anglers paradise by countless fishing enthusiasts. It's a fishing hotspot that should be on every Fishermans list!
There are plenty of fishing holes, both secluded and out in the open, where you can have a relaxing day catching fish.
It's always best to check a map to see the best or most convenient fishing spot in The Delta for you.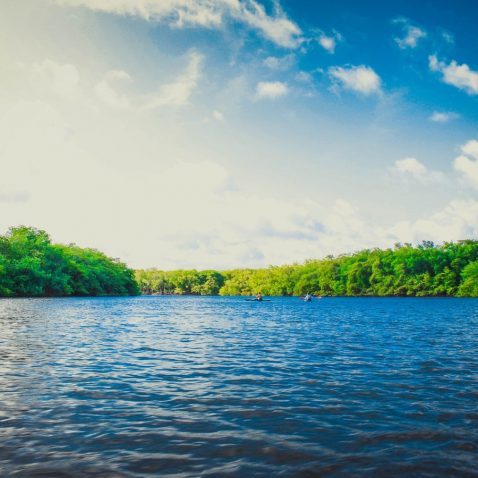 Best Places to Fish in California: Location 1
The Sacramento-San Joaquin River Delta is located in Northern California. It's formed at the western edge of the Central Valley. California's two largest rivers come together to make the Delta – the north-flowing San Joaquin and the south-flowing Sacramento.
The California Delta is not only a perfect place for fishing, but it hosts plenty of festivals and events – there's something for everybody.
There are fishing derbies in the winter and spring, so you can show off your angling skills and hopefully win a prize.
The Delta also features two public piers, located in Antioch. There are even marinas where you can rent small boats, which is perfect if you like to get away from the land.
With over 1000 miles of water to fish from, you're certain to catch some fish worth bragging about.
Here's a list of some top fishing spots you can go to in the CA Delta.
Antioch Pier
Contra Loma Regional Park
New Anchor Marina
Clifton Court Forebay
Park Delta Bay
Pittsburg Marina
Oak Grove Regional Park
West Sacramento Riverfront Promenade
Buckley Cove Park
Garcia Bend Park\Discovery Park
The River (Ryde)
Tiscornia Park
Types of Fish You Can Catch
There's a huge variety of fish in the San Joaquin Delta. If you want to go for stripers, the optimal time to catch them is in the springtime through to the fall.
Striped bass catches regularly weigh in between 10 and 20 pounds – so hopefully you'll land a catch to be proud of.
Bluegill
Smallmouth
Largemouth
Striped Bass
Crappie
Redear Sunfish
Channel Catfish
Bullhead Catfish
Salmon
Shad
Steelhead
Sturgeon
Good things come in small packages, and this is certainly the case with this 110-acre reservoir in the Cuyamaca Mountains.
The scenic location is perfect for fishing and offers a lot more activities too.
You can fish via boat, canoe/kayak, or there are land-based fishing areas, as well as areas that you can fly fish.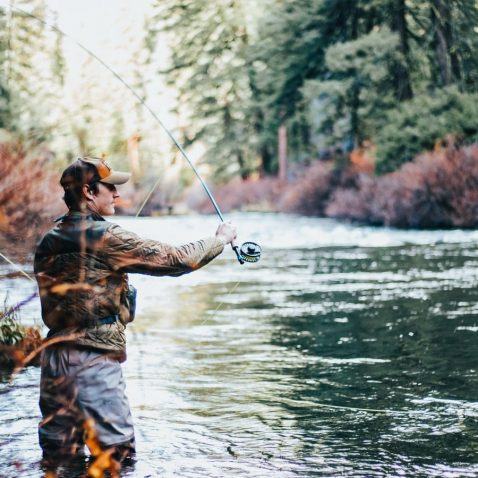 Location 2
The lake is around an hour's drive from San Diego, located in the Cuyamaca Mountains.
After a long day of fishing, you can camp at the lakefront. Tent camping is available on the north shore of the lake. If you're wanting a larger campsite, there's one Cuyamaca State Park which offers RV hookups.
There are also stores in the area, where you can purchase tackle, drinks, and snacks.
A restaurant overlooks the lake on the western shore, so if you're unlucky catching a nice fish for dinner, you can always eat at the restaurant.
The conditions here are slightly colder, as it's situated at a high elevation of 4,620 feet. Due to these colder temperatures, you won't find many huge fish in this area.
Regulations
Make sure you bring your fishing license with you! You can purchase a daily fishing permit for $10 or less depending on your age.
Private boats must be no longer than ten feet to launch, and if you are on the boat, you must follow a no-wake speed.
Kayaks and canoes are only allowed in the summer months, and if you use float tubes, you can only use them during the last three hours of weekends and bank holidays.
It's always best to check with the local authorities before you plan your trip to see if there are any new restrictions in place.
The lake opens at 6 am every day, so you can get there nice and early for a day of fishing.
Types of Fish You Can Catch
Lake Cuyamaca is stocked with over 38,000lbs of trout annually, making it a perfect location for sport fishing. It's the only San Diego lake that is able to stock trout all year long, so it is certainly a place to go for an off-season fishing trip.
A lot of the bass that reside here can weigh between 7-11lb. If you're after big largemouth bass, you may be disappointed as they don't grow too large there due to the colder conditions.
Here's a list of other species you can find in the lake:
Florida Bass
Rainbow Trout
Smallmouth Bass
Channel Catfish
Crappie (black and white)
Bluegill
Sturgeon
Chapter 3
Yosemite National Park
Yosemite National Park is well known for its abundant wildlife, waterfalls and gorgeous scenery.
There are many reservoirs and lakes in the park where you can catch fish all year round. Rivers and streams, on the other hand, have set seasons.
River fishing season begins on the last Saturday in April and lasts until November 15th.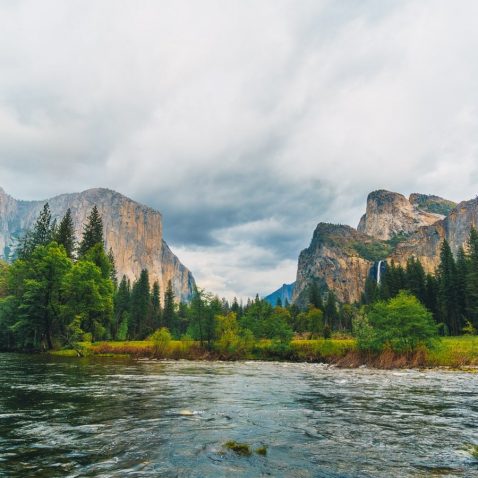 Location 3
Yosemite National Park is a scenic piece of land located in Mariposa County, in the Sierra Nevada mountains. Open in all seasons, the park is perfect for fishing and various other outdoor activities.
The park boasts 58 permanent streams, which equals to 770 miles of fishing opportunities.
If you need any fishing equipment during your visit, there's a sports shop in Yosemite Valley that sells all the equipment you'll need, including fishing licenses!
Regulations
Fishing regulations are enforced in Yosemite National Park to protect the wildlife that resides there.
Anybody fishing in this area must possess a valid, in date California sport fishing license. It must be clearly visible on your person whenever you're fishing in the park.
There are bag limits on lakes, streams, and rivers. The daily bag limit is five trout any species with brook trout greater than 10 inches.
The daily possession limit is ten trout any species with brook trout greater than 10 inches.
Please keep in mind that all bait fishing is prohibited throughout the park.
If you're unsure of any of these regulations, and for information on special regulations, refer to the NPS (National Park Service) website.
Types of Fish You Can Catch
The water in the Sierra has an abundance of fish, both native and non-native. You'll find different fish in warmer waters, such as black bass, crappie and sunfish.
Native
Native fish can only really be found in the lower elevations of the national park- from the lower Merced River up to El Portal.
You can find:
Californian Roach
Riffle Sculpin
Rainbow Trout
Hardhead
Sacramento Sucker
Sacramento Pikeminnow
Non-Native
Wildlife experts have stocked the area with non-native fish for the benefit of all the anglers out there.
You can find:
Rainbow Trout
Brown Trout
Brook Trout
Golden Trout
Rainbow-Golden Hybrid Trout
Lahontan Cutthroat Trout
Smallmouth Bass
Bullgill
Bodega Bay is one of the best fishing destinations in the whole of California. The bay has plenty of fishing options available, both boats and land-based fishing areas.
If you want a break from fishing, there's plenty of other things to do, from lazing on the beach to sailing or horse riding.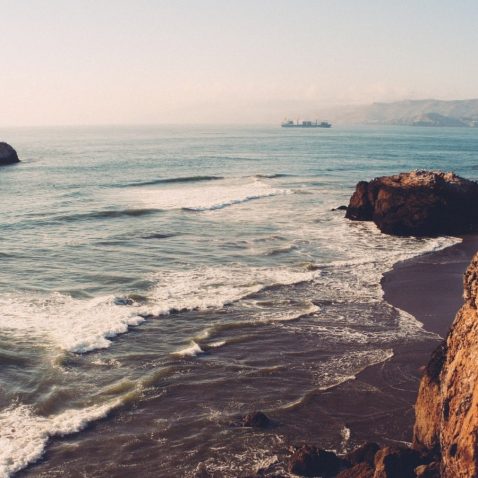 Location 4
Bodega Bay is a picturesque fishing town in Sonoma County, northern California. The bay is full of secret coves and beaches, and there's an abundance of fish, making it the angler's dream.
The bay stretches 5 miles from end to end and attracts crowds of people who want to harvest the abundance of fish available on the shores.
If you're a landlubber, there are still plenty of ways you can fish. The bay has jetty's, rocks and piers that you can fish off – and you don't need a license to fish from public piers. Many species are available to harvest all year round for shore anglers.
Fun fact – Alfred Hitchcock's The Birds was predominantly filmed in Bodega Bay!
Regulations
You must have your license with you if you're fishing offshore! Anyone over the age of 16 must have it visible when fishing at all times, and please note that charters don't include licenses.
If you're fishing for Lingcod and Rockfish, the season usually opens in April.
Halibut is available to fish all year round, but it's always best to check on the official website to see if there are any restrictions.
If you plan on adding crabs to your fishing list, then be mindful that there's a limit of 10 Dungeness Crabs per day.
Types of Fish You Can Catch
Bodega Bay attracts loads of fish and the fish change with the season. Whether you book a fishing charter, or if you cast lines yourself, you're bound to catch some great game.
Here's a list of some fish you'll find in Bodega Bay:
Rockfish
Halibut
Lingcod
Flounder
Perch
Mackerel
Tuna
White Seabass
Salmon
Chapter 5
Clear Lake State Park
Clear Lake State Park is a scenic state park in California on Clear Lake. It's hugely popular for its outdoor recreational activities, like hiking, boating, camping, swimming, and obviously fishing.
Bass lovers will love fishing in Clear Lake State Park. Clear Lake has been designated the top-rated bass lake in the nation, with the record for largemouth bass being 17.52 pounds.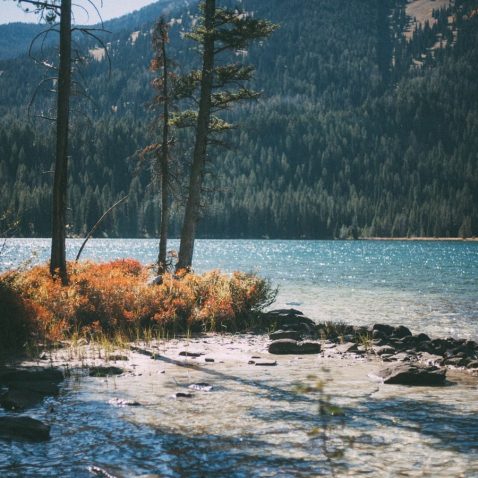 Location 5
Clear Lake State Park is located in Kelseyville, Lake County. The area has a rich and interesting Native American history. There are three creeks, two footbridges and lakefront access areas of Kelse Creek Campground, meaning there's plenty of areas to cast your line.
There's more than enough room for anglers from all over to enjoy the abundance of fish, measuring at just under 600 acres. Clear Lake is the largest freshwater lake in California.
There's a general store nearby that sells essentials and bait and fishing supplies, so if you leave your fishing equipment behind, don't stress!
The local amenities include:
A boat launch
A marina
A swimming beach (with showers)
149 developed campsites
4 campgrounds
2 group campsites
After your long day of fishing, you can enjoy a trip to one of the 35 wineries in the area, thanks to the 10000 acres of vineyards nearby.
Regulations
When you get there, you'll see signs that clearly state that fishing is strictly prohibited at the boat launch docks and boat slips.
You also mustn't fish in the swim beach area, as this will interfere with the swimmers and paddlers.
Types of Fish You Can Catch
There's an abundance of bass in Clear Lake. It has been designated the top-rated bass lake in the nation, with the record for largemouth bass being 17.52 pounds. In 2016, Clear lake was voted the third best bass lake in the whole of the United States.
It's not just bass you can catch in the area though:
Catfish
Sacramento Perch
Blackfish
Crappie
Bluegill
Carp
Summary
There are countless fishing spots in California that have an abundance of fish and beautiful scenery.
The state is particularly popular with trout and bass fishermen and women, but there's a wide array of species you can fish.
Always make sure you have your license on your person at all times when fishing (except on August 31, which is a free fishing day!).
If you're unsure of any rules and regulations, always check with the Department of Fish and Wildlife, the local authorities, or the NPS (National Park Service).
It can be really hard to decide the best places to fish in a state as great and scenic as California, but hopefully, our guide has helped you.
Do you have a favorite fishing spot? Let us know in the comments, and be sure to share this guide with your fishing friends.
Happy fishing!
Share the Love
If you found this post useful, please let others know about it by sharing it.