Chapter 1
Lake Okeechobee
Catch of the Day in One of the Best Places to Fish in Florida:
Bass
Crappie
Bluegill
Catfish
With 730 square miles of trophy-winning saltwater Bass fishing, Lake Okeechobee is one location you will definitely want to visit if your intention is to reel in some of the biggest Bass in Florida.
This calm and picturesque lake is perfect for boat charters, or if you would rather you can keep your feet firmly on the ground and enjoy some of Flordia's best shoreline fishing.
Multiple resorts, campsites, charters, and guides can be found dotted around the lake, to suit all needs and budgets. Lake Okeechobee is featured in most major tournaments (including The Bassmaster Elite and FLW Tour) and boasts all of the amenities to help you catch and reel in prize-winners time and again.
Catch of the Day in One of the Best Places to Fish in Florida:
Sailfish

Cobia
Dolphin (Mahi Mahi)
Snook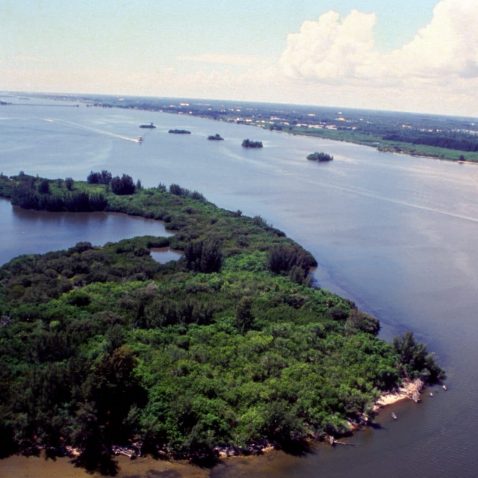 Known commonly as the "Sailfish Capital Of The World" and famous for its legendary snook catches, Stuart is the perfect fishing location if you're looking for variety.
So much so, in fact, that while you're here, why not enjoy a walk along the "riverwalk" to make the most of the stunning surroundings.
– Off Shore
With the gulf stream only 10 miles offshore, big game fishing is easily accessible on both a half-day charter or a full day taking you that little bit further out. Catching anything from;
Wahoo
Sailfish
Mahi Mahi, as soon as you pass the inlet, any big game fish is within reach.
Stretch yourself to an east side 10 to 12-hour deep sea excursion and you will find yourself within reach of Blue Marlin, Yellowfish Tuna, and even the much-prized Billfish.
Prefer more extreme deep-sea night time fishing? Some captains will offer special deep-sea swordfishing charters.
– Inshore
You don't have to go far out to find excitement, in fact, many choose to stay further inland within "sailfish alley", and with a competent captain you will easily land yourself 10 to 15 sailfish within a single day.
Likewise, St Lucie, the Indian River Lagoon, the docks on either side of Sewall Point and even Hells Gate, will all have you sinking your lines within minutes, boasting a variety of species on offer including;
Permit
Snook
Bonefish
Redfish
Flounder
Sheepshead
Speckled Trout
Seasonal Tarpon
Black Drum and many more.
Catch of the Day in One of the Best Places to Fish in Florida:
Snapper (Red)

King Mackerel (Kingfish)
Amberjack
Cobia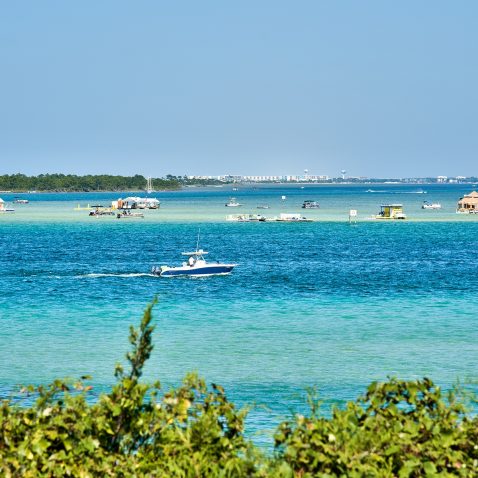 Visited by 1000's of anglers every single year and equally 100's of fishing charters. Destin, known worldwide as the "The worlds luckiest fishing village", has grown from a small fishing village into one of the premier gulf coast fishing hotspots.
Whether you're looking for competition, or just to meet fellow anglers then every year in October, Destin has over 30,000 people compete for prizes in their annual Destin Fishing Rodeo.
– Offshore
Destin is an ideally located area,  just a stone's throw away from the Gulf of Mexico as well as the East Pass. Providing you with the opportunity to easily catch Snapper (Red, Black, White, Vermillion), Grouper (Gag, Scamp, Red), Amberjack (Some up to 150 pounds), Triggerfish, Sharks (Blacktip, Tiger, Bull, Hammerhead), Mahi Mahi, Tarpon, King Mackerel Wahoo, Cobia, and even Billfish and Tuna too.
Boasting over 400 different waypoints along the offshore seabed which is packed with various artificial reefs and wrecks, even staying within the 9-mile state water limit will yield amazing catches.
Travel a little further out, and you will find many more artificial reefs, and the promise of bigger gamefish to challenge yourself against. These include Reefs such as the ALE artificial reef network, Destin Vaughn Reef "Angelena B," Destin Deepwater Concrete Reef, Sand Dollar Reef Complex and the Starfish Complex.
Still not content? Just a little further out and you will discover that Destin offers some of the best deep-sea fishing in the whole of Florida and is host to world-renowned locations such as the Squiggles, the Edge, the Elbow, the Nipple, DeSoto Canyon, and 100-Fathom Curve.
– Inshore
Known for having some of the best places for kayak and surf fishing in Florida, the inshore catches easily rival going offshore. With the warm sun and crystal clear blue waters, Destin provides the best of both worlds for anglers of many differing fishing styles.
Choctawhatchee Bay is the primary hotspot and with;
Redfish
Speckled Trout
Sheepshead
Flounder
Black Drum
Seasonal visitors such as Spanish Mackerel, Pompano, and Jack Crevalle being easy catches in just 3 feet of water or less.
Although not technically "inshore," The Gulf of Mexico is easily reachable just 2 miles from shore by boat.
Catch of the Day in One of the Best Places to Fish in Florida:
Tarpon

Redfish (Red Drum)
Snook
Spotted Seatrout
Extending over 400 square miles and being the largest open-water estuary in the whole of Florida, Tampa Bay has become an angler's delight.
It's the perfect choice for anglers of mixed skill levels, from beginner to advanced, and offers you the chance to hook smaller 2lb Pompano, but it is possible to land 200lb+ trophy Tarpon too.
– Inshore
Known for being one of the best places to fly fish in Florida, armed with a 10-12 weight fly rod it is possible to bag a trophy-sized 'Poon. For those that prefer a lighter rod, Seatrout and Snook are the most prominent species you are likely to find.
After something a little bit different? Tampa is home to some more unique species including;
Flounder
Snapper
Trout
Lady Fish
Grouper
Cobia
Mackerel
Jack Crevalle and a variety of sharks too
Same goes for light tackle, whatever style you prefer be it lures, cut bait, and live bait, spinning, baitcasting, bottom fishing, or even trolling, with many locals on-hand to offer insider knowledge.
– Offshore
Offshore will take you along the Gulf of Mexico with its numerous wrecks, reefs, hard bottoms, weed lines, and ledges. Prime pickings for pelagic and other predatory fish species and sure to give you a little bit more of a challenge on the line.
Catch of the day for Bottom fisherman include;
Goliath Grouper
Red Snapper
Cobia
Flounder
Gag Grouper and of course the Amberjack.
Keep your bait on the surface and you will be sure to attract the local Barracuda, Kingfish, Dorado, and Permit.
However, please make sure you check with your captain or the Florida Fish and Wildlife Commission as open season for some of the species found in the Gulf is limited.
Catch of the Day in One of the Best Places to Fish in Florida:
Snook

Redfish
Jack Crevalle
Black Drum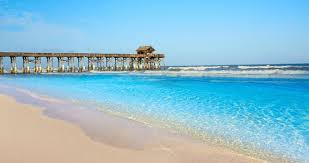 Just an hours drive away from Disneyland, this quintessential beach town is host to the full array of pelagics, bottom fish, and coastal cruisers.
It's no surprise Cocoa Beach has been dubbed the best place to fish in Orlando, and with 6 miles of beaches, a vast pier and copious amounts of water, you will be spoilt for choice.
– Offshore
Because of its location, these trips usually depart from Port Canaveral, just 5 miles away from Cocoa Beach, and will take you up to 20 miles out to sea. Where, depending on the season, you will find;
Cobia
Mahi Mahi
King Mackerel
Sailfish.
Go another 10 to 20 miles out and you will find yourself in the gulf stream and can catch;
Mahi Mahi
Wahoo
Cobia
Sailfish
Blackfin/Yellowfin Tuna
Blue Marlin
Grouper
Snapper
However, due to the distance, these are required to be full-day trips or day/night trips and don't offer as much time spent fishing due to the travel constraints. While still, a great experience and generally fished a lot less, most fishermen prefer to stay inshore or nearshore due to the increased charter travel time.
– Inshore
Inshore is where Cocoa Beach's possibilities are really showcased, from kayak fishing on the banana river to the adrenaline-pumping Shark fishing which will see you pulling big Bull Sharks, Lemon Sharks, Blacktip Sharks, and even Sand Sharks too.
Cocoa Beach is surrounded by protected shallow waters which are perfect for beginners or likewise some sight fishing in the grass flats. That doesn't mean the more advanced angler won't also revel in the opportunity, with various species and diverse terrains you can utilize this as a chance to practice more advanced techniques too.
Chapter 6
West Palm Beach
Catch of the Day in One of the Best Places to Fish in Florida:
Dolphin (Mahi Mahi)
Sailfish
Wahoo
King Mackeral (Kingfish)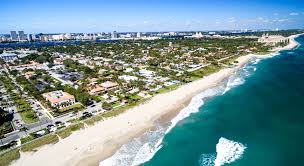 Home to lakes, intercoastal waterways, reefs, the gulf stream, and even canals, West Palm Beach, is home to plenty of variety for anglers of all styles and abilities. Your whole vacation could be spent here without ever having to fish the same way twice.
– Offshore
This is where West Palm Beach comes into its own, and if you're looking for a voyage on some of Floridas largest charter boats, then this is the place for you.
With it's beautifully warm and fish-rich waters, the gulf stream is just a 10-mile journey out from town and gives you access to those big game pelagics.
Common catches;
Blackfin Tuna
Sailfish
Wahoo
Mahi Mahi
Head out to the 30-mile mark where you will find Sailfish Alley, joining the pro's who can land up to 80 sailfish in a single day.
Go out a little deeper and tighten up those lines over the 30-mile mark where you may get the opportunity to reel in Swordfish. All the while Barrelfish, Wreckfish and Tilefish will battle for your attention.
Staying inland in the Bridge Reef and the Playground Reef will keep your rods twitching too, with Grouper, Snapper, Hogfish, and even Amberjack all to be found in abundance throughout. However do be on the lookout for the local Barracuda, as they are known to catch anglers unawares, snatching your hard-fought prize right off the line.
– Inshore
West Palm Beach is home to plentiful variety, be it saltwater, seawater, fly fishing or bottom fishing, West Palm Beach is sure to have something to accommodate your needs.
You could start your day off catching Redfish and Snook over the miles and miles of available coastal waterways, or head up to the Palm Beach inlet in the summer season and attempt to bag yourself a Tarpon while keeping your feet on dry land.
Afterwards, head into town and stop off at one of the many lakes or canals, where you can walk, kayak or even charter a boat trip. Bass is generally the catch of the day here with Largemouth Bass or Peacock being the most prominent. If you're lucky, then you may even catch an exotic Clown Knife Fish which can sometimes be found meandering these waters.
Summary
This is by no means an exhaustive list, but instead a snapshot into some of the best places to fish in Florida.
Hopefully, this article has gone some way towards helping you choose a destination that fits your needs.
Don't forget to check out our product reviews for all your fishing needs. We review a large array of fishing gear such as Fluorocarbon fishing line, ultralight spinning reels, surf fishing lures and much, much more.
Using the correct fishing gear for your trip to Florida will make it one fishing trip to remember.
Don't forget to leave us a comment below with your favorite fishing destinations in Florida, any questions you have or if there is anything else we can help with before you make a final decision.
Share the Love
If you found this post useful, please let others know about it by sharing it.