Catch of the Day in one of the Best Places to Fish in Colorado
Cutthroat trout
Brook trout
Brown trout
Rainbow trout
One of the most popular places to fish in Colorado is Gore Creek, unfortunately, this does mean it can receive a lot of traffic during busy periods. But, if it's prize-winning big fish you are after, this is the place to be.
Access is easy via public parks, as Gore Creek runs right through the busy town of Vail. For those seeking large trout, head due west of Vail to the point where Red Sandstone Creek enters the Gore, just off exit 1-70. That's the Gold Medal territory.
There are a few simple rules to follow whilst in Gore Creek to help preserve the stock and make it fair game for all visitors;
artificial lures and flies only
the minimum size for trout is 16-inches and of course, the catch-and-keep limit is two (although obviously taking 0 is better for the stock levels).
Don't forget to check out nearby Eagle River while you're in the area, it's not too far away and really worth the trip, often times being quieter than Gore Creek. Likewise, The 14'er and Mount of the Holy Cross are only a short drive from town and come highly recommended if you have the time to spare.
Likewise, if you are heading over for the winter then Vail is a very popular ski resort, so you could kill two birds with one stone so to speak, and split your time between fishing and skiing.
Chapter 2
St.Vrain State Park, Longmont
Catch of the Day in one of the Best Places to Fish in Colorado
 Rainbow trout
Channel catfish
Largemouth bass
 Yellow perch
Bluegill
Sauger
Black crappie
Redear sunfish
Water Wolves aka Northern pike
St. Vrain may possibly be considered more suitable for a family vacation, but still equally as attractive if you're heading out alone or with friends on a fishing vacation.
The park is ideally situated, close to both Fort Collins and Denver, which makes getting there even easier too. With your options ranging from camping for the authentic outdoor experience in the park itself, or staying in one of the multiple hotels available in and around the area too.
Found inside the park are a number of different fishing ponds.
During the Fall Trout fishing really hits its peak, with both the Great Blue Heron reservoir and Bald Eagle Pond both being perfect spots for trophy Bass fishing (catch and release only).
Ice fishing is available throughout the winter months, with bow fishing for Suckers, Pike, and common Carp being allowed, as well as kayak fishing. All of which are permitted across all lakes.
Chapter 3
Chipeta Lake State Wildlife Area
Catch of the Day in one of the Best Places to Fish in Colorado
Smallies aka Smallmouth Bass
Largemouth bass
Rainbow trout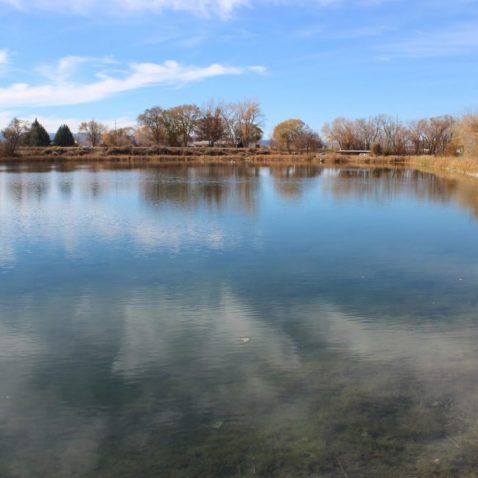 Unfortunately, for the outdoorsmen among us, camping isn't available at Chipeta Lake. But with close proximity to the town of Montrose, there is plenty of options for overnight accommodation.
Chipeta Lake serves as another spot ideal for families, situated next to the spectacular San Juan Mountains, this lake is easily accessible, with access for cars allowing you to drive right up to the shoreline.
Not requiring more than a basic set up, the lake is well stocked making it perfect for beginner anglers and those more advanced looking to relax.
Catch of the Day in one of the Best Places to Fish in Colorado
Rainbow Trout
Cutthroat Trout
Kakanee Salmon
Lake Trout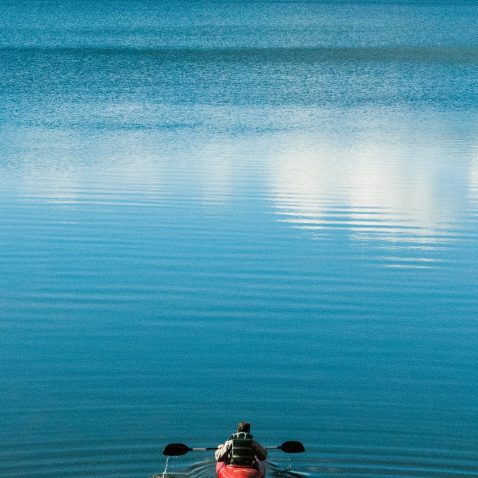 Located roughly 3 hours northwest of Denver (seven miles to the east of the top of Cameron Pass on Highway 1) and close to Rustic and Walden, this 250-acre man-made lake is most notably known for its ice fishing and large trout.
With camping allowed and access to a boat ramp, Chambers Lake is perfect for anglers seeking a sense of adventure.
Fishing here is all about location though, so you must be sure to come prepared with the correct equipment, as some of the larger lake Trout can measure 16 to 18 inches. Over on the east side by the steep slopes, there is a great spot for jigging. Boasting an inlet bay for Rainbow Trout, Kokanee Salmon, I would suggest using medium sized spinners and spoons.
The main rule to follow here is no snagging, besides that, if you're heading out during the summer then we would highly recommend taking advantage of the boat ramp and trolling across the lake. Visiting in the winter months? Chambers Lake also makes the perfect spot for ice fishing.
Chapter 5
Eleven Mile Reservoir
Catch of the Day in one of the Best Places to Fish in Colorado
Cutthroat trout
Brown trout
 Northern pike
Kokanee salmon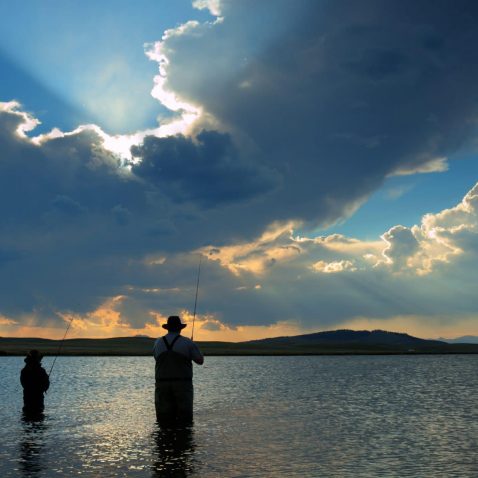 Eleven Mile is a vast 3,400-acre reservoir located close to Lake George, Fairplay, and Hartsel. There are plenty of bait shops close by and of course, overnight accommodation is available too.
If you are seeking to bag yourself large Rainbow Trout, then the Eleven Mile Reservoir will be sure to provide you with plenty, ranging from 14 to 20 inches.
Towards the north side of the reservoir and close to the river and 'Dream Stream' area is where you should head if your aim is to catch Kokanee Salmon.
Rules here are simple, again just a way of ensuring a fair game for everyone and keep the stock levels in place. Only lure and fly here, catch and release only for within 100 feet of the inlet. There are also a few areas designated for breeding and clearly marked as no fishing zones, as well as all of the docks and the island too.
Bag limits are also straightforward;
If you fish for trout, you may catch up to four fish, of which only two can be longer than 16-inches.
There's no bag or possession limit on Northern pike.
You may catch 10 Kokanee salmon daily, all year around.
You are allowed to boat, but no diesel, propane, gasoline, or electric motors are permitted. Likewise, no swimming or any other water-body contact activities are allowed.
Eleven Mile Reservoir is an angler's dream, and with its sheer size, currents and landscape, offer a perfect spot for novices and experts alike.
Chapter 6
Upper Arkansas River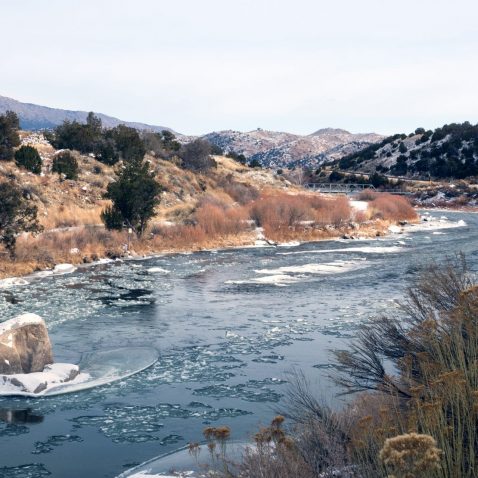 The Upper Arkansas River is prime fly fishing territory, with the river stretching for over 102 miles with a 5,000 ft total drop across.
Located near Canon City and Leadville, the river is surrounded by sub-alpine meadows, canyons, and hayfields before finally reaching Bighorn Sheep Canyon. This serene natural surrounding should ensure that the Arkansas River tops the list for any angler looking to get away from the hustle and bustle of modern life.
The upper portion is where the river winds through the high-desert county and is home to 40 miles of public fishing access for Rainbow Trout and plenty of native browns too.
Perfect for fly fishing or even wading if you want a bit of variety, just remember to pack your floats.
Chapter 7
Blue Mesa Reservoir
Catch of the Day in one of the Best Places to Fish in Colorado
Rainbow Trout
Lake Trout
Brown Trout
Brook Trout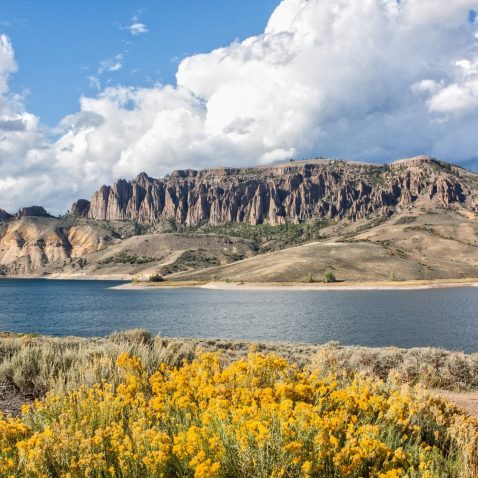 Initially created in 1965 after the damming of the Gunnison River, the Blue Mesa Reservoir is the States second largest reservoir, providing a whopping 96 miles of shoreline.
Situated roughly nine miles from Gunnison, with, of course, plenty of bait shops, accommodation (including campsites) and a plethora of bars and restaurants to keep yourself fed and watered.
The deeper waters of the reservoir are where you will find your Lake and Brown's, conversely the inlets for the rivers and streams are where you will find and abundance of Brook's. Rainbows, on the other hand, seem to be caught from all areas.
If heading out on the lake is more your scene, boat access is available, or you can find a shaded spot on the shore instead and pass away the day reeling in catch after catch.
Chapter 8
North Delaney Lake
Catch of the Day in one of the Best Places to Fish in Colorado
Brown trout
Rainbow trout
Cutthroat trout
Cutthroat/rainbow hybrid trout
Common Carp
Another Gold Medal Lake, meaning the big photo worthy and prize-winning catches are awaiting anyone willing to make the trip. North Delaney Lake can be found near Walden in the Buttes State Wildlife Area and is one of three high mountain lakes too, providing anglers with 360 degrees of jaw-dropping views.
Be warned, this lake is home to a large mosquito population and I would advise bringing repellent for the trip. As you will find that when the wind dies down, they seem to appear from out of nowhere.
The best flies to use here are olive (dragonfly larva works well), blood red, and brown woolly buggers. Mini-leeches in gray, black, olive, brown, and wine also serve you well and remain a favorite amongst locals.
Rules for this lake are catch-and-release for browns measuring 14-inches to 20-inches and 18-inches to 22-inches for cutthroats and rainbows. As well as a two-trout bag limit.
Chapter 9
Frying Pan River
Catch of the Day in one of the Best Places to Fish in Colorado
Rainbow trout
Brown trout
Brook trout
Cutthroat trout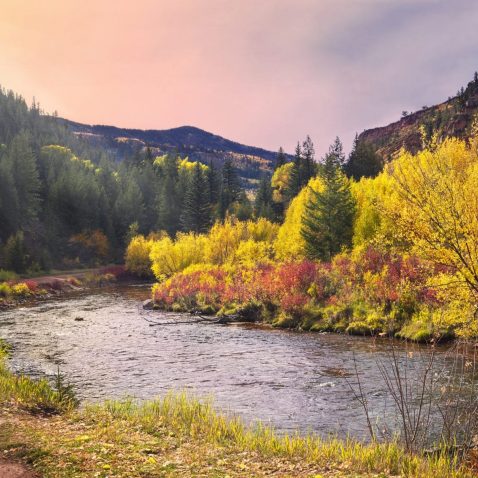 Frying Pan river has a world-renowned reputation for lure and fly fishing easily serving up 10lbs+ rainbows like throughout the day.
One of the more popular spots here is situated between the Ruedi Reservoir and the Roaring Fork, which provides not only fantastic fishing but also amazing views of the surrounding mountainside.
If you don't mind crowds and are on the lookout for larger gamefish, you would do well to visit the tailwaters below the dam. Mysis shrimp flies are the bait of choice for the locals here.
Unfortunately a lot of the surrounding areas are privately owned; however, access to the river itself is pretty good, and there is a full 8.5 mile stretch between the basalt and the dam allowing public access for fishing.
If you're thinking of heading here during the winter months, Aspen isn't too far away. Allowing you to enjoy both a fishing and skiing trip at once.
Chapter 10
Mcphee Reservoir
Catch of the Day in one of the Best Places to Fish in Colorado
Largemouth bass
Smallmouth bass
Black crappie
Rainbow trout
Kokanee salmon
Yellow perch
Walleye
Northern pike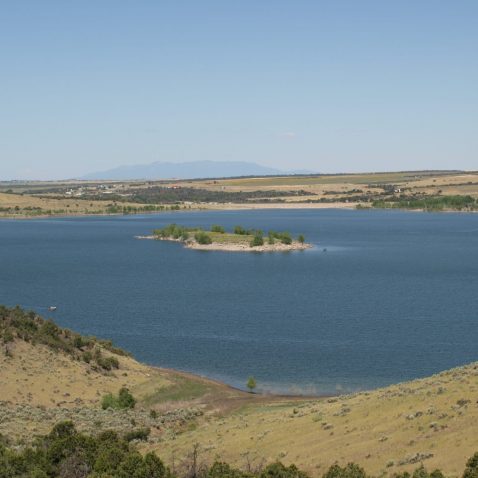 Set across 4,470 acres with over 50 miles of fishable shoreline, the man-made McPhee Reservoir is located on the Dolores River, close to the town of Dolores. Surrounded by stunning forests and mountainside there are definitely worse lakes to spend your time on.
It's also one of the largest bodies of water in the whole of Colorado too, with a maximum depth of over 270ft.
However, due to its river canyon location, to get to the best fishing spots, you will need to either rent a boat or go out in a group. You are welcome to bring your own boat, but it will require inspection first to make sure there is no cross contamination into the reservoir.
Crayfish imitation bait is best used along the rocky shorelines (Plateau Creek, Beaver, and House) for Smallmouth Bass. Traditional baits for Trout fishing or trolling near the shoreline. Walleye, on the other hand, can be caught near the rip-rap by the Great Cut-Dike Dam.
Rules for McPhee Reservoir:
Catch and release for bass 10 to 15 inches.
5 bag Bass limit, no limit on Walleye, 4 for Trout, 10 for Kokanee
no snagging until November 15th.
Summary
Wherever you decide to go, Colorado is sure to provide both stunning views, outdoor activities and pursuits, and some fantastic fishing too.
Make sure you leave us a comment below with where you have been before, where you decide to go or likewise if you have any questions before booking then we would be more than happy to help.
Share the Love
If you found this post useful, please let others know about it by sharing it.