Catch of the Day in One of the Best Places to Fish in Texas
Largemouth Bass
Crappie
Catfish
Chain Pickerel
White & Yellow Bass
Sunfish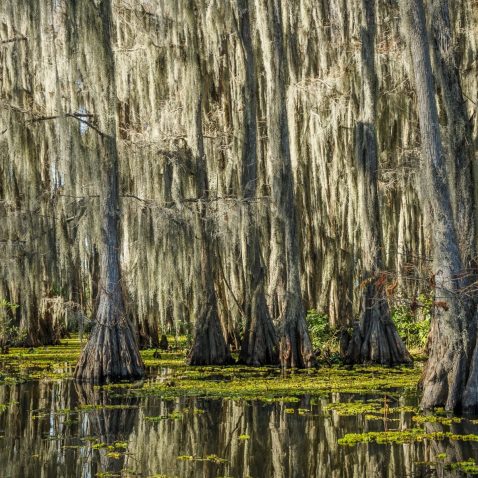 Being the only natural lake in Texas, Caddo has a massive variety of fish, which is no surprise given that it spans a vast 26,800 acres, reaching maximum depths of up to 20 foot.
Largemouth Bass is common stock at Caddo, setup, relax, and it won't be long before you are breaking water with trophy-size Bass (over 8 lbs). If you're looking to challenge yourself, then the current trophy-weight was caught back in 2010, weighing in at 16 lbs.
The best time to fish for Bass would ideally be spring, with the most successful month being March. If its Crappie you're after, then a visit during winter into early spring would be ideal, White Bass can also be found during this period, where the water features a current. Chain pickerel can also be found on occasion; the best habitat to fish is around the submerged aquatic vegetation. Sunfish and Catfish are late spring.
Caddo is a highly active lake, with a large stock, sure to keep your rod twitching throughout the day.
Chapter 2
Choke Canyon Reservoir
Catch of the Day in One of the Best Places to Fish in Texas
Largemouth Bass
White Bass
Crappie
Blue
Channel & Flathead Catfish
Bluegill & Redear Sunfish
Alligator Gar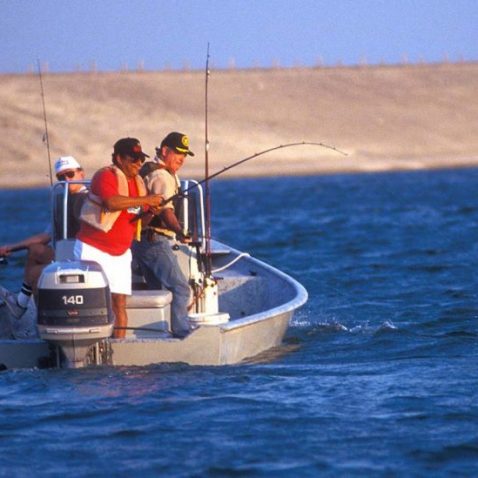 Located just a short drive from San Antonio, Choke Canyon Reservoir is one of Texas' highest-rated big Bass lakes.
Surrounded by state parkland, the breathtaking scenery is sure to help you forget the stresses of modern life during your time here. Due to a lack of commercialization, Caddo is something of a hidden gem compared to more typical big Bass trophy lakes; probably in part due to Caddo not hosting any of the larger televised tournaments.
There is plenty of natural wildlife to be found at Caddo, from Hogs to Turkeys and even Alligators. With lush vegetation of Water Stargrass and American Pondweed, but if it's Largemouth Bass you are after; then you will find the most success during the spring, fall and winter months as the summer heat can make it more of a challenge.
If you grab a GPS (or just google maps), then these are some hotspot co-ordinates to save for some of the larger catches.
28.500934, -98.265943
28.492169, -98.277059
28.525821, -98.356840
28.493876, -98.250242
These particular spots have produced 20+ lb catches. If you don't have a boat and can't reach these points, you can fish for almost anything from the banks around Mason's Point (28.481231, -98.374165) and 99 Bridge (28.523172, -98.388684).
Bait choice – Carolina rigged or pegged Arkansas Shiner Super Flukes, Watermelon Red Super Flukes, and Texas rigged and Berkley Motor Oil worms, watermelon pepper frogs (weightless). The best color for this lake is Watermelon. The dam side usually has relatively clear water, so natural color baits work best in that area as the water clarity varies between the dam and the bridge.
Catch of the Day in One of the Best Places to Fish in Texas
White & Striped Bass
Largemouth Bass
Smallmouth Bass
Spotted Bass
Bluegill
Blue & Channel Catfish
Black & White Crappie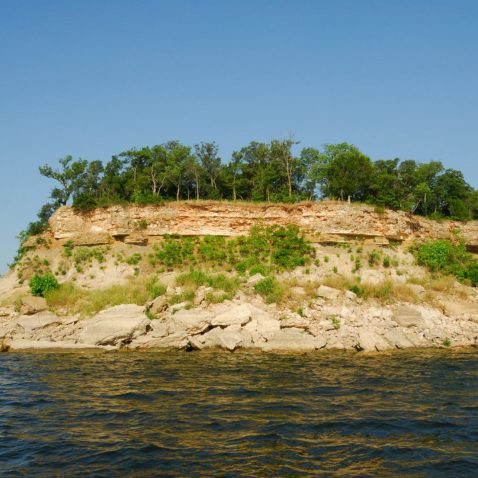 Most well known for Striped Bass, this 89,000-acre reservoir is one of the four great border reservoirs.
'Stripers' were introduced here in the late 1960s, as normally they are native to ocean waters. It has since become one of the best striper hot spots in the southwest. It is worth seeking advice from local anglers, regarding which end of the lake you should be casting out, as the Bass are known to migrate throughout the year.
As well as Striped Bass, there is also an abundance of Smallmouth, these are primarily found along the Denison dam, near to the bluffs at Eisenhower State Park and near the Wichita river arm. Bass are generally found near the rocky banks, as unlike most reservoirs and lakes, Texoma doesn't have many big hydrilla flats, moss-lined shorelines or flooded timber spots.
'Sandies' or white Bass can also be found quite regularly, throughout the spring they can be found traveling to spawn in the creeks and streams that feed into the lake and during summer months they school on the surface.
Before we move onto the bait, it is worth mentioning the Catfish here. One Catfish beast caught here weighed in at 118.5 pounds, so be sure to pack your strongest rods and reels, or be ready to let them slip if you're not well equipped and they snag your line.
Bait recommendations: curly tail grubs, small crankbaits, and finesse seem to work best here.
Catch of the Day in One of the Best Places to Fish in Texas
Largemouth Bass
Smallmouth Bass
Catfish
White & Striped Bass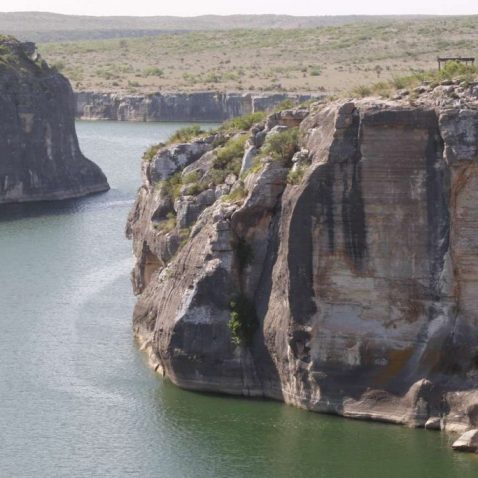 Definitely worth more than just a day-trip, Lake Amistad is one to plan a whole vacation for, and trust me you won't be disappointed here.
With the Rio Grand River also feeding into this massive body of water, Lake Amistad measures up to 64,900 surface acres. Situated 12 miles North West of Del Rio (unless you're headed to the southernmost areas) and just over 2-hour drive from San Antonio.
The reservoir is entirely man-made and was opened in 1969. Being the second major dam constructed by both the United States and Mexico, 'Amistad' translates to 'friendship'.
Known nationally in part due to hosting several of the larger Bass tournaments, fishing here is good year round, although slightly more challenging during the winter months if there are high winds. You're sure to catch some impressive weights here.
Visibility does vary by season, usually around 20 to 25ft in the spring and 8 to 15ft in summer.
A prime location with much more to offer besides fishing, perfect for water-sports enthusiasts, there is a number of boating and kayaking opportunities available on Lake Amistad. Fantastic for the more adventurous outdoorsmen amongst us.
Catch of the Day in One of the Best Places to Fish in Texas
Largemouth Bass
White & Black Crappie
Channel Catfish
White Bass
Sunfish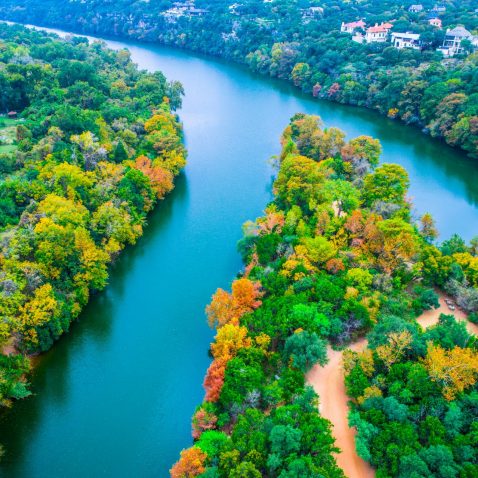 Despite being relatively small in comparison to the other lakes and reservoirs mentioned, Lake Fork holds several Largemouth Bass trophy fishing records.
Covering 27,690 acres and roughly 65 miles east of Dallas, this lake was designed in 1980 to be a premier bass fishing lake. Making it one of the finest locations in Texas and, possibly, the whole of the US to challenge your skills. Taking on some of the biggest Bass in Texas is sure to challenge your skills and have you leaving with a great sense of achievement.
Bank access can be fairly limited on the lake; however, there are four public boat ramps and numerous private marinas that can be utilized.
If you're on the hunt for Bass, then you will want to come prepared; locals tend to favor spinner baits, crankbaits, and topwater lures. Likewise jigging spoons, jig & trailers when used slowly also work well.
Crappie can also be found at Lake Fork, locals tend to see their best catches with Crappie jigs and live Minnow for bait.
Many record holding catches have broke water at Lake Fork including; 7 of the top 10, 13 of the top 20, 25 of the top 40, and 33 of the 50 biggest Bass documented in Texas. It is also featured more times than any other lake on Toyotas Sharelunker list, in the 13lbs+ category Bass caught at Lake Fork makeup almost 50% of the list.
Chapter 6
Lake O' The Pines
Catch of the Day in One of the Best Places to Fish in Texas
Largemouth Bass
Spotted Bass
Blue
Channel & Flathead Catfish
White Bass
Crappie
Sunfish
Chain Pickerel
Previously known by another name, this lake was first created as a flood defense during the construction of a dam on the Cypress Bayou and has a surface area of 18,680 acres.
Here you will find a diverse number of fish and angling opportunities to keep your rods twitching and breaking water with some real beauties. Spring and fall are best when considering a trip, however, like any good lake, you will still find success during the off-season too.
Crappie is a popular catch at Lake O' The Pines, baiting with Cajun Crickets in the 14 to 19 ft should have you seeing regular success. If you make your way over to Alley Creek, Hurricane, Copeland or Johnson Creek and you will be pulling Crappie in depths of only 4ft.
If Bass is your preference, then you will want to head towards the major creeks, I would recommend trying a Texas rigged claw, a favorite with local anglers. Spinners and swim jigs will see you through though.
For Catfish, on the other hand, you will want to use trotlines with cut bait.
For those anglers looking to split their time between fishing and hunting, there are plenty of locations available within a short distance of the lake for Squirrel, Duck, Turkey, Deer, Hog and even Alligator.
Chapter 7
Cedar Creek Lake
Catch of the Day in One of the Best Places to Fish in Texas
Largemouth Bass
Blue
Channel & Flathead Catfish
White & Hybrid Striped Bass
Crappie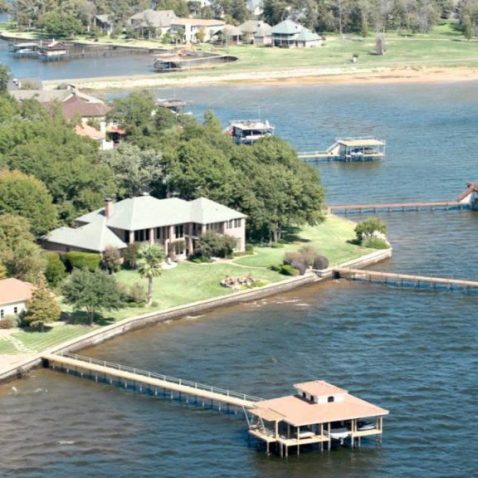 Located a short distance from Fort Worth-Dallas Metroplex, this 18 miles long and 8.5-mile wide lake is the fourth largest lake in Texas reaching a maximum depth of 62ft.
Well known for it's Bass fishing, the current lake record stands at 14.65lbs. Those looking for Bass will want to head towards the dock area, I suggest using Texas-rigged worm, buzz baits, crankbaits, and even Frogs to maximize your chances of landing photo-worthy Bass.
Hybrid Striped Bass (stripers) are re-stocked annually here too, with the lake record currently standing at 13.19lbs, by no means a small, easy catch. Stripers average around 6lbs with many weighing in over the 10lbs mark. Other Notable spots for both Bass and Hybrid Striped Bass are close to the waterfront properties, the lower end of the lake where the water is clearer and the Twin Creeks, Clear and Caney.
For Catfish, there is a higher population of Blues rather than Channel in the legal size limits. Crappie which can be found throughout the lake will also make an appearance occasionally.
Summary
As you can see, there are many great fishing locations in Texas for anglers of all styles to choose from.
No matter which one of these locations you end up picking, you're sure to want to come back year on year, or aim to experience as many locations across the state as possible.
We would love to hear where you end up casting your line, what catches you land and not forgetting, of course, if you have any more insider knowledge on great locations and hidden, hot spots, then please do share it in the comments below.
Share the Love
If you found this post useful, please let others know about it by sharing it.