Chapter 1
Provo River (Provo)
Catch of the Day in One of the Best Places to Fish in Utah
Brown Trout
Common Carp
Cutthroat Trout
Mountain Whitefish
Rainbow Trout.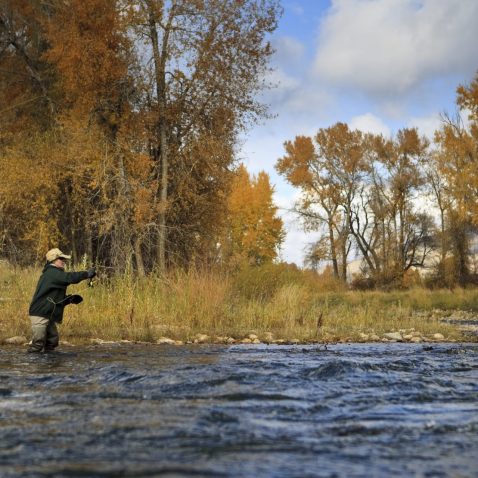 Provo River is one of the most well-known fishing locations in Utah, which is no surprise as it's brimming with fish.
Here you will enjoy over 15 miles of angling access, prolific hatches as well as breath-taking views of Mount Timpanogos. The middle and lower parts of the Provo River are notable for being home to plentiful amounts of Rainbows and Browns, with many measuring in over 18 inches.
This is the average that can be expected, as they gorge themselves on the midge larva and sow bugs all year round. Dry fly, nymph, and streamer will provide you with the best opportunities here.
If you're nearer to the dam, then make sure you check out 'Lunker Lane' and 'Rickety Bridge' which average almost 3,000 fish per mile, with Brown Trouts consistently coming in at lengths of around 12 inches throughout this stretch.
Bunny Farm Meadows is an ideal area for those in search of Rainbows and feeders, with River Road providing plenty of trophy browns.
Local Tip: Trout are far more active in the morning. I would suggest trying size 18 to 22 flies. Out of hours, you will find fewer crowds, while still experiencing a good amount of bites on the line.
Chapter 2
Green River (Flaming Gorge)
Catch of the Day in One of the Best Places to Fish in Utah
Brown Trout
Cutthroat Trout
Mountain Whitefish
Rainbow Trout.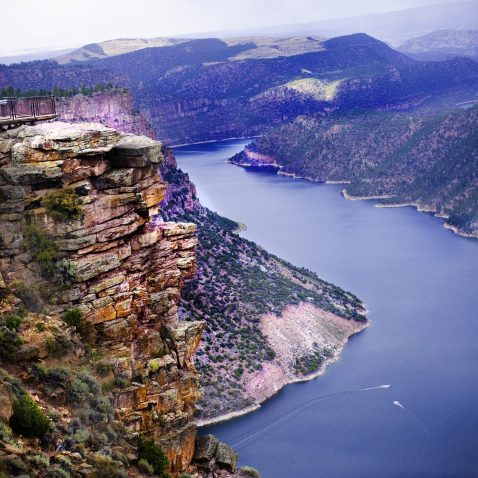 Famous for holding the biggest trout per mile ratio in the whole of the US, there is no doubt you will be happy with your photo opportunities and catches along the Green River.
There are limited access points, only 3 in fact, below the dam; at Little Hole and Browns Park. The most common option is to use a drift boat (known locally as A Section) or wade along the streamside trail between Flaming Gorge Dam and Little Hole.
The real magic here though is the crystal clear, emerald waters, meaning you can make an informed decision regarding your choice of location along the bank.
Locals and Pro's alike flock here to improve their technique, understand how the fish move, with steep-walled canyons reflecting in the water, making for perfect social media ready snaps.
Local tip: dry flies and top/bottom combinations are best suited here for catching Browns and Rainbows. Be aware there is no bait fishing along Green River.
Chapter 3
Strawberry Reservoir (Uinta National Forest)
Catch of the Day in One of the Best Places to Fish in Utah
Cutthroat Trout
Rainbow Trout
Kokanee Salmon
Smallmouth Bass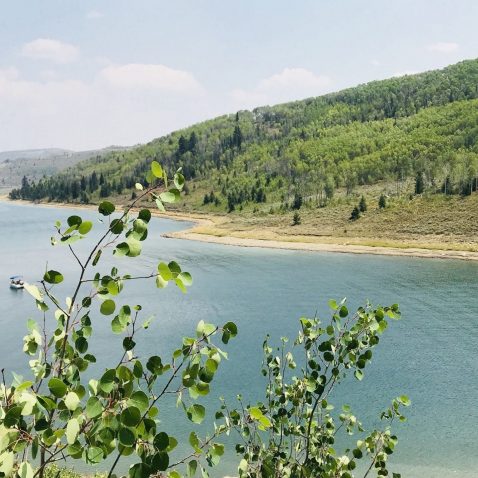 If it's Trout you're looking for, Strawberry Reservoir is an ideal location. Known as one of the finest trout fisheries in Utah, and sitting at 7,602 ft of elevation in the Uinta National Forest, the trout here grow between 6 to 10 lbs.
With most catches ranging between 16 to 20 inches, be sure to bring suitable rods and tackle to handle these larger species and land them in your net.
In fact, the largest Cutthroat caught right here was 27lbs, that's the largest in Utah! Although this was back in 1930, people are still catching up to 24 inches here, and you never know, you may just be able to break the record.
Despite its height and position, Strawberry Reservoir is only a short commute from Salt Lake City. Make your way along Highway 40, taking in the breathtaking scenery, and you will be casting your first line in no time at all.
Fishing here is best done by boat, either a float tube or a pontoon (and as early as possible, the winds can get quite strong at this height).
Sinking streamers, nymphs, leeches and lines work best. This will land you more fish per hour than from the shore.
Local tip: Cutthroat fishing in October using flatfish, Rapala and a Strawberry wobbler being a popular combination. The biggest fish seem to always be caught in the first few warm months of the year.
Chapter 4
Fish Lake (South-central Utah)
Catch of the Day in One of the Best Places to Fish in Utah
Brown Trout
Common Carp
Lake Trout
Rainbow Trout
Splake
Tiger Muskie
Yellow Perch.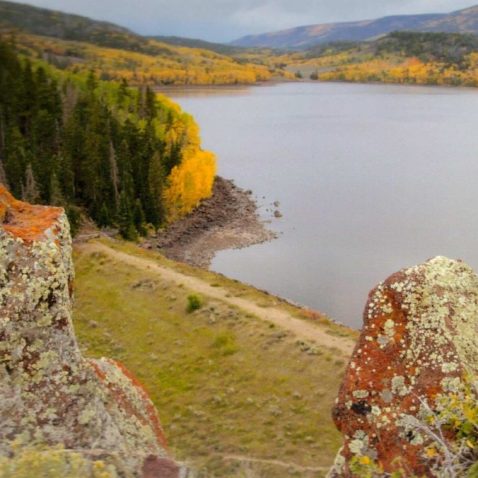 Fish Lake is another high alpine lake, it stands at 8,848 ft above sea level and is surrounded by the Mytoge Mountains (craning 100ft over the lake) on the south-east shore and the other side, Fish Lake Hightop Plateau.
Fish Lake is the biggest natural lake in Utah, stretching 6 miles long and 1 mile wide with an average depth of 85ft. Throughout winter it has become a popular destination for ice fishing, although extremely cold it is still a busy spot as you can observe the fish through the ice layer.
Summertime is where the fun really ramps up, either on the shoreline or by boat, Fish Lake is sure to leave you satisfied.
Large Lake Trout (or Mackinaw as it is otherwise known) will oftentimes reach upwards of 25lbs, so be sure to bring some sturdy tackle.
Local tip: For Rainbows, you should equip yourself with popgear. For Trout, and Splake use a vertical jig or troll.
Chapter 5
Logan River (Logan)
Catch of the Day in One of the Best Places to Fish in Utah
Bonneville Cutthroat Trout
Brook Trout
Brown Trout
Mountain Whitefish
Rainbow Trout.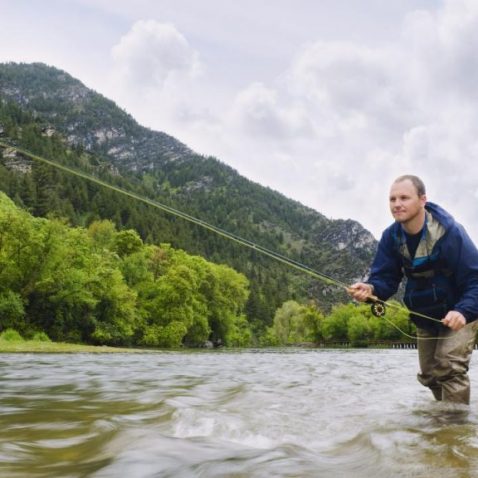 Head just off Highway 89, and you will find 30 miles of easily accessible fishing spots across the Logan River, perfect for either a quick drop in fish or a full days fishing.
Fly fishing is most popular here with Browns and Rainbows caught most frequently at the lower end of the river and impoundments (1st, 2nd, and 3rd dams). Fishing during the fall months will yield the largest catches, with Trout caught here known to weigh up to 38lbs
Heading further up Logan River you will find healthy populations of wild Trout, Browns, and Cutthroats.
Sadly fishing becomes a lot more difficult, although not impossible, from late May to June because of the snowmelt runoff.
Local tip: Elk Hair Caddis Fly through summer, and Blue-wings when it's colder.
Chapter 6
Pineview Reservoir (Ogden)
Catch of the Day in One of the Best Places to Fish in Utah
Black Bullhead
Black Crappie
Bluegill
Common Carp
Largemouth Bass
Smallmouth Bass
Tiger Muskie
Yellow Perch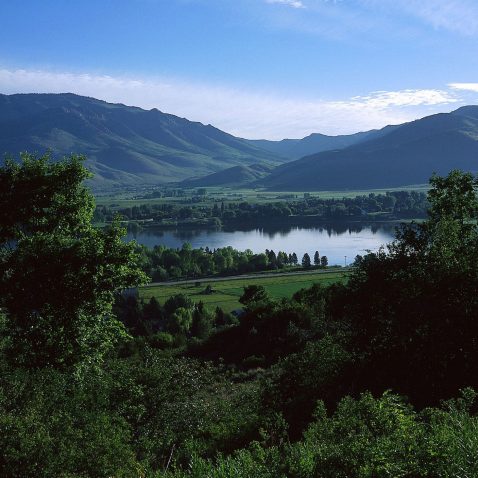 Home to the previous world record-breaking Tiger Musky catch, which was a rod bending 53 inches and over weighing in at 40 pounds, Pineview Reservoir is the fishing territory of champions.
We would strongly suggest bringing sturdy tackle along for the trip; these fish will fight and can be a handful.
Braided wire and hard monofilament or fluorocarbon in the 40-pound class see the most use here, because of the large weights and sizes these fish can reach.
If you're here in the spring, then head to the upper arms, next to where streams enter, Crappie and Bass can be found in the brush. During the summer months, they move to deeper waters, or in the narrows by the dam.
Local tip: Mornings and Evenings are when you will experience the best Pineview reservoir has to offer (after the water-skiers have left).
Catch of the Day in One of the Best Places to Fish in Utah
Black Crappie
Bluegill
Channel Catfish
Common Carp
Largemouth Bass
Northern Pike
Smallmouth Bass
Striped Bass
Walleye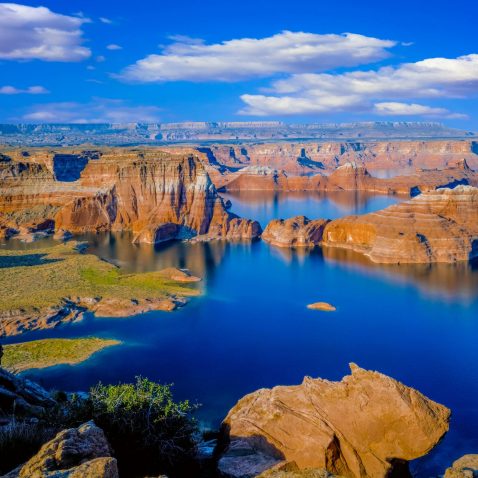 Secluded and surrounded by red rock, Lake Powell is formed from the river gorge when it experienced flooding.
Home to many large Bass tournaments, the waters reach depths of almost 600ft deep in places. Stretching for over 2,000 miles, granting 160,000 surface acres of water to fish in.
Taking a boat on the water is recommended due to the size of the reservoir, surrounding cliffs and to access the hotspots.
Large and Smallmouth Bass are usually found along the rocky shorelines in late April to May. Walleye can be found between May to June and if you're after big catches then March, April and early May are ideal. Fall is great for all species.
Please be advised, the area near the dam is located in Arizona so you will need to make sure you have the correct permit if you plan to fish there, a permit issued in Utah will suffice for the rest of the reservoir.
Local Tip: Crappie can be found in the brushy areas and in backs of canyons.
Summary
No matter where you choose to go, Utah offers some of the most stunning locations for you to choose from.
Make sure to apply for a Utah fishing permit in plenty of time though, so you can make the most of every day during your visit.
Please don't forget to leave a comment below, and let us know where you have been before, where you're heading to and how the fishing was. We want to hear from you.
Share the Love
If you found this post useful, please let others know about it by sharing it.