Chapter 1
Types of Knots to Know
Though there are hundreds of fishing knots available for you to learn, it is not necessary to learn them all. As a fisherman, there are a few key knots that all anglers should ensure they know, to become more well-rounded in their abilities.
These are some of the fishing knots that we would recommend you learn:
Palomar Knot
Surgeon's Knot
Albright Knot
Improved Clinch Knot
Spider Hitch Knot
Hangman's Knot
Blood Knot
Each of these knots serves a similar but specific purpose when you are fishing. Knowing each of them will help you to adapt to almost any fishing situation. In addition, we'll also give you some info on how to tie fishing knots.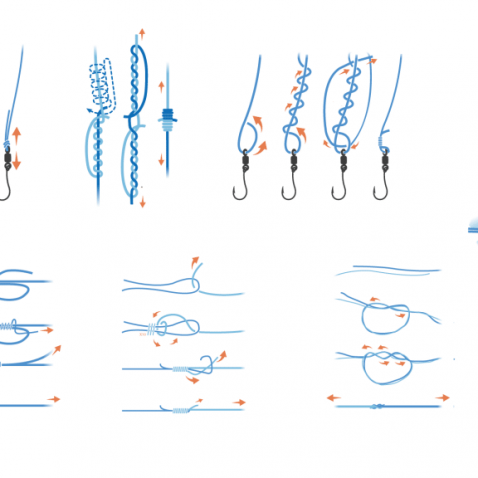 Palomar Knot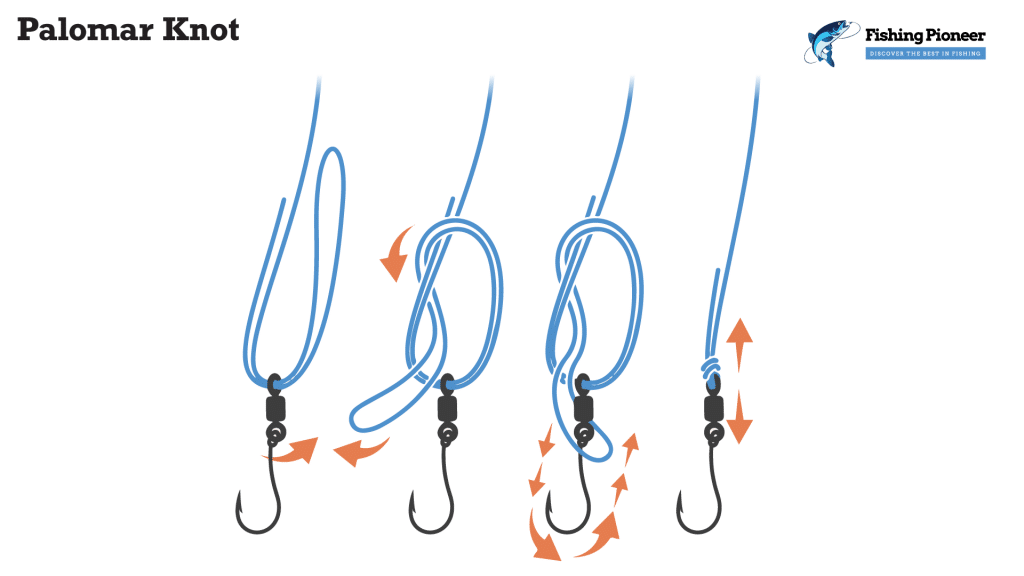 The Palomar knot is one of the most adaptable, common fishing knots. Excellent for use with braided lines. When used in combination the Palomar knot and a braided line form one of the most durable duos in fishing.
The Palomar knot can be used with almost any style of fishing, but many anglers will choose to utilize it when fly fishing.
Blood Knot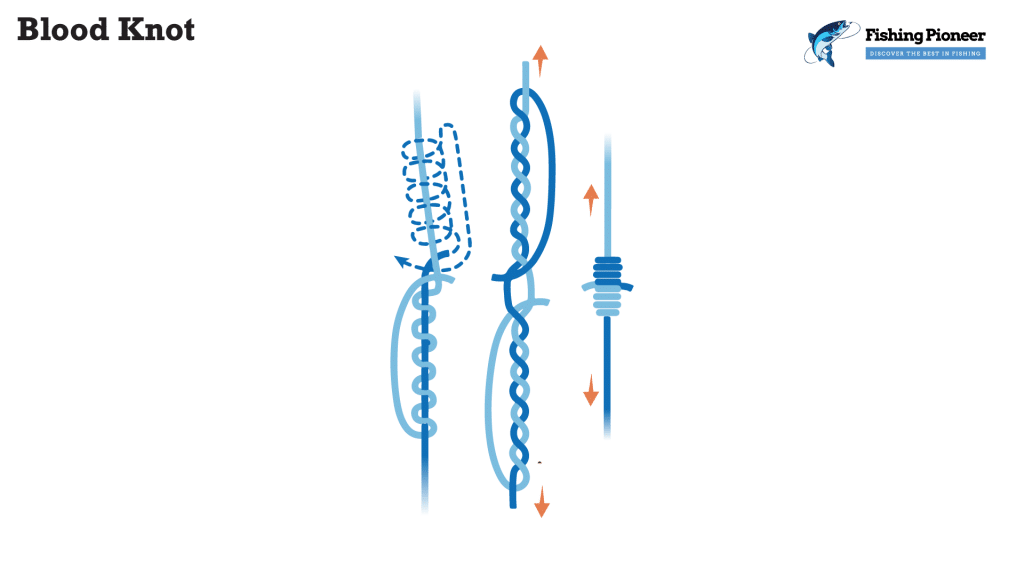 While many fishing knots are used to attach lines to hooks or lures, the blood knot has another use. A blood knot is used to attach two lengths of line together. It is most common for an angler to use this knot when their line is broken or in fly fishing. Though it is most commonly used to repair a broken line that is the same width, it can be used to create a makeshift line if need be.
One reason why the blood knot is so popular under these conditions is that it is a relatively simple knot to learn. It is beginner-friendly and will prove an invaluable skill to know when you are out on the water and experience a broken line.
Improved Clinch Knot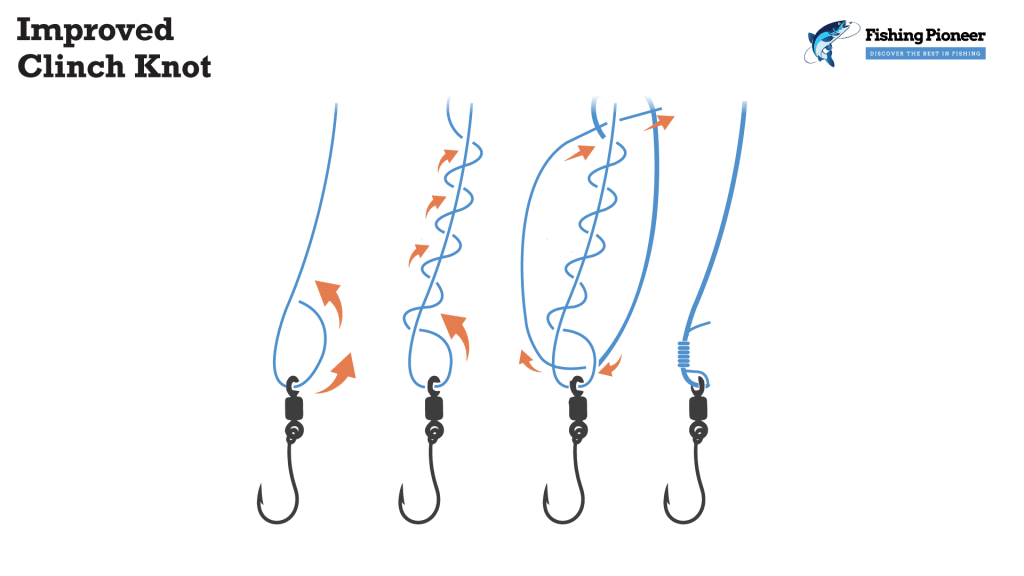 One of the most versatile knots in the world of fishing is the improved clinch knot. This fishing knot is a well-known knot among experienced fishermen, mainly used to secure line to lures, hooks, and swivels.
Based upon the traditional clinch knot, this improved version is famous for durability and strength when reeling in your catch. If you are a fisherman that gets in frequent battles with large fish, this is definitely a knot that you're going to want to master.
Surgeon's Knot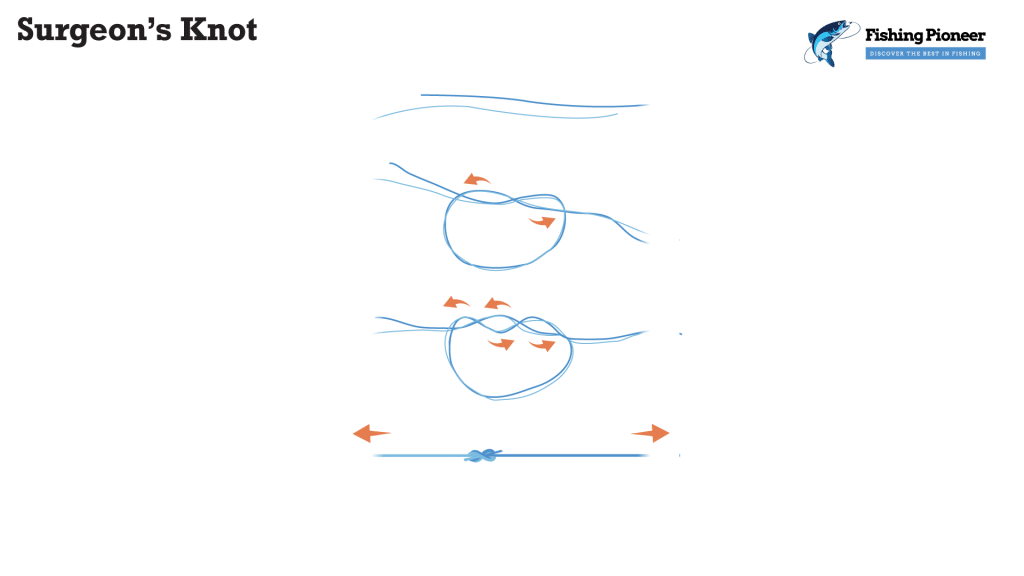 The surgeon's knot serves a similar function to the blood knot in that it can be used to combine two pieces of fishing line. While the blood knot is suitable for two pieces of the same line, the surgeon's knot is much more versatile, as it can be used to combine two pieces of different fishing line easily.
If you are a fisherman who uses leaders and you want to have a way to combine them conveniently, this is a fishing knot you should know.
Spider Hitch Knot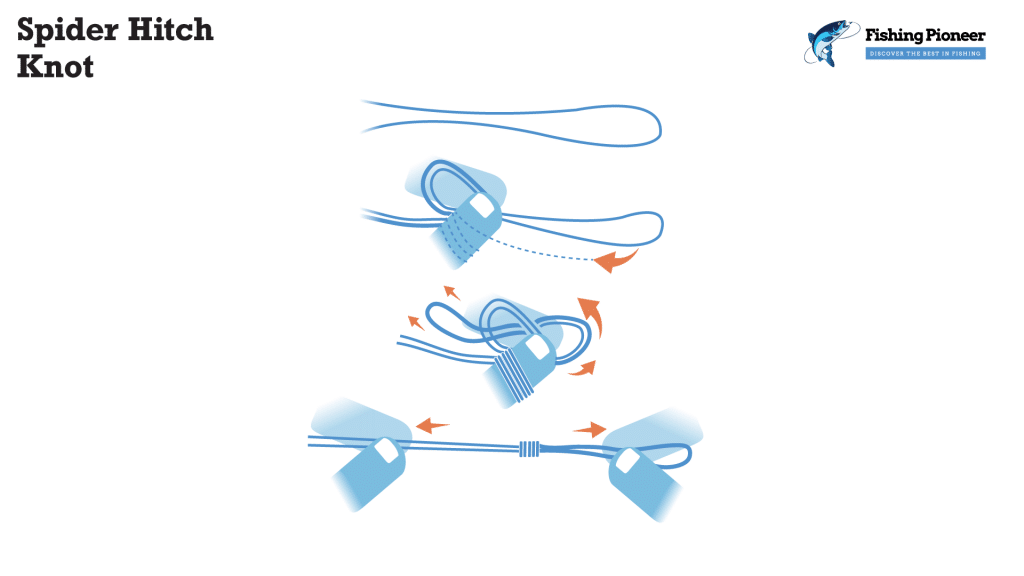 If strength is important to you, the spider hitch knot is going to be a valuable fishing knot to know. This knot is used to help improve the strength of a fisherman's line through an intricate design and multi-point failure system.
The reason that this knot is so strong is that it forms a double line that wraps around your hook or lure. Since the strength of the line is doubled, if you frequently reel in large fish this knot will undoubtedly help prevent line breakage and failures.
Hangman's Knot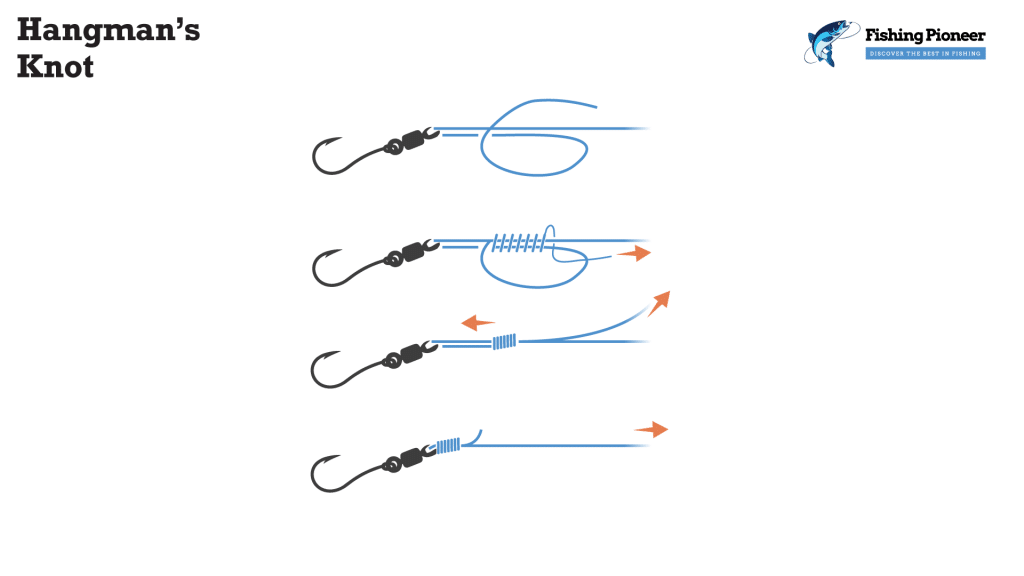 The hangman's knot is a very standard fishing knot that many fishermen use as their all-in-one knot. The hangman's knot can be used to snell a hook or attach your line to lures and hooks. It is known for its durability, simplicity, and strength.
If you value knowing how to tie a knot that will serve you strongly in multiple situations, you should take the time to learn this knot.
Albright Knot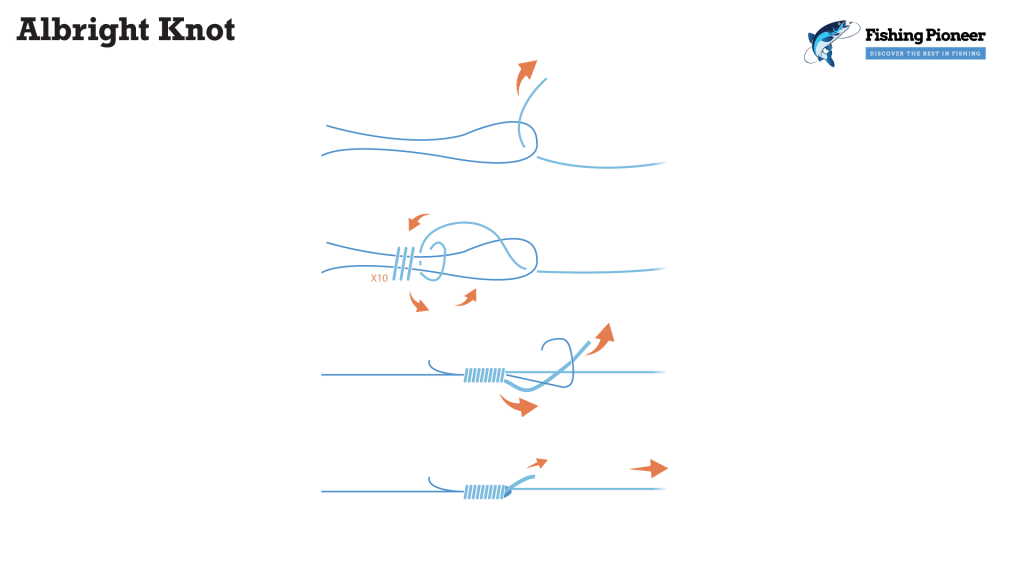 The Albright knot is a strong versatile fishing knot that is used to tie two different types of lines together eg., monofilament to braided line. This knot is moderately easy to tie and one all anglers should learn.
When you are tying fishing knots, there are some general guidelines that you should follow and tips that you'll need to get the most out of your knots. Whether you are a beginner or an experienced fisherman, these tips will help you become more well-rounded and gain the proficiency needed to apply this knowledge and use these fishings knots.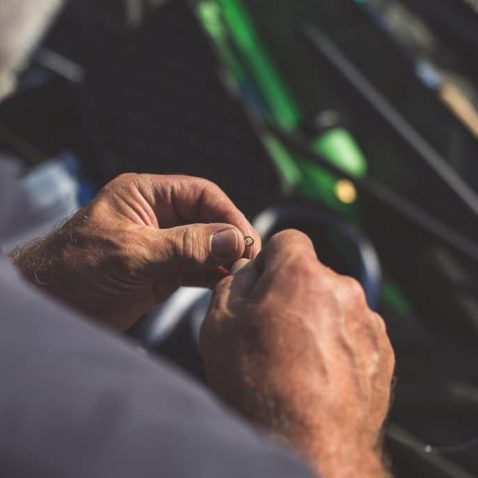 Choose Carefully
Choosing your knot may seem like a minor detail, but any experienced fisherman will tell you that knot selection is an important part of the process when preparing for an outing. There are countless different knots that will serve you well with most types of fishing. If you are a more specialized type of fisherman, however, you'll want to carefully select the knot that gives you the best chance of reeling in your catch.
For example, saltwater fishermen who typically catch larger fish will want to choose a knot that places emphasis on strength and durability. These types of knots will be able to hold up under increased pressure. The weight of your typical catch will be a substantial consideration when choosing your knot.
The weight of the line will also play an important role in the type of knot as some knots are easier with lighter weight. Other knots will be necessary using braided line, for example.
Wet Your Line
When you are tying your knots, it's a good idea to make the line moist before you begin. If you're able to lubricate the line with saliva or water, it will be easier to tie. A wet line will slide easier through your loops, once you tie the knot, the drying will also help to strengthen integrity.
Tighten Slow
When you tie knots hundreds of times throughout your life, it will start to feel automatic. While it's great to be able to tie your knots rapidly, you should slow down when it comes to one critical step.
When you are ready to pull the knot tight and finish it off, you should slow down and apply steady pressure instead of just yanking on it to finish. Tightening the knot quickly, with a lot of pressure, risks breaking the line and ruining the knot.
Applying steady pressure and slowing down at the end of your knot will save you time and frustration as you tie your knots ready for use.
Practice your Knots
When you are on the water, you will benefit greatly from knowing several different types of knots from memory. It will allow you to adapt quickly, and use the best knot for your current situation.
If you can practice your knots ahead of time, you can change your style of fishing on the fly. Additionally, you won't have to waste time fumbling with your line and trying to remember how to tie your knots.
If you are working on being a more efficient, flexible fisherman, you should practice your knots ahead of time and make them routine so that you can call upon them when needed.
Test the Strength
Once your knot has been tied, it is good practice to test the strength and ensure that it has been tied correctly. This can be achieved by grabbing your hook or lure in one hand and your line in the other, giving the line a couple of hard tugs to verify that the knot is solid and prepared for use.